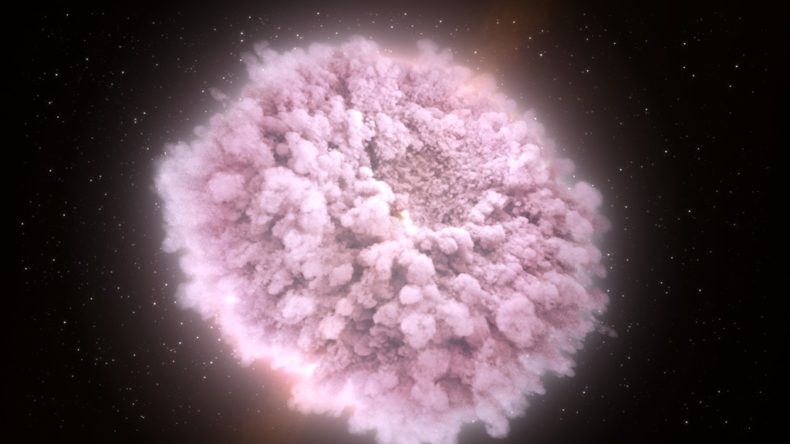 Newbie journalists love to ask where seasoned journalists find their story ideas. I'll tell you where I find mine: Editors. They have really good ideas and sometimes they'll just hand them to you. That's called an assignment, and I take a lot of them.
Unfortunately, LWON doesn't give assignments. So when you sign up for an open slot, you have to think of something to fill it. I had nothing for today, until Craig asked me to write about the neutron star thingamajig. (If you haven't heard, scientists announced on Monday that they had, for the first time, observed evidence of a neutron star collision. Such clashes seem to be responsible for most of the universe's heavy elements).
I laughed because I don't do space. (Remember, I'm the one who was surprised to learn that Hubble is a space telescope.) So I responded, "The day I write about a neutron star collision is the day hell will freeze over."
I don't understand physics or astronomy, and I don't care about them. 
But the more I thought about this, the less certain I became. Maybe, I thought, I actually care about space, but because I think I don't care, I never take the time to read space stories. And then came an idea: Could my colleagues convince me to care? If I read some stories about the discovery, would I understand the excitement?
There was only one way to find out.
THE EXPERIMENT
I selected seven stories about the neutron collision more or less at random — some were recommended, some I found by googling. I read each of them in the order below.
1. LIGO Detects Fierce Collision of Neutron Stars for the First Time (Dennis Overbye – New York Times)
2. Scientists detect gravitational waves from a new kind of nova, sparking a new era in astronomy ( Sarah Kaplan and Ben Guarino – Washington Post)
3. The Plume of Gold Ejected by a Cosmic Collision (Marina Koren – Atlantic)
4. Scientists witness huge cosmic crash, find origins of gold (Seth Borenstein – Associated Press)
5. Colliding stars spark rush to solve cosmic mysteries (Davide Castelvecchi – Nature)
6. Neutron star collision showers the universe with a wealth of discoveries (Emily Conover – Science News)
7. Gravitational Wave Astronomers Hit Mother Lode (Lee Billings – Scientific American)
THE RESULTS
I'll cut right to the chase. While I can appreciate that this is an important scientific discovery, I still have a hard time mustering excitement over gravitational waves. I would not have read these articles had I not embarked on this experiment. And I wanted to stop reading some of these articles as I was conducting the experiment. Space is not my thing. I don't think it ever will be, at least not without a concerted effort on my part to get a basic handle on physics and astronomy. 
But, despite my tepid interest, these articles were not a monotonous slog. I laughed out loud when Denis Overbye wrote that black holes "are composed of empty tortured space-time." I don't know what space-time is, but I like the idea that it can be tortured.
And when the writers homed in on the sudden and frenzied excitement that gripped the scientists involved in this discovery, I was transfixed. Here's a bit from the Washington Post article that gave me literal chills:
Ryan Foley, an astronomer at the University of California at Santa Cruz who studies supernovas with the Carnegie Institution's Swope telescope, was walking around an amusement park when he got the urgent text from one of his collaborators. He abandoned his partner in front of the carousel, jumped on a bike and pedaled back to his office.

He and his colleagues were up all night, first waiting for the sun to set on the Swope telescope in Chile, then sorting through the telescope's images in search of a "transient" — an object in the sky that hadn't been there before.

In the ninth image, postdoctoral researcher Charlie Kilpatrick saw it: a tiny new dot beside a galaxy known as NGC 4993, 130 million light-years away.

He notified the group through the messaging service Slack:

@foley found something

 sending you a screenshot

Foley marveled at Kilpatrick's measured tone in those messages. "Charlie is the first person, as far as we know, the first human to have ever seen optical photons from a gravitational wave event," he said.
It's not at all surprising that I was drawn to this bit. I am a human. And humans like stories, mostly stories about other humans. I might not be interested in gravitational waves, but I am interested in science as a process. Humanize the process, and you'll hook me every time.
When I was reading about this latest discovery, I remembered another story about gravitational waves that captured my attention. In 2014, scientists operating a radio telescope called BICEP2 found evidence of gravitational waves from the early universe. The finding provided strong support for the cosmic inflation theory, the idea that the universe expanded rapidly after its birth. Chao-Lin Kuo, one of the BICEP2 researchers, decided to surprise one of the main authors of the theory — theoretical physicist Andrei Linde — with the results. Stanford's press office got wind of the idea, and asked if they could videotape the surprise. The result (below) brought me to tears. Real ones.
I cried again when I watched the video last night. And I wanted to cry even harder when I stumbled across the articles from 2015, the ones saying that the finding wasn't real. What first appeared to be gravitational waves turned out to be cosmic dust. I thought of Andrei and his wife, Renata (also a theoretical physicist). I thought about how elated they had been, and how shattered they must be now.
Physics writers, this is how you nab the physics haters — human emotion. You can explain gravitational waves using the cleanest, clearest, most eloquent words that exist — and you should! — but I want the story of the scientists in all their messy, human glory.
***
The illustration shows the hot, dense, expanding cloud of debris stripped from the neutron stars just before they collided. This cloud produces the kilonova's visible and infrared light. Within this neutron-rich debris, large quantities of some of the universe's heaviest elements were forged, including hundreds of Earth masses of gold and platinum.
Credit: NASA's Goddard Space Flight Center/CI Lab