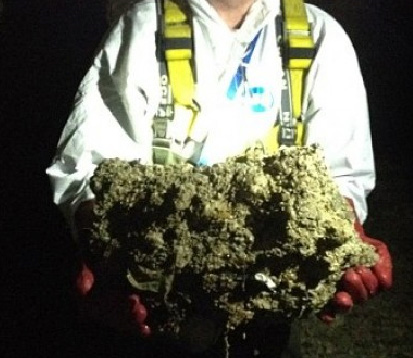 People, please don't pour any more grease down the sink. Really, is it so hard to tilt the fry pan and dribble the stuff with its meaty little chunks into an empty container and freeze it so you can throw it away? Or pour it over the dog food? Because let me tell you what happens when we all dump sticky stuff down the drain, night after night, meal after meal.
Fatbergs. Fatbergs happen.
I hadn't heard of a fatberg until a recent BBC report led me to read up on the subject. The term—which sounds almost elegant with a British accent, as most words do—was unknown to me, but intriguing. My initial thoughts: Must be a very fleshy lower-body part or else a very unfortunate Jewish last name. One or the other.
But it turns out a fatberg—the word used by Thames Water in London and others across the ocean—is a monster that lives in the sewer, a sort of Jabba the Hut spreading out under city streets and clogging up the works.
Fatbergs are congealed fat, mostly. But like concrete that's roughed up with rebar for strength, a fatberg is wormed through with other materials, like hair, and used toilet paper, and baby wipes (lots of baby wipes), and tampons, and pretty much every other disgusting non-biodegradable thing we humans flush or rinse away each day. It's a gooey, reeking mass that turns a sewer system into a stopped up intestinal tract, coated and clogged by people's bad decisions.
Now and then city officials have to wrestle one of these things out of the ground, with power washers and shovels. I hope those people get paid well. Sometimes they find extra-weird stuff stuck in the goo. A 'berg in Belfast housed a Christmas tree and a live kitten. Another juicy fatberg was reportedly nourishing a family of frogs.
Fatbergs are typically big. The biggest was a London monster that rivaled a 747 (beating out the bus-size fatberg that preceded it). I don't think I need to italicize this for emphasis: That's a glob of fat and general people funk the size of an airplane. (!)
U.S. cities have fatbergs, too, of course, but our officials don't use that term. On the websites for the water/sewage treatment plants in both New York and Chicago, for example, the term is FOG, for fats, oil, and grease. It makes perfect sense, a logical abbreviation, but FOG isn't nearly as fine a word choice. FOG just doesn't have the same shape, viscosity, and smell of FATBERG. We could stand to be more colorful with language on this side of the Atlantic.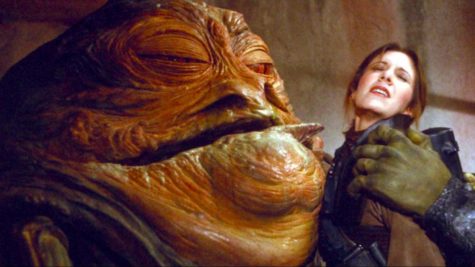 Many of the fatberg culprits are restaurants and other public entities not following the rules and whose "grease interceptors" just aren't cutting the mustard. But regular folks and their fried foods and flushing habits are also to blame. Whatever you call them and whoever is responsible, these blobs that crouch under pavement (or cobblestones) until they bust out of manholes are actually big-time nightmares. Fatbergs can decrease flow of waste water down to 5 percent or less and it can take weeks to clear one out and fix pipes—costing hundreds of thousands of dollars per 'berg. Without repairs to the system a fatberg can lead to raw sewage leaks and other unmentionables up top. When there are "solids" gurgling up into your kitchen sink while you're chopping carrots, there's nothing funny about a fatberg.
Okay, there are lots of funny things about a fatberg. But fatbergs are also messy, damaging, and expensive. We should all try harder to avoid them, on both sides of the Atlantic.
Here are some tips on how to keep from contributing to the city-fatberg epidemic:
Don't pour stuff down the drain except liquid that won't turn to goo.
Don't flush anything that isn't clearly toilet-friendly material.
Don't throw your mattress or rusty bike (or kitten!) into the public sewer.
Yup, it's that simple.
———
Top Photo: Arne Hendriks from Amsterdam, Holland (Fatbergs) [CC BY 2.0 (http://creativecommons.org/licenses/by/2.0)], via Wikimedia Commons
Jabba: LUCASFILMS, without stated permission–but isn't it in the public domain by now?