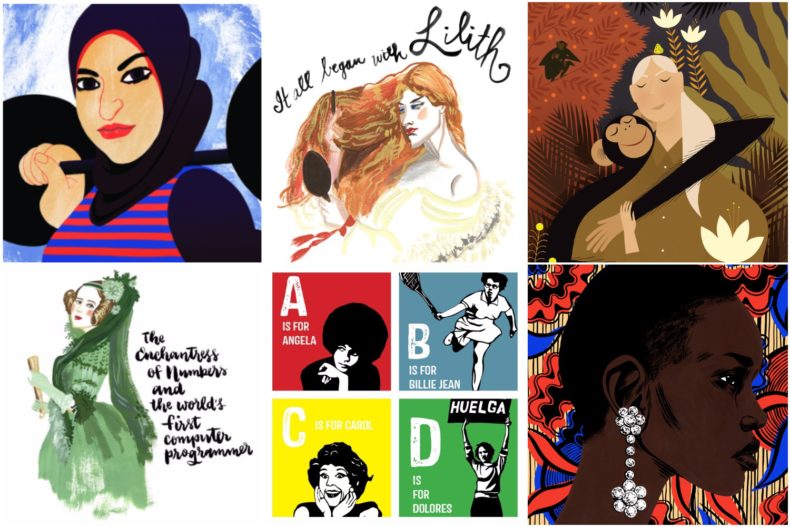 I am a feminist, and I've raised my daughter to be a feminist. But lately, I've been administering feminism like it's a damn inoculation. (The shot is metaphorical. The disease is not.)
One of my favorite prophylactics against the patriarchy—suitable for girls and boys alike—is the feminist bedtime story, and happily, the selection is expanding quickly. My eight-year-old and I have read and reread several collections of women-centered folk and fairy tales from around the world—including Tatterhood, The Serpent Slayer, and Fearless Girls, Wise Women, and Beloved Sisters—and we've put women in the lead of many classic stories by genderswapping their central characters. Recently, we've added three excellent books to our nightstand stack: Good Night Stories for Rebel Girls, Bad Girls Throughout History, and Rad American Women A-Z all use short, accessible biographies and cool art to introduce kids (and the rest of us) to powerful, creative, famous, and not-so-famous women from the past and present.
Good Night Stories for Rebel Girls, by Elena Favilli and Francesca Cavallo, was a crowdsourcing phenomenon and is probably the richest collection of the three, with 100 stories about an enormous variety of women. It's delightful to discuss the vast differences, and surprising similarities, between 19th-century British mathematician Ada Lovelace and the young Afghani rapper Sonita Alizadeh; Italian racecar driver Lella Lombardi and U.S. Supreme Court justice Ruth Bader Ginsburg. I especially like Rebel Girls' emphasis on its subjects' resilience: it describes their failures as well as their triumphs, making it clear that genuine rebellion isn't easy, and doesn't always pay off in obvious ways.
Bad Girls Throughout History, written and cheerfully illustrated by Ann Shen, is also international in scope, and like Rebel Girls, it includes several fascinating subjects who are not what you'd call role models, such as suspected double agent Mata Hari and bloodthirsty pirate captain Ching Shih. (While Bad Girls is simple enough for kids to understand, it isn't specifically a kids' book, and some of its gorier details might need to be edited out while reading aloud.)
Rad American Women A-Z, written by Kate Schatz and illustrated by Miriam Stahl, is, as its title suggests, particular to the U.S. (a sequel, Rad Women Worldwide, expands the reach of the original). Of the three books, this is the most overtly prescriptive: these aren't just rebel women but rad women, an alphabetical pantheon of heroines ranging from Angela Davis to Ursula Le Guin to Zora Neale Hurston. My one criticism, of all three collections, is that I wish they included more women who pioneered new roles within traditional institutions, such as the military and the church. Feminism, after all, isn't (or shouldn't be) a partisan issue, and gals with conservative inclinations can be as rebellious, and as admirable, as their progressive sisters.
There is some overlap among these books: Amelia Earhart, Rachel Carson, Jane Goodall, Marie Curie, Queen Elizabeth I, and other icons appear multiple times. But all three profile women of different races, ages, faiths, and eras, and include many women too long overlooked by history. I met British author Aphra Behm, who was a spy for Charles II and became the first professional female writer; the "Cholita Climbers," a group of Bolivian women who climbed the Andes in their colorful skirts; lrena Sendlerova, a young Polish woman who saved some 2,500 Jewish children from the Nazis during World War II; Brazilian poet Cora Coralina, who published her first book at age 75; American motocross racer Ashley Fiolek, who is deaf, and uses the changes in her engine's vibrations to guide her gear shifts; and dozens of others whose names I'd never heard, and whose stories inspired me. It's almost as if these books are helping me stay healthy, too.
Top, clockwise from upper left: Amna Al Haddad, a weightlifter from the United Arab Emirates, from Rebel Girls; Lilith from Bad Girls; Jane Goodall from Rebel Girls; Sudanese-British supermodel Alek Wek from Rebel Girls; Angela Davis, Billie Jean King, Dolores Huerta and Carol Burnett from Rad American Women; and Ada Lovelace from Bad Girls.