In the summer of 1968, my thirty-something parents bought a 48-inch-diameter round oak pedestal table from an antique furniture dealer in Union, N.J. The moment the table assumed its new position in the kitchen of Solomon and Sylvia's Victorian home in nearby South Orange, it asserted itself as the center of gravity of the house.
A half-century earlier, master artisans in Hastings, Michigan, built the table with four curvaceous, lion-pawed legs extending from its pedestal's bottom. They quartersawed the wood to produce a tight "tiger oak" grain pattern and fumed it with ammonia to darken the finish. To Sol, my dad, oak was one of nature's finest gifts to civilization. Adding to his adoration was the table's lock-and-release mechanism for inserting and removing leaves. With every swivel of the mechanism's handle, a reverberant metallic clack advertised a marriage of steel, wood, and good design.
My father's mother died when he was four. His father, an émigré from the Aegean island of Rhodes, suffered from deafness and diabetes and was unable to care for his three sons. Sol grew up in the Hebrew Orphan Asylum in New York City and then under a series of foster parents. Solidity. Stability. Safety. All of these were absent for young Solomon, but they were all embodied in the table.
As with any table in any other kitchen, the primary duty of the Hasting's Tyden-Locked Table (the locking system was invented by a man named Emil Tyden, who had made a fortune manufacturing coupling mechanisms for train cars) was to relieve those around it of plates, cups, knives, forks, sugar bowls, newspapers, homework, mail, allergy medicine, calcium supplements, and heart pills. The table hosted the details of our lives that summed into our lives.
In the act of sitting down, my father's contours would assimilate into the nexus of chair and space and table. And with that complementarity of flesh and wood, he would become the philosopher that he was from birth, by temperament, and by education.
Bearded, with an easy twinkle in his eye, Solomon, so aptly-named, could leap upon the most trivial of conversational openings and weave it into a magnificent dialogue and celebration of mind. For generations of family members and friends, Solomon midwifed unexpected intellectual, philosophical and spiritual discoveries. I like to imagine the table recording our shared narratives into its oak solidity as our words rippled into the wood's great networks of cellulose and lignin molecules.
At the very end of 2010, my father, a man of a hundred million words, was silenced by a stroke. When I arrived at the hospital, he was in the intensive care unit. Over the first few days of the New Year, our hopes were raised and dashed by the slightest twitch (and then stillness) of a finger or eyebrow or by real or imagined changes in his breathing patterns.
"Say epistemology," I implored at his bedside about a week into his injury. "Epistemology" is the investigation of how we come to know anything, and it was one of my father's favorite philosophy topics. "Dad! Dad! Can you say epistemology?" I yelled. His eyebrow arced upward, a familiar sign of interest that emphasized his already formidable forehead. And then, the barest of exhalation, "uh-UH-uh-UH-uh-uh." Six inarticulate syllables, but with an unmistakable cadence: e-PIS-te-MOL-o-gy.
I was the only one who heard it. It was a final moment of hope. By the end of the second week, my mother, sister, and I decided it was time to withdraw medicine's heroic measures and to let nature take its course. As my father lay dying, I hoped he was aware, because I knew he would be fascinated and awed by what was happening to him. On the morning of January 24, 2011, I held my father's hand, told him of all the good he had brought to so many people, and listened as his breath slowed to a stop.
Later, I helped my mother move into a more manageable apartment. I unscrewed the top from the pedestal of the Hastings Tyden-Locked Table, hefted the two pieces and the decades-long roots they had extended into that South Orange house into a van, and replanted this oak table in our home in Maryland where my wife and I raised two of Solomon's grandchildren. This past summer, my wife and I moved into a vintage home much like the one in which I grew up in South Orange. Now in this new living room of ours, the table continues to host and witness the minutiae of our days.
I think of my father often in January. Like his death, his birthday was in this month, too. Over the recent end year and New Year holidays and celebrations, my wife and I, our two grown boys, their cousins, my sister, mother, and our friends and neighbors all shared moments around this beloved table. In its new location, with those same molecular archives inside of its oaken flesh, I imagine that another generation of everyday histories has begun accreting onto the record of life, love and intelligence that Solomon left there for us.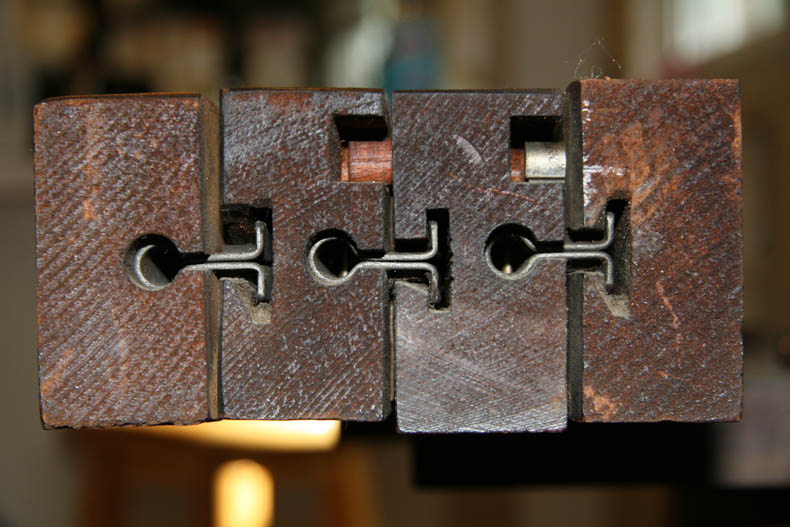 Photos: Ivan Amato