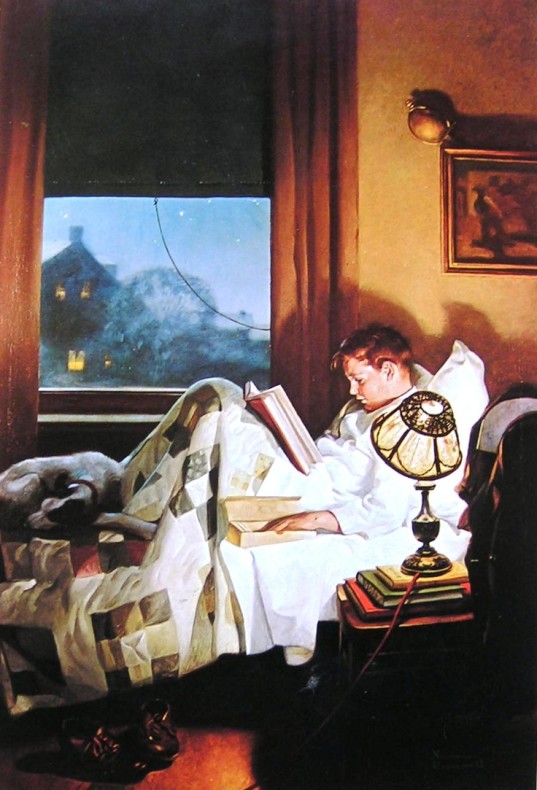 The holidays — one of the few times of year when the decision to pick up a book should never be preceded with the question, "But have I finished All The Work?". Today, the People of LWON pick up a tradition we started last year, providing a handy list of great reading.  
Erik Vance : I recently read The Maltese Falcon for the pure cheesy irony of it. I wanted to experience that overwrought, noir style – that "the dame had legs that reached the skylight and a snub-nosed .38 in her handbag that showed she meant business" kind of sensibility. What I found was an entertaining, thoughtful book that was pure fun. The characters felt real and the plot kept me intrigued. I now see that the film noir movies that came afterward bastardized the genre. And if you live – or have ever lived – in San Francisco, you simply have to read it. The streets and the landmarks are instantly familiar and yet bizarrely out of synch with the techie hipster town that it is today. It's not a long read and you'll be glad you did.
Helen Fields: I am slightly late to this party, given that it won the Man Booker Prize in 2009, but oh my gosh, Wolf Hall is wonderful. It's the first in a trilogy about Thomas Cromwell, an advisor to Henry VIII, and covers the period when the king was trying to get out of his first marriage so he could marry Anne Boleyn. The book is engrossing–I kept catching myself wanting to tell friends the amazing gossip from court today–and is engaged with so many things I care about: textiles, plants, animals, weather, and the lives of women and children, all through the eyes of this one man. Like this, when Cromwell visits Thomas More: "They go out to the aviary; they stand deep in talk, while finches flit and sing. A small grandchild toddles in; a woman in an apron shadows him, or her. The child points to the finches, makes sounds expressive of pleasure, flaps its arms." A warning, though: It's not what you'd call an easy read. The author pulls a goofy trick with pronouns, referring to her main character as "he" even if the "he" might more reasonably be assumed to refer to someone else. It can be confusing. But it's so worth it.
Ann Finkbeiner:  Read the next one in the Mantel series, Helen.  It's even better.  You come out of the books understanding the age deeply and just as deeply grateful you don't live there.  The third in the series is in process and I'm like those Harry Potter kids, camping out on the streets until it comes out.  Or, I would be except I'm scared to read it because I know how it ends.  Not well.
Helen: Oh, I'm reading it right now. I love it even more. I keep wanting to post quotes on Facebook. Maybe I should do it. This would be better than most of the other things on Facebook.
Jennifer Holland: First of all, Mary Karr, Mary Karr, Mary Karr. This woman is the writer I want to be, minus the alcoholism. A lot of people already loved The Liar's Club but I'm recommending Lit in a big way. (Cherry is good, too, but not as good.) All the good-book adjectives apply (funny, heartbreaking, painfully honest, and so on) but mostly it just shows off how fabulous writing can be. She's good. Really good. After Lit, read The Art of Memoir. Even if you don't plan to do one of your own, you'll learn a lot about the writing process and how to pen the truth without knowing the truth, and you'll get another dose of fabulous wordsmithiness.
Jennifer again: I'm having a great time—and maybe you will, too—with The Complete Stories of Truman Capote, which, while oldish, does have one previously unpublished piece in it. You can binge read or just do a story a night. Goodreads puts it well so I'll cut and paste: Ranging from the gothic South to the chic East Coast, from rural children to aging urban sophisticates, all the unforgettable places and people of Capote's oeuvre are here…
Jessa Gamble: Never Let Me Go by British author Kazuo Ishiguro is an all-time favourite of mine. To say that it's a science fiction piece about human clones who must donate their organs until death when they come of age is to betray the book's feminine, boarding school-novel tone. Like all good SF, this is very much about our own lives, and the characters are at once completely free and hideously trapped.
Cassandra Willyard: I have no idea what I read this year other than baby sleep books. And I can't recommend any of them . . . except maybe Adam Mansbach's Go the F**k to Sleep. I also found The Baby is Disappointing to be a charming read, and a great gift for new parents who have a sense of humor about such things.
Michelle Nijhuis: Girl Bilbo and I are reading Wonder by R.J. Palacio, which I highly, highly recommend to readers of any age. Firstly, it does an enormous service to humanity by teaching kids the lyrics to "Space Oddity." Secondly, it's wise, sweet, never sentimental, and populated with some of the most memorable characters I've met this year. GB agrees: August Pullman is the first main character she's chosen not to turn into a girl. He's just too real to mess with.
Stay tuned for Monday's list of great things to watch.
Image: Norman Rockwell, Crackers in Bed, 1920 (artwork in the public domain).