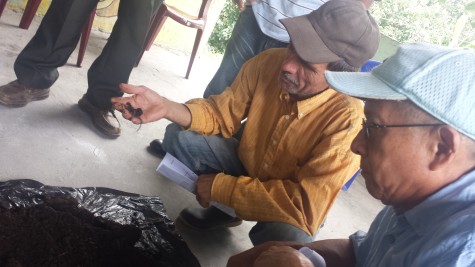 Agricultural engineer Irene Varela is a compelling presence. Six farmers are gathered on the patio of a church library in Santiago Texacuangos in El Salvador, about an hour outside the country's capital for a workshop she's leading.
"What's the soil like when you have worms?" Varela asks in Spanish.
"Moist," says one famer.
"Rich," says another.
It's the last Wednesday in July, and my second week in El Salvador. I'm here on a fellowship to work with the Asociación Pro-Búsqueda de Niñas y Niños Desparecidos (Pro-Búsqueda), an NGO that helps parents search for children who were abducted during the country's civil war. (The official dates of the war are 1979 to 1992—so today, those children are young adults.) Until I met Varela, that was all I knew of Pro-Búsqueda's work. Intrigued to learn that the group offered an agricultural education program as well, I'd asked her if I could tag along the next time she went into in the field.
The training is titled Lombricultura, a play on the Spanish words for worms (lombriz) and agriculture. The farmers are mostly middle-aged men from the community who clearly know their local land. And worms. Broadly speaking, the presence of worms is a marker of healthy soils. Their burrowing aerates the soil, and their digestive systems turn organic scraps into natural fertilizer.
The worms Varela has brought are a variety called roja californiana, known for breeding quickly (1500 offspring per worm per year) and producing particularly rich castings. She originally acquired the worms from an agricultural university and will send some home with the farmers who complete the training.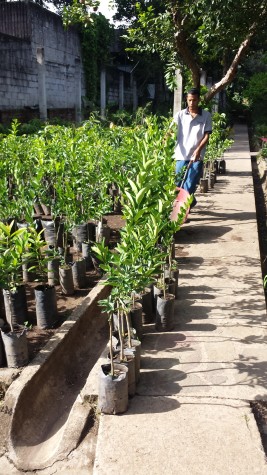 In the morning, before the workshop, we'd visited two nurseries to shop: lemons, oranges, mangoes and squash. Varela brought these plants to a steep hillside farm where she'd discussed pruning strategies and pest management with a farmer she knew well. This is another component of her project: Varela works directly with individual farmers who have cases open with Pro-Búsqueda, proving training and supplies to 30 farms over the past two years.
On its face, agriculture doesn't seem connected to Pro-Búsqueda's mission. However, many of the families searching for lost children come from rural zones that were hit hard by the war. In some regions, entire villages were displaced to refugee camps. Two decades later, small-scale farming is still a cornerstone of local food security.
The worm training is one of five Varela offers on organic farming of fruit. This year she'll offer each of the five trainings in three different regions, for a total of 15 seminars. Last year, she offered even more trainings on farming vegetables. The agricultural projects are part of a suite of community programs at Pro Busqueda that are funded by the Inter America Foundation (IAF), an independent agency of the United States Government (a phrase that's always confused me, but that's a topic for another day).
The IAF grant also supports a micro-finance project and an education and violence-prevention program aimed at youth. That's an important topic as well, right now. During the week of Varela's training a spate of gang killings let to shutdown of mass transit in the capitol for several days. A week ago, La Prensa Grafica reported 40 murders throughout the country in a single Sunday; the daily average for August was around 20. To put those numbers in perspective, the total population of El Salvador is roughly 6 million—the size of Los Angeles. Violence is an inescapable topic of conversation here, and a critical one. Yet, one of the biggest perks of my day with Varela was the chance to remember how much more is happening in El Salvador. During my first four weeks here, I met three agricultural experts who work with subsistence farmers to develop organic farming practices. And those were accidental meetings, not a concerted effort on my part.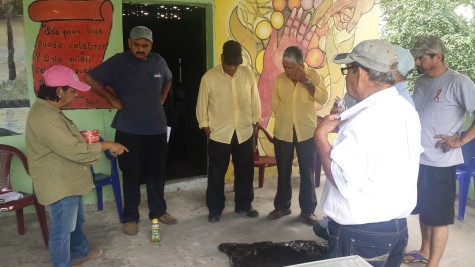 The farmers who've come out for Varela's training gather in closer, several squatting down to inspect the sample she brought. She's full of cautions: "When you take your worms, it's important to feed them; otherwise, they'll want to leave," she notes. They eat most types of organic matter, but it's important to avoid anything that's been treated with pesticides—that can kill the worms. And some plants have natural pesticides you need to avoid as well. For example, don't feed your worms papaya. Fresh cow dung is an ideal food. Unfortunately, the afternoon of the training, she was only able to find dried dung near the workshop, so she demonstrates how to moisten it and mix it in with the wormy soil. The famers nod. Four take home worms home that day, starter kits to breed up for their properties.
The organic agriculture movement in the country is still young, says Varela. When she went to school, it wasn't part of the technical training; engineers like her learned much through personal encounters with organic farmers.
"It's still not a consolidated movement," she says, "But it's strong."
---
Robin Mejia is a journalist and PhD student in biostatistics at UC Berkeley. Her work in El Salvador is supported by a UC Human Rights Fellowship.
photos by Robin Mejia