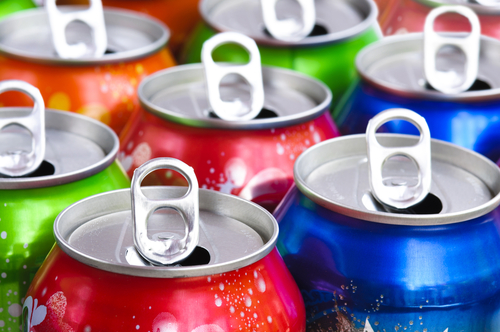 The other day on a flight from Chicago to Washington, D.C., I ordered a ginger ale. The flight attendant asked if I'd like the whole can—the plane had been in line for more than an hour waiting for a slot to take off, so I suppose she was feeling generous—and I accepted. More ginger ale, more happiness.
About halfway through, I noticed that the can proclaimed "25% fewer calories!" What? How does a soda have fewer calories? I turned the can and read the ingredients. And there it was, at the end of the list: sucralose.
Sucralose, if you don't know your generic names, is the artificial sweetener in Splenda.
I don't drink much soda, but when I do drink a can full of chemicals that are carefully combined and selected for their ability to seduce the receptors on my sensory nerves, I think I ought to at least get calories out of it.
A cursory Google search suggests that a lot of processed foods that sound normal actually have artificial sweeteners in them. Manufacturers are finding ways to cut down on sugar, which we're all apparently afraid of now, by adding in compounds that make the food taste sweet. Sucralose is a big one; the other FDA-approved artificial sweeteners are acesulfame potassium, aspartame, neotame, and saccharin.
There's some research to support my bias against diet soda. A review published last year in Trends in Endocrinology & Metabolism found evidence that artificially sweetened beverages are associated with increased risk of diabetes, cardiovascular disease, and weight gain.
It might seem counterintuitive that drinking a diet soda could be bad for you. It's got fewer calories, after all. But the danger, some scientists think, is that you're tinkering with the connection between mouth, brain, and gut. When your tongue tastes something sweet, it tells your brain that your body is about to get some energy. When that energy doesn't show up in the gut, that could cause problems. In the long term, according to one hypothesis, it could make it harder for the body to know what to do when it gets real carbohydrates.
To me, diet soda just seems creepy. Life is confusing enough without misleading my brain about what I'm eating. Either I should be honest and consume the sugar or just drink water. Or tea. (Mmm, chemicals extracted directly from the plant.)
Anyway, whatever the biology, I am appalled that I can be ambushed by stealth sweeteners when I think I'm drinking regular old soda.
Yesterday at lunch I was faced with one of those fancy new soda machines, the kind that gives you a choice of sodas mixed with flavored syrups. I realized it was offering the same ginger ale I'd had on the plane the other day—and that there was no hint that it had artificial sweeteners.
Does it stop there? What else has been reformulated to trick my tongue? I already make my own granola and eat a lot of vegetables from the farmers' market. Please, food manufacturers of America, don't turn me into one of those people who makes their own soda, too.
Photo: Somchai Rakin, Shutterstock