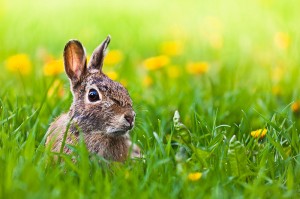 Their fur is so soft. Their paws are velvet. And the twitch of their little noses can send people into paroxysms of baby talk. But behind that cute little "bunny" is a fearsome rabbit, ready to destroy everything in its path.
Yes, the true nature of the rabbit is starting to come to light. Australia has battled rampant rabbits for years with everything from fences to viruses. On Destruction Island, off the coast of Washington, researchers are studying how invasive rabbits are helping the island live up to its name; these rabbits, possibly descendants of a pet kept by a lighthouse keeper's daughter, now decimate perennial native grasses, cause erosion, shrink habitat for burrowing birds, and tempt eagles with their siren-like soft fur and Hasenpfeffer-style deliciousness. The eagles then prey on rhinoceros auklets and scare tufted puffins from their burrows.
Rabbits' darker side shouldn't surprise me. After all, I read Bunnicula; I know that rabbits are nothing more than vegetable-sucking vampires.  And once, we rented a rabbit from a local wildlife museum. The first moment it was unsupervised, it hopped to the edge of my brother's bunk bed and unleashed a torrent of pellets. (It's possible that my mother paid the rabbit off; she had hoped we would decide that we didn't want a rabbit as a pet.)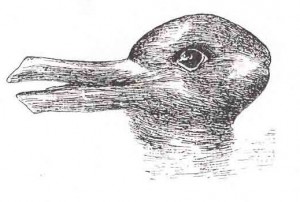 But now I am an advocate of even stricter rabbit controls. I have stumbled on an important film that foretells the even greater potential for rabbit terror, should their cuteness continue to bamboozle people into thinking they are docile, innocent mammals.
Night of the Lepus provides a glimpse of the extreme devastation to come–in this case, when attempts to exterminate an exploding rabbit population on a Southwestern ranch go wrong. The result: bunnies the size of wolves that rip apart horses, cows, even people, in a flying fury of limbs and blood so crimson that it looks almost like red paint.
Janet Leigh, who played one of the scientists involved in the genetic experiments responsible for this oversized rabbit wrath, reportedly said, "I've forgotten as much as I could about this picture." No doubt the psychological trauma from having to face the rabbit's innate ferocity—so disturbing, in fact, that a man in a rabbit suit was needed as a stunt double for actual rabbits in some scenes—contributed to the repression of these awful memories.
But I must be strong. I will not forget what I learned, and I stand with all those who fight giant, ravenous bunnies. We will plant our victory gardens with carrots, gorilla-sized carrots, to use in our defense.
**
Top image: Benson Kua