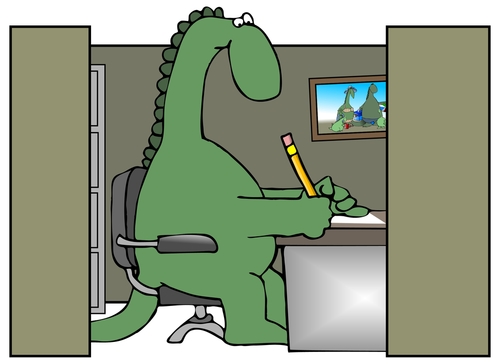 Ann:  In the last year or more or so, science writers have had Twitterfights with a culture/media writer, a nonfiction writer, and a script writer.   After the latest fight another science writer, the wise and civilized Dan Vergano of USA Today, Twitter-messaged me that he wished these fights would stop because they reinforced the walls around the science ghetto.  "GUEST POST!" I said.  "I'd rather make it a conversation," he said.  So, Dan:  I never heard of the science ghetto.  Does that mean I'm so far inside it I didn't know it had an outside?
Dan:   Ann is making a funny with her question. Her book, The Jasons: The Secret History of Science's Postwar Elite is exactly the kind of look at the real-world intersection of science and militarism that I think matters more than one more story about a snub-nosed dinosaur.
Ann:  Oh well then. In that case, I completely see the force and rationale in your argument.  No — vanity aside for one second — really, I still don't know what the science ghetto is.  And what's the problem with stories about snub-nosed dinosaurs?
Dan:  The idea, and it comes from the redoubtable Tom Hayden, is that science reporting has largely become a secret garden walled off, and walling itself off, from the rest of the world.  Instead of reporting on the scientific aspects of news stories — whether Iran really will have the bomb, whether Quantitative Easing will spark inflation, whether Peak Oil is a real concern — we write pretty entertainments about mummies, exploding stars and the sex life of ducks. All that stuff is great, but it is a news diet of ice cream and cookies without any sirloin. And it has contributed to the trade being regarded as a low-prestige, low-value part of news.

Ann:  I need to back you up a minute. I don't understand your last sentence. You're at USA Today so you understand this stuff way better than I do.  Do the news media really see science writing as low-prestige, low-value?  Or is all this inferiority just something science writers feel about themselves?
Dan: Where does one start and the other begin? You have to define prestige, I suppose. I mean it in the sense of science writers being influential voices at news outlets with a broad audience.  Where is the science writer on the editorial pages at the the top 10 newspapers? Where is the science writer offering a perspective on the political debate of the day on network or cable news? Where is the science writer sitting at the editor in chief's desk at Time, or The New Yorker, or The Atlantic? Why is David Brooks explaining social science or neuroscience to readers? The people picked to run these outlets and become their big voices are not from specialty beats like science writing, they are political, finance, investigative team and foreign affairs journalists generally, and I would argue that this is an indication of our trade's ghettoization (and perhaps a reflection of the curious status of science in our society in general, a kind of oracular expertise on tap to be turned off when it becomes inconvenient).
Ann:  No science writers with big voices?  All whispering in the cellar? Really?
Dan:  There are exceptions — George Monbiot at The Guardian or National Geographic winning many National Magazine Awards. Rick Weiss at The Washington Post upended the Bush Administration's narrative about stem cells in 2001 and Richard Harris at NPR broke the big news about the botched Deepwater Horizon oil spill flow rate in 2010.
But those are exceptions that point strongly to the rule: If you look at the glide path of newspaper science sections, more than 90 in 1990 and a handful of denuded ones today, the defenestration of science and medical expertise at CNN and the networks over the last two decades, the widespread switchover from staff writing positions to the "gig economy" of freelancing in the trade, I find it very hard to argue that science news is seen as a high-value part of most general audience news outlets. It is a helpful specialty, like the weather or the TV column, one that guarantees entertaining churns of medical study stories and space pictures, but it doesn't bring in the pricey ads. This beats being a labor reporter (are there any left?) or a book reviewer (do they even get paid anymore?) but it is a kind of ghetto for your work.
Ann:  As a gig economist of long standing and someone who long ago learned to love the basement, this prestige is what exactly?
Dan: I mean prestige in the sense of newsroom power in our society, not in the cheap prestige of being a "senior" science reporter (this is what I am in some settings) or a "contributing" editor or whatever. Writing in general suffers from being too willing to be paid in cheap prestige, pride in getting a piece in The New York Times Magazine instead of getting paid enough to cover your health care.
Ann:  Yes. Well. I've just been talking to other giggers about online magazines whose names shall not be spoken who run fully-reported stories for a couple hundred dollars and "exposure" to their zillions of readers.  And being exposed to those readers gets me what?  They're all venture capitalists burning to send mortgage checks to science writers?  But I'm off-topic, aren't I.
Dan:  I fully realize that most science writers are just trying to get their last expense check cashed and could care less about their profession not having much input into the broader news conversation, especially given that we are still emerging from an economic depression, but if we just limit ourselves to the academic prestige of contributing to the right blog instead of trying to apply our skills to stuff that matters, say political and economic disputes, the profession is hobbled.  So, I wish science writers had more of an inferiority complex, it might give us a bigger chip on our shoulders about breaking through to bigger stories.
Ann:  Ok, for most of my career I've written happy little stories about galaxy evolution — a subject whose uselessness is exceeded only by its charm — and I like the argument that such stories are in every way enriching.  But you're saying that enriching or not, they're keeping science writers themselves useless and ghettoized.
Dan: I wouldn't say useless, but certainly sidelined from making a bigger contribution. It is no accident that there is a science ghetto, if you look back to the founding of NASW during the Depression, the science reporters at most of the leading news organizations saw this kind of specialization and focus on gee-whiz stuff as their ticket to survival during tough economic times. And it has largely (I would argue) remained that way ever since. The concern I have now is that the mobile era will just exacerbate this tendency towards the trivial in science reporting — ever-more minute discussions of scientific desiderata in ever-more specialized niches of the gig economy. Don't get me wrong, I like exploding stars and duck sex as much as the next guy, but we could be doing so much more, if we opened some gates in the secret garden's walls.
Ann:  And if we did open the gates?
Dan: The reality is the scientific enterprise is wedded at the tailbone to our government, military and corporations. We ignore that if we make being a science reporter just being an entertainer, or don't make any room for a wider role for ourselves. Does that make sense?
Ann:  Yes.  Yes, it does.  But I've opened the occasional gate and honestly, I don't think I have the stamina to interview one more government or military or corporate person with the uncanny ability to string known words into sentences that make no sense whatever.  All those guys say is, "Take these words, quote them, nobody will understand or believe them, and come back when you want more words."  The supernova guys at least want to talk about supernovas.
Dan:  You do know one reason we study supernovas is because we are looking for analogies to H-bombs in their behavior, right? You know all this from the Jasons. It isn't all lollipops and cupcakes to explain why they are studying them at places like Los Alamos.
Ann:  I sort of knew that; it's uncomfortable, isn't it.  And now you're going to tell me that by sticking to the non-bomb supernova specialists, I'm being selfish and reinforcing the ghetto.  And then I'm going to say, But how do you get enough substance out of the bomb specialists to write a story?  And you'll say, Another subject, another blog post.  And then I'll say, Ha! Gotcha! Caught you agreeing to work for free! Again!
___________
Dan Vergano is a hard nose; he comes by it honestly.
* *
Photos:  Dennis Cox at Shutterstock