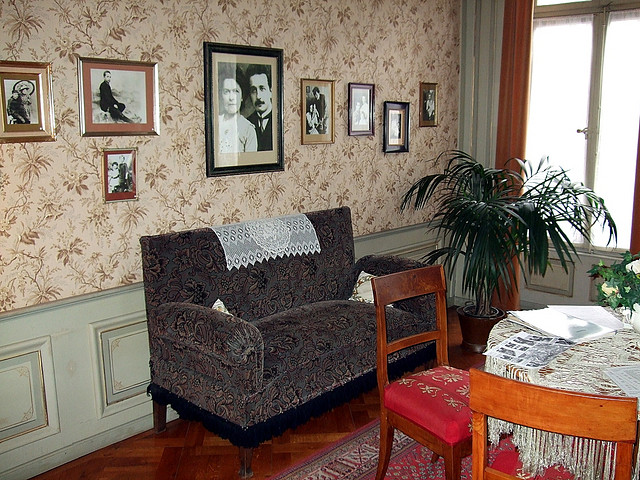 In an obituary for veteran rocket scientist Yvonne Brill this weekend, the New York Times disastrously failed science writer Christie Aschwanden's Finkbeiner test for profiling scientists.
She made a mean beef stroganoff, followed her husband from job to job and took eight years off from work to raise three children. "The world's best mom," her son Matthew said.  —New York Times
______________________________
Family Man Who Invented Relativity Dies
He made sure he shopped for groceries every night on the way home from work, took the garbage out, and hand washed the antimacassars. But to his step daughters he was just Dad. "He was always there for us," said his step daughter and first cousin once removed Margo.
Albert Einstein, who died on Tuesday, had another life at work, where he sometimes slipped away to peck at projects like showing that atoms really exist. His discovery of  something called the photoelectric effect won him a coveted Nobel Prize.
But his devotion to family personal and professional balancing act also won him notice. In 1950, Boys' Life and Sears Roebuck awarded the former patent office employee their Leafblower SuperDad Award for his steady financial support of his ex-wife and schizophrenic son all through the long years of his happier second marriage to his cousin Elsa Einstein. Also noted by the prize committee was his success in finding a new job after losing his job in Germany in 1933.
Mr. Einstein—or Dad, as his step daughters and long-estranged sons called him—is believed to be the only person of Jewish descent to have developed the theory of special relativity. When Nazi propagandist Joseph Goebbels targeted Einstein's work for book burnings, Mr. Einstein shrugged it off, writing, "… I must confess that the degree of their brutality and cowardice came as something of a surprise. But you can't take these things too seriously, can you? You just have to be cheerful and not get upset when you get insulted."
Mr. Einstein never got the medical degree his parents had hoped he'd get, but he picked up a teaching diploma in math and physics that allowed for some surprisingly competent work. "Nobody had the right degrees back then, so it didn't matter," he told the Times.
______
Photo, Einstein's apartment in Bern: 
Jacek.NL