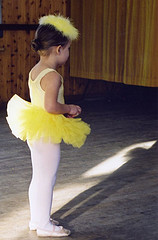 I miss dancing. One of my favorite activities as a kid was dropping the needle on our Hooked On Classics record and letting loose across the living room's faded oriental rug. Later, I danced with gusto in church pageants, whether in charming second-grade square dances or hippie-esque liturgical dances that involved wearing leotards and waving ribbons.
Sometime between then and now, I've put away my dancing shoes. Hooked on Classics records and accompanying choreography were replaced with Too Short tapes, DJ Fresh Prince and Jazzy Jeff CDs, and odd head-bobbing movements. I've certainly mocked liturgical dancing. I haven't gotten anywhere near Gangnam Style.
But then, a few weeks ago, a science writer friend alerted me to a dance performance that re-inspired me. As I understand it, it was a class project for a geology course. This dance chronicles how large boulders, called erratics, first appeared in Oregon's Willamette Valley.
(For those who get too caught up in the moment to follow the storyline: during the last ice age, Glacial Lake Missoula got caught up in a cycle of damming and flooding that sent waters and ice chunks spilling over Idaho, Washington, and Oregon. After ice dams burst, these big rocks likely arrived in Oregon via iceberg.)
I know that there have been many leaps made in dancing science—take the "Dance Your Ph.D." award. This year's winner involves a full ensemble performance that evokes the complex nanostructural architecture of aluminum alloys.
In the past, this particular series has intimidated me. I wondered if I should go back to school to get a doctorate, just so I could dance. (This is not ironic. I even started looking up graduate programs I once applied to and contemplating what a sea urchin costume might look like.) I have also been cowed by the costumes and choreography involved—I can probably talk my long-suffering family into interpreting the hydrologic cycle with me, but it's most likely that they will want to wear some combination of pajamas, diapers, and capes.
This video gives me hope. Dancing is fun. I can start anywhere, anyhow. I can wear my hoodie. I can launch a new movement of spontaneous solo science dances. Like a flash mob except, you know, just me. Perhaps I can talk this geologist into helping me.
I don't even need Hooked On Classics anymore when I have things like PLoS and Polar Biology and even Advances in Contraception. Readers of LWON, beware. I can sort of do the caterpillar, and I'm taking requests.
**
Image:  Flickr user Ian Parkes
(and thanks to Virginia Gewin for pointing me to this video)