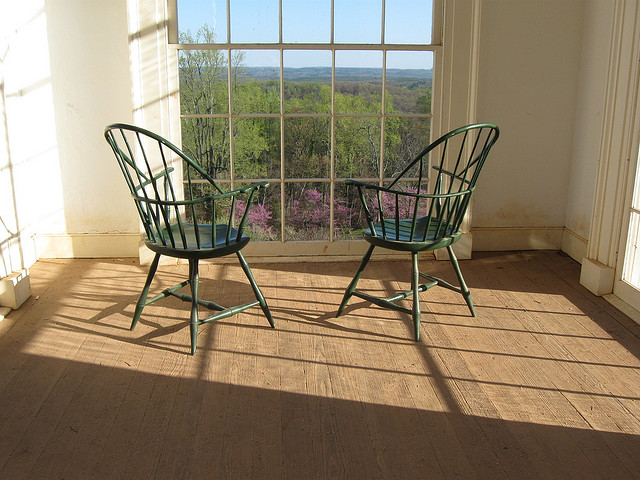 Ann and Richard were each pleased and proud that their books have won the same lovely prize, the American Institute of Physics' Science Communication Award. The prize comes with money — always nice — and a Windsor chair that says American Institute of Physics on the front and has a formal citation inscribed on a large brass plate on the back. Ann received her chair in 2008. Richard's will arrive some time following a ceremony at the American Astronomical Society meeting in Long Beach in January. They are honored and deeply grateful for the prize, but they wish to discuss this Windsor chair business.
Richard: After the obligatory congratulations, the next thing everybody says is something about the chair. "Can I come over and sit in it?" "Can you send me a photo?" Except my wife. The first question out of her mouth was, "Where in the world are we going to put it?" By the bookshelf, I suggested. She said that then we'd have to get rid of the bench. (She's never liked that bench.) I think if the AIP is going to give a Science Communication Award to someone who lives in Manhattan, they should offer another option, like a Windsor throw pillow. Where did you put yours?  Do people who visit you ask to sit in it?
Ann: That was the first thing I thought of too and for the same reason of limited space, plus another reason, which is design concept. The chair is shiny black, highlighted here and there with gold rings, and the arms are natural maple, or natural wood of some kind. The only room the chair's design concept fit in is the bedroom and there it sits, against the window, looking like it grew there. I fold clothes and lay them on it reverently and temporarily. Anyway, because of all this, no one asks to sit in it.
Richard: How did it arrive?
Ann: In a cardboard box so large that after we removed the chair from it, we gave it to the little kid across the street who lived in it (in his parents' living room; it's not that kind of neighborhood) for months.
Richard: Well, maybe I'll give the box to the guy in the park across the street, and he can live in it for months, too.
Ann: But aren't we pussyfooting around the big issue here? What is a Windsor chair? And why is AIP giving them to us?
Richard: When I got The Call from Charles Blue at AIP, he said the chair was originally conceived as something to distinguish this award from any other. He was laughing as he said it. When I got off the phone I immediately Googled "Windsor chair."
Ann: And in 33 pages of Google images of Windsor chairs, you found many, many different varieties, a few of which resembled our Windsor chairs, three of which had naked ladies unaccountably sitting in them, and none, not one, which matched exactly.
Richard: So you're saying your chair didn't come with a naked lady.
Ann: I'm going to ignore that. Do you think we have Windsor chairs that are unique?
Richard: I wouldn't know, since I haven't gotten mine yet. But if it comes with a naked lady, then, no, not unique. Did you make sure the box was empty before you gave it away?
Ann: I'm steadfast in ignoring the naked lady talk.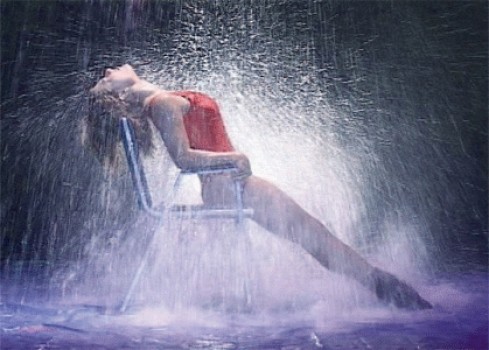 Richard: Then I Wikipediad it. . . .
Ann [interrupting]: The Wikipediad is an epic poem in which Jimmy Wales struggles to found the only encyclopedia that doubts itself. Where were we? The reason I'm so confused about those Google pages of non-matching Windsor chairs is that the alumni magazines of colleges and universities across the land sell as Windsor chairs, chairs that are identical to ours. Am I making this up? Would these alumni magazines have anything to do with AIP's inexplicable choice of Windsor chairs as prizes? And I still don't know what a Windsor chair is anyway. Did you ever finish your Wikipediad?
Richard: "A Windsor chair is a chair built with a solid wooden seat into which the chair-back and legs are round-tenoned, or pushed into drilled holes." The "Windsor" part probably comes from the town that served as the shipping center when the style first made its way to London. Look, you're the one who brought up the naked ladies.
Ann: When I brought them up it was merely description; it called for no further discussion. Meanwhile, that Wikipedia description of Windsor chairs continues with: ". . .in contrast to standard chairs, where the back legs and the uprights of the back are continuous." I wonder what a structural engineer would say about the Windsor chair's stresses and strains — uprights attached to the seat to which the legs are attached — versus those of chairs whose legs and uprights are continuous. The latter seems more break-prone to me. Do you know any structural engineers you can call?
Richard: No, I don't know any structural engineers I can call. Nor would it occur to me that this post needs actual reporting. You know what I think? I think your reference to stress points is an attempt to make this post more science-y.
Ann: Well I'm doing my goddamndest. So I went and located what must be the world authority on Windsor chairs, Nancy Evans, who says at length in her book that Windsor chairs have been used for everything chairs are used for and by everyone who used chairs, that American presidents used them, that they've been made in the U.S. since before the Revolution. Maybe their old design makes them attractive to alumni associations and AIP? So I called a person in Media at the American Institute of Physics –
Richard: Again with the phone-calling. I'm ashamed to say I'm actually sort of impressed.
Ann: – and I asked him, "Why a Windsor chair?" He delegated the question to a delightful Jenny Lee, who called back and said she'd talked to everyone who's been at AIP for a long time, she'd made phone calls to further old-timers no longer at AIP, and the consensus is, no one knows. "We do it because we've always done it," she said. Some of her sources conjectured that Windsor chairs are what universities do, give professorial chairs; and Jenny and I conjectured further that maybe those professorial chairs are not just titles, they're really chairs. But really, we've digressed quite enough for one post.
Richard: I agree. Let's get back to naked ladies. Shall I call one?
Ann: Please do. Later. Another day, perhaps.
____________
Windsor chairs, not like ours, at Monticello: eap0323