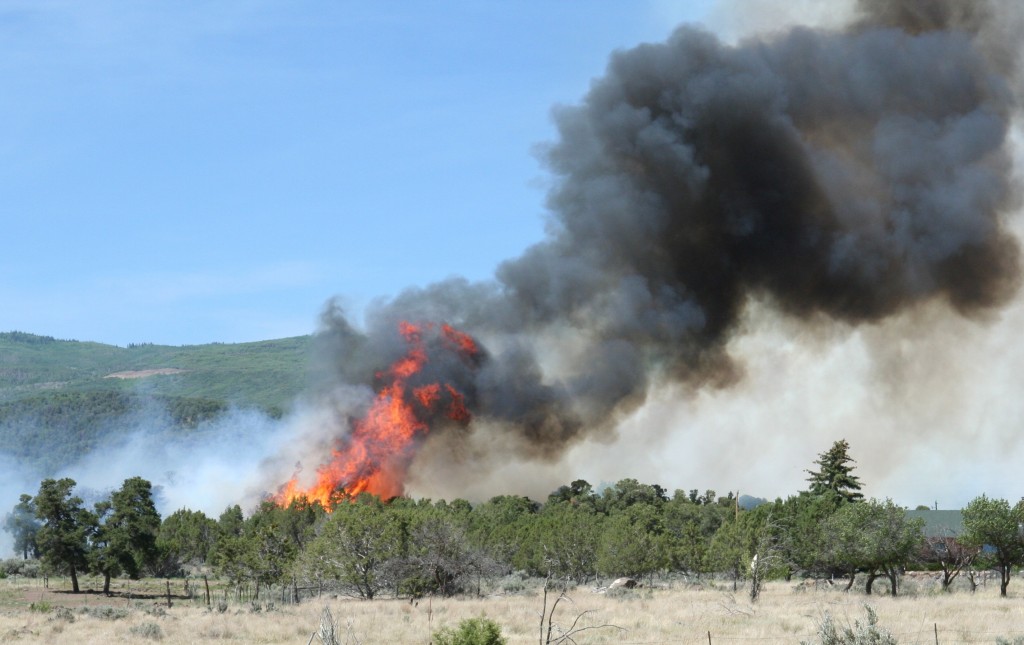 June 8, 2012, Cedaredge Colorado—It was an ordinary Friday afternoon. I was at my desk writing when I looked out the window and saw an enormous plume of smoke billowing from the back of our property. It was the kind of moment when you're supposed to remain calm and remember all the wise things you learned in first aid class or girl scouts. (Stop! Drop! Roll!)
Instead, I panicked.
I threw open my office door and ran out to the garden where my husband was working, oblivious to the smoke behind him. "Holy shit! There's a fire!" I waved my arms frantically, pointing to the smoke as the wind blew hot, dry air in my face.
"What kind of idiot burns weeds on a day like today…" Dave started. Then he turned around and saw the smoke. It was black and ominous. This was no routine slash fire.
I pulled the phone from my pocket and tried to decide whether I could call 911 from a cell phone. (Turns out, you can in most areas.) I looked up my local fire department and called the number. No answer, so I called a neighbor with a landline and asked him to call 911.
Then I grabbed my camera, joined hands with my husband and walked toward the fire. In retrospect, it seems like a stupid thing to do—to walk toward, instead of away from the danger. But the urge to see, to witness this awful thing that's happening, was too strong to resist.
We were careful. The fire was about ¾ of mile directly north of us, and the wind was blowing strong to the northeast. (Had the fire been coming toward us, I swear we would have gotten the hell out of there.)
We walked to the northern edge of our property and over to an adjacent open pasture that gave us a clear view of the fire. The cloud of smoke had doubled in size since we left the house, and at this point we stood just a few hundred meters from the flames. The smoke and fire were traveling away from us, and I wanted to go closer. Dave held me back. "This is as close as we get," he told me. He was right, but I wished he wasn't. The edge of the fire held the same allure as a cliff edge. I knew it was dangerous, and yet I was drawn.
When we first arrived on the scene, we saw mostly smoke. Then, in an instant, the fire exploded into the crowns of some nearby piñon trees, and fire shot into the sky. Even with the wind blowing—hard—away from us, we could feel the fire's heat, and its crackling, popping sounds were loud and in our face. It was like being in the front row of a rowdy rock concert where at any moment someone might jump off of the stage and into the crowd.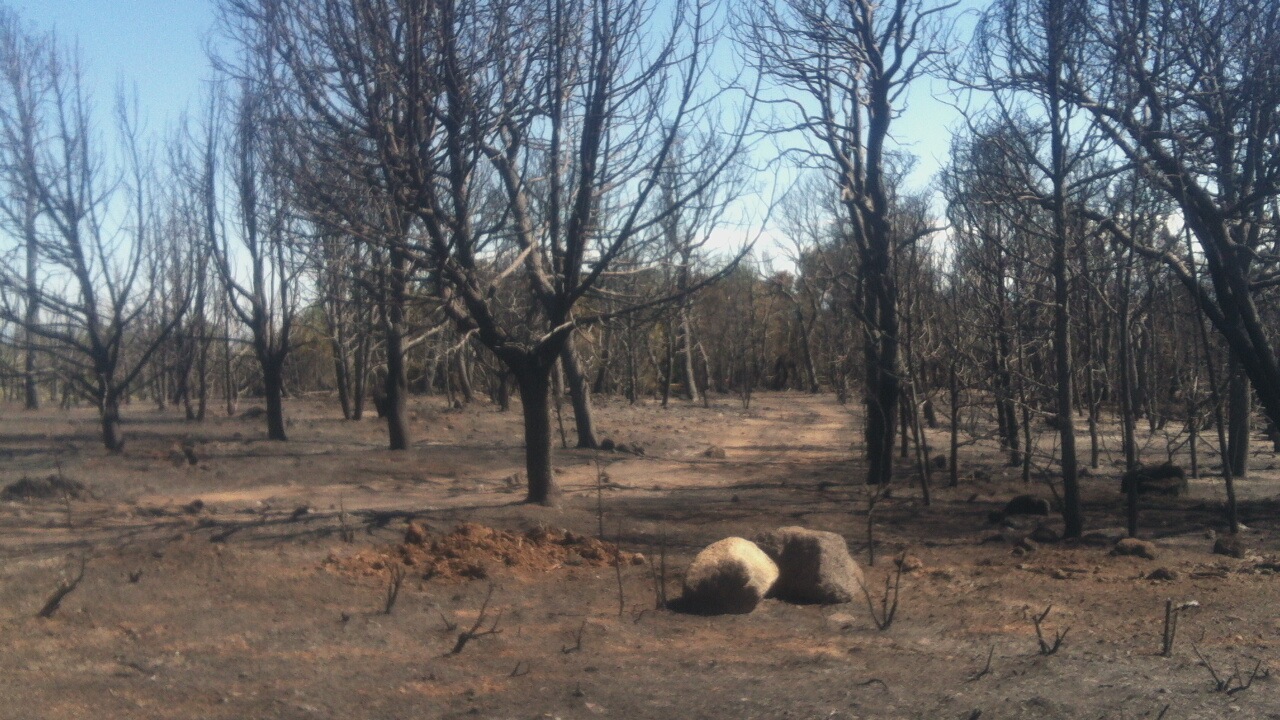 The sheer force and power of a wildfire can only be understood first-hand. Fire is a ravenous beast, it swallows everything it enounters and as it engulfs the fuel in its path its momentum grows. For half an hour, maybe more, we watched as the fire moved from one stand of trees to the next.
There could be no doubt. This was a force greater than us. Like a honey badger, fire doesn't care about anything, it's hungry and takes whatever it wants. As this fire pushed to the east, the flames grew closer and closer to our neighbors' houses. I felt completely helpless, and my inclination to get closer faded as my fascination turned to fear. If the wind shifted, as it usually does this time of year around sunset, the fire could quickly move our way.
We returned to the house and started planning what we would take if we needed to evacuate. (We would later learn that we were in the mandatory  evacuation zone, but we never got the call. I've since added our cell phones to the emergency call list.)
With the fire so close, the idea that we could lose everything was no longer an abstraction. It was real. And to my surprise, my immediate reaction was—ok, let it burn. I unplugged my backup hard drive and packed it in a small box with some reporting notebooks and a bundle of photographs. But apart from those objects, which fit in one box, there was really nothing I felt inclined to need.
In the few hours that I had to ponder what I might take, the idea that all the stuff I've accumulated over the years could just disappear in flames became strangely appealing. Standing close to the fire, I couldn't help feeling that there are forces much greater than me, and that all my stuff was just a distraction. If the winds were going to push the fire to my house, then I would escape with what truly mattered—my husband (and my animals). Everything else I value here is rooted in the soil and cannot be taken with me.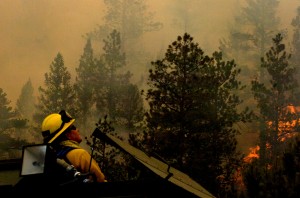 The only thing more awe-inspiring than our fire was the firefighters who responded to it. Local volunteer fire departments were on the scene within minutes, along with two helicopters and a spray plane that dropped water on the flames. With the creek on one side of the fire, the firefighters had a leg up, and their fast work and effective coordination allowed them to get a handle on the fire by nightfall. Our neighborhood was lucky. The fire was fully out within 24 hours, with no serious injuries and the loss of only one barn.
Still, I wonder how it would feel to lose everything I owned. Would my instinct to let it go turn into grief  later?
Hundreds of people are finding out for themselves. As I write this, the whole state of Colorado is on fire.  The state has at least eight fires right now, and more than 300 homes have burned just in the last 48 hours. The factors behind this explosion of fires are a topic for another post. For now, I simply send my deepest sympathies to those who've lost their homes.
**
Photos: Flames, aftermath by Christie Aschwanden
Firefighters at High Park Fire (near Ft. Collins) by National Guard, via Flickr.