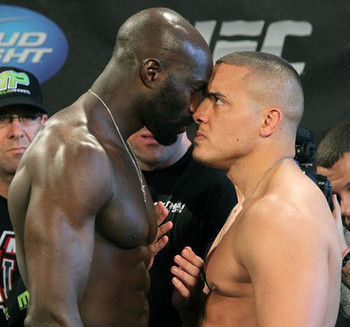 In all my obsessive reading about combat sport – the ghost-written memoirs and swaggering comment threads – one concept has always stumped me. Time and again a story of a fight takes as its pivotal moment the breaking of a fighter's will. Or take this account: "I was beating him up, but I don't think his will broke too much at all". As a person of reason, this smacked of soul-leaving-the-body talk. Break a fighter's arm and I can accept you may have won. His will? What is that.
I have to accept, though, after hundreds of these narratives, that this is indeed their experience, and that the victor, in particular, can see a clear change, if only for a moment, that tips him off to his advantage.
I started looking into the non-contact elements of combat sport and the dominance communication in other forms of sport. The notion of intimidation displays immediately evokes talk of Alpha males and pecking orders, so I went into the primate anthropology literature too, just for a look-see. I've also been brushing up on linguistics, which has boiled power struggles down to a formula, a struggle to hold and keep the floor or determine the topics discussed.
It's an ongoing project that I hope to share in a longer form at a later date, but since I'm so immersed in the thing, I wanted to give the LWONians a preview.
This is the sort of thing I've been watching (don't worry, there's no violence): 
It's a trope in sport psychology that if you want to win, you have to visualize yourself winning, but here Rampage Jackson takes it one step further and forces his future opponent Rashad Evans to visualize him winning too. "I'm getting my belt back. Think about it. Know it. Rampage getting his belt back. See it, Rashad. See it." He's like the Tony Robbins of trash talk. Meanwhile, Rashad (who ultimately won the fight) completes Rampage's "I'm getting…" with "knocked the fuck out" and then makes an unusual threat: "I'm going to put my hands down."
Fighting is like ballroom dancing, where both partners want to lead. Somebody's feet are getting stepped on until you agree on who that is. Sure, you want to throw more – and more accurate – punches, you want to fight your own kind of fight, but in the end, real dominance comes in controlling the other fighter's movements, so that both bodies are dancing under one mind's direction.
Coaches tell me the meta-battle is fought over dictating the pace of the fight, so that the opponent has to fight out of his rhythm and feels like things just aren't clicking for him, somehow. Unrelenting pressure doesn't give him an obvious moment to think about position or recharge. Careful masking of pain or tiredness encourages him to start doubting the effectiveness of his attacks. If he suspects his opponent will stop at nothing — indeed, might even be a little bit crazy — this is demoralizing.
UCLA anthropologist Joan Silk's work looks at primate aggression and status conflicts. Agonistic behaviour ultimately boils down to competition for limited resources, and this feeling survives in human fighting language. "I'm going to take what's mine" is a strong motivating phrase even when it's not really clear what the fighter exactly feels entitled to.
But because primates don't just encounter one another once, status maintenance is the source of most of the aggression, and Silk argues it's all about unpredicatable and unprovoked attacks on random subordinates. There's little honour in primate attacks, the favoured method being the equivalent of cold-cocking with no warning, limiting the opponent's ability to recruit allies or escape.
Repeated uncontrollable attacks encourage the subordinate to accept his fate and give in to a feeling of learned helplessness. The generalized stress response this creates will then accumulate over successive episodes to make underlings more susceptible to disease and less fertile. Reproductive success plummets, and the will breaks.