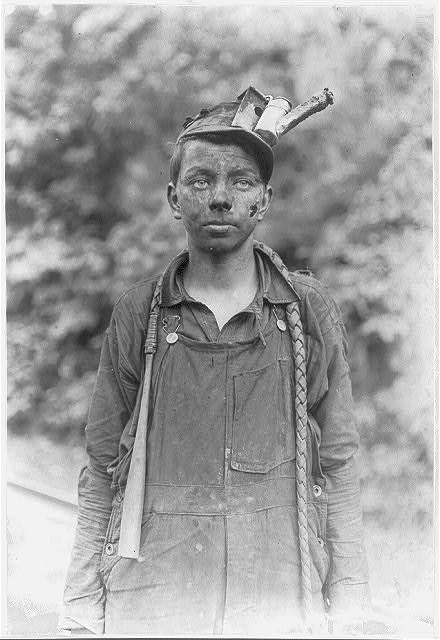 Earlier this year, during a reporting trip in West Virginia, I happened upon the tiny Watts Museum, a mining-history gallery tucked into West Virginia University's sprawling Mineral Resources building. Its advertised exhibit, "Defying the Darkness," detailed the history of mine illumination. Mine illumination? I pictured engineering blueprints and exhibit cases filled with switches and bulbs. I thought about going to the coffee shop instead. I wandered in, though, and after a few minutes realized that to many, mine lighting was — is — a matter of life and death.
The earliest mine lights were just specialized candlesticks, their pointed ends wedged into a nearby wall while the miners shoveled. To make the gas-filled mine corridors safer for the open flames, one miner would act as "fireman," creeping ahead while wrapped in water-soaked clothes and holding a long, flaming stick. If he was lucky, his stick would find the hidden pockets of gas and burn them away. If he wasn't — well, he would burn away too.
After the candlesticks came tiny dishes of oil with floating wicks; then tin or copper teapots of oil, strapped to the head with a flaming wick in the spout; then acetylene gas lamps, which smelled like garlic and burned hot, white, and bright. Explosions were common, and fatal. By the late 1800s, though, miners had another option: the flame safety lamp, which burned blue when methane was present and had a wire mesh that covered and cooled the flame inside. A few years later, battery lamps debuted. Miners called them "bug lights."
Some people welcomed the new lights, and Progressive-era activists, concerned about miner welfare, wanted them required by law. But the descendants of the flaming teapot hung on for decades. Mine owners hated the more expensive, less luminous new lights, and the miners — at least in this case — sided with their bosses. Open lights presented the small but fearsome possibility of dying in a sudden fireball. But because miners were paid by the ton, the heavier, dimmer closed lights meant less food on the table each week. Unlikely fireball vs. a guaranteed pay cut? The fireball usually won.
Technology improved, and today, of course, electric lights are the norm in coal mines. In the Colorado town where I live, three large mines still underpin the economy. If you approach town from the mountain side at night, you can see the strings of white lights along the conveyors and chutes of the coal loadouts, everything illuminated as brightly as an amusement park.
The flaming teapot dilemma is gone, but mining is still a dangerous job. In the corner of our town park, there's a bronze statue of a miner, a memorial to those killed while working in the valley. Sometimes I stop to read the long list engraved on the base. Sometimes I don't. But I always notice that the plaque of names has room for more.
Photo: Library of Congress Image Collection.