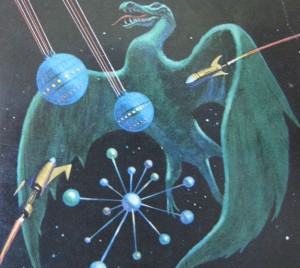 You may have seen the extensive (and entertaining) press reaction days ago to a recent press release that cited Columbia University chemist Ronald Breslow taking liberties in his paper on the chirality of α-methyl amino acids.  Breslow mentioned "advanced versions of dinosaurs," who may live "elsewhere in the universe." Gasp! The kicker? "We would be better off not meeting them."
It's not surprising that a leading chemist discussing alien – and apparently dangerous – dinosaurish life forms would get some coverage.  Who doesn't love giant highly-evolved deathly space-reptiles?! Breslow was likely being facetious (though this is unconfirmed), and presumably knows that the chance of distant alien life forms closely resembling distinct fauna of earth is extremely improbable.  Breslow's paper is really just about amino acid chirality in a sample of meteoric rock.
Amino acids on earth have a stubbornly fixed chirality ("homochirality"). This gives our earthly amino acids a distinct chemical symmetry.  An oft-used metaphor to describe chirality is that of "handedness" – the building blocks of life here on earth happen to be "left-handed" with no exception.  Evidence of left-handed amino acids in recent samples of a meteorite (specifically, the Murchison meteorite, which fell to Earth in 1969 near the town of Murchison in Victoria, Australia) have been analyzed by chemists including Breslow, and used to buttress theories of exobiology.  Exobiology is the idea that life did not spontaneously arise from chemicals already on earth after it formed, but were expressed shipped to earth on meteorites. Perhaps, according to Breslow, all our amino acids are intractable lefties because they were "seeded" here by an asteroid billions of years ago and never had an opportunity to be different.
Before we get any deeper on theories of exobiology, I need to admit something: I am writing about exobiology at this particular moment because a chemist with a sense of humor decided to mention (and caution us of) the highly improbable existence of space dinosaurs.  A cynic would say he was cheaply getting attention; I would say, with tongue half in cheek, that he's being a shrewd professional.  The fact is, so much interesting science (like the amazing bodies of work on the origin of life) often falls under the radar of the modern internet press engine.  Molecular chirality and 40-year-old meteorites don't have as sexy a ring as research on "What Facebook Is Doing To Your Brain."  With American K-12 students ranking 21st in a sample of 30 industrialized countries, maybe it's time we hook them with some space dinosaurs (and then softly explain that they probably don't exist, of course).
Ok, back to exobiology (or the fact that we may all be aliens) — chemist Sandra Pizzarello and her team published work last year showing that some Antarctic meteorite samples contained traces of ammonia, which is a byproduct of organic chemicals, and suggested a link to exobiology:
Given that meteorites and comets have reached the Earth since it formed, it has been proposed that the exogenous influx from these bodies provided the organic inventories necessary for the emergence of life…an abundant exogenous delivery of ammonia, therefore, might have been significant in aiding early Earth's molecular evolution toward prebiotic syntheses and the data in this study, showing the capability of some asteroidal bodies to provide it, would make a reasonable case for exobiology.
Interesting as these ideas are, it will be hard to ever prove the speculations of exobiological theories, as Breslow mentions in his paper:
The unusual amino acids delivered to Earth by the Murchison meteorite and related ones could have led to the dominance of [left-handed] amino acids and d-sugars on early Earth that would permit life to start. Of course, showing that it could have happened this way is not the same as showing that it did.
The origin of life is highly debated topic in astronomy, biology, and chemistry, and has various implications for our understanding of life on both earth and the broader, dinosaur-infested universe.
Sure, maybe it's dishonest to allude to, in a chemistry paper, fantastical creatures that very likely don't exist.  But if it gets a few more people to at least learn what chirality is, then that's fine by me.  (Though, admittedly, it may only work once, and perhaps only with reference to space dinos.)
_____________
Sam McDougle is a freelance science writer based out of Brooklyn, NY. He was born and raised in New York City, and feels its particular magnetism as a city rat feels the magnetism of a damp sidewalk on garbage day.  Sam used to study the neural basis of motor learning in the lab of Javier Medina at the University of Pennsylvania before exchanging the brain electrode for the laptop and coffee shop.  Most of Sam's writing can be read at Vice Magazine's science and tech uber-hub, MOTHERBOARD.  Follow: @smickdougle
Photo credits: Flickr user "anajonmary"; Sam McDougle