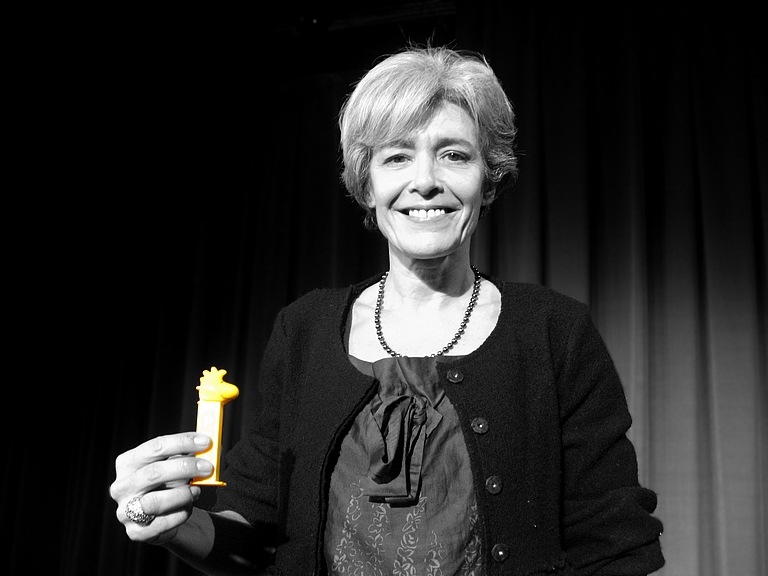 Apparently we're feminine/ist this week, or so far Emma and I are.  I want to argue about the Finkbeiner Test.  The test began with a heroic vow:  I would write a profile of a woman scientist without the clichés that litter these profiles.  The test took off when Christie wrote a post about my post for Double X Science*, making a solid argument in which she listed the cliches as bullet points.  And it became nationally famous when the New York Times began the obituary of a woman rocket scientist with "She made a mean beef Stroganoff."  (The Times had to change that sentence and you may picture me smiling evilly as I type this.)  In general, the Finkbeiner Test comes down to this:  if you're not writing it about a man scientist, why would you write it about a woman scientist?
Recent specific examples:
Last week, I heard a woman scientist being introduced as the first woman to win the Crafoord Prize.
Also last week I read a well-researched, well-written profile in a science magazine of another woman scientist whose science is careful but her results are unexpected and therefore controversial: she has children, her ex-husband's opinion of her work is low, she finds the controversy difficult to handle, in fact, her field's aggressiveness has cost her an NSF grant.**
And the week before last, I finished writing a profile of yet another woman scientist: she worked much of her career without a university job, finally got one with tenure at age 59.
Would you write any of these things about a man scientist? any at all?  You would not.  He'd never be the first man to win an established prize.  His children and is ex-wife's opinions would be seen as patently irrelevant.  His controversial work and his ability to withstand his field's aggressiveness would make him an iconoclastic hero.  And by age 59 he'd be thinking retirement.  You write about women scientists saying these same things, even though all are meant as compliments, and wouldn't you suspect these women of being, well, you know, sort of affirmative-actiony, kind of weepy, a little second-tier, maybe not quite top-drawer? You would.
The Finkbeiner Test caught a certain amount of flack***, all of it rational and politely-expressed and usually posed as questions.  I am here to answer them. Continue reading →