By Sally Adee | March 8, 2014 | No Comments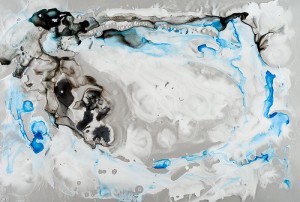 March 3 – 7
This week, Ann's love letter to the capital weather gang made me want to understand far more about the weather.
You can either be totally secure, or you can be plugged into a network. Pick one, says Abstruse Goose.
Helen says art about the Artic ice melt is beautiful and awful, which is not the same thing as depressing.
Richard's first day in journalism is the day the Chicago Tribune releases 274,000 words of Watergate. There's an unexpected cliffhanger.
So why did Harry say what he did? The answer lies in something none of you, dear LWON readers, ever knew about Kepler.
By Richard Panek | March 7, 2014 | 1 Comment
(Part 2 of 2; Part 1 appeared yesterday.)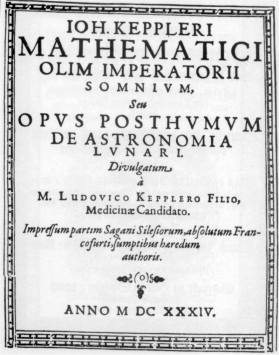 Harry's utterance "Damn damn Kepler on the Moon damn damn" immediately entered the lexicon of our little messenger world. I then introduced it to my non-work friends, who likewise adopted it as an absurdist catch-all. For years afterward my only knowledge of Kepler was as a punch line to a prank phone call. Only when I began researching astronomy for a book project, deep into adulthood, did I come to understand Johannes Kepler's contributions to the history of science, including the three laws of planetary motion that provided the foundation for Newton's universal law of gravitation.
Even then, however, I remained ignorant of Kepler's contribution to the history of literature: He was the author of the first work of science fiction.
A year ago a student in the Science as Narrative course I teach first brought Kepler's Somnium to my attention. I'm teaching that course again this semester, and in the past few weeks we've been discussing Kepler. This time I looked up Somnium online, and what I found was a truly transgressive work of literature. Also, the evidence in Harry's favor.
By Richard Panek | March 6, 2014 | 4 Comments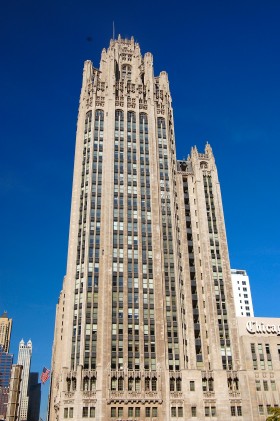 My first job, post-paper route, was as a messenger in the advertising department of the Chicago Tribune. As a 15-year-old aspiring journalist (and, yes, underage hire), I thought the experience might be a career path to Woodward and Bernstein heights. By coincidence, the day I started—May 1, 1974—was Watergate Wednesday, the day that the Tribune was the only newspaper to publish the just-released transcripts of the Nixon White House secret tape recordings in their 246,000-word entirety. I walked into an office where my fellow messengers were frantically stuffing copies of the broadsheet supplement into enormous manila envelopes, the kind with string clasps on the back, for delivery that very afternoon, as part of a vast promotional strategy, to advertising clients ranging from the heart of the Loop to the outermost suburbs. The scene in the office was bedlam. My new boss told me to take a seat on the bench and stay out of the way.
Like me on the bench that afternoon, the journalism dreams went nowhere, at least via my messenger job at the Tribune. The era of the copy boy rising through the ranks to foreign bureau chief was over. But that messenger job did offer life experiences that I couldn't have imagined.
By Ann Finkbeiner | March 5, 2014 | 6 Comments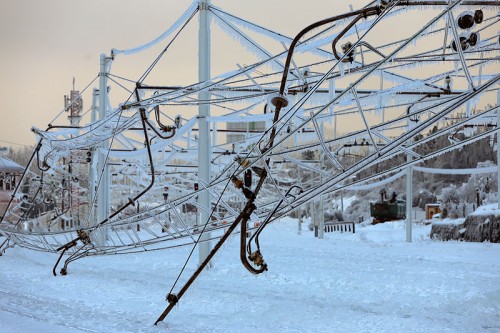 The latest snowstorm was only somewhere around 5 inches, depending where in the yard I stuck my ruler, and as usual the Capital Weather Gang had nailed it.  I'd written them asking if I could interview them for this post, but at the time they didn't answer, so intent they were on predicting the upcoming storm down to the last flake, path, county, minute, percentage, and error bar.  This time they'd said 5 to 9 inches – the National Weather Service was going with 8 to 12 but eventually came down – unless the dry, cold air got here faster than the models showed, which it did.  The Weather Gang are open about their passion for snow, but they earnestly consider all scenarios and their pronouncements are such that one can have faith in them.  I take the Weather Gang as my personal savior. Read more…
By Helen Fields | March 4, 2014 | 2 Comments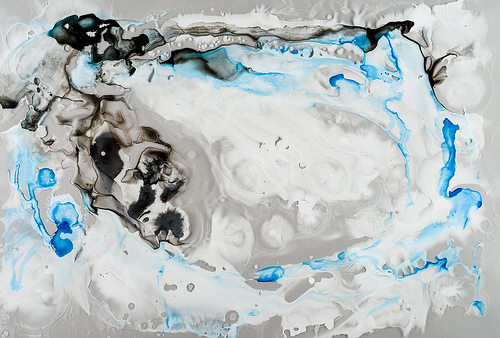 Right now at the headquarters of the American Association for the Advancement of Science, here in Washington, D.C, is an art show about climate change in the Arctic. Three local artists worked together on the show, called Voyage of Discovery.
I know, art about climate change in the Arctic. It sounds depressing at best and preachy at worst. But it's not.
Artist Michele Banks does lovely work with the strange blues of Arctic ice. In the windows of the gallery hang "Micro/Macro," a series of ink-on-mylar paintings about the transition between ice and water (one is above). Elsewhere, in a series of cute little round watercolors set in petri dishes, her patterns suggest algae and other critters that live in the Arctic sea.
Climate change has human effects, too, of course. In a piece called "In the Balance," a boat made of handmade paper over a steel frame, based on a native Alaskan fishing boat, is tossed by giant waves; this was inspired, says artist Jessica Beels, by hearing that people in Alaska have found they can't predict the behavior of the weather and the water as well as they used to. Global climate change has meant local weather changes and more dangerous encounters with the sea for people who make their living from it. Read more…
By Ann Finkbeiner | March 3, 2014 | 1 Comment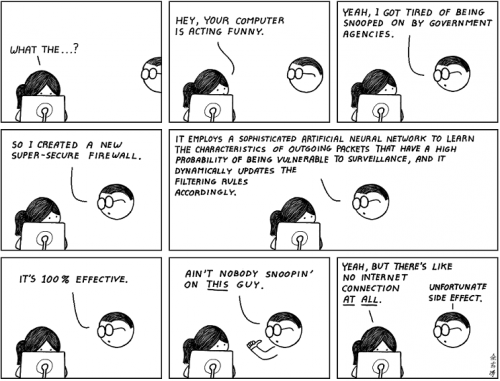 I just don't have anything to add to this.  Though I'm pretty sure if the NSA put their massive minds to it, they could figure out how to hear us thinking, let alone typity-typing on our computers without an internet in sight.  Did you know that NSA is the country's largest employer of mathematicians?  It is.  Respect their powers.
____
By Ann Finkbeiner | March 1, 2014 | No Comments
February 24 – 28, 2014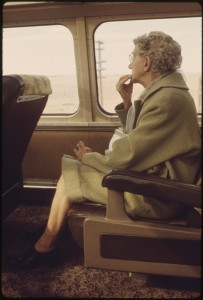 Cameron, trains, and writing: "I watched until it grew so dark that the only things that seemed to exist were the fire and the man's illuminated hands."
Christie, death, and grief:  "Such platitudes offered me no comfort. The truth is, Pia died far too young, and I wish she hadn't."
 Jessa, no-till, and drainage:  "Mother nature knows how to balance and settle her own creations, but it seems she's not particularly interested in other people's brainchildren."
Cassandra, cable companies, and hidden expense:  "Here's what I want to know: Why are we letting industries set their own energy efficiency standards?"
Guest Ivan Amato, blackboards, and thinking: "The scientists I have spoken to at Kavli say their their chalkboard sessions are ways to clarify blurry thoughts, to work out bugs in half-baked theories in collaborative on-the-fly edits replete with chalk-frosted fingers and palms, and to see, perhaps for the first time, the inklings of a great thought—perhaps one they will be most proud of in their careers—staring back at them."
By Ivan Amato | February 28, 2014 | 3 Comments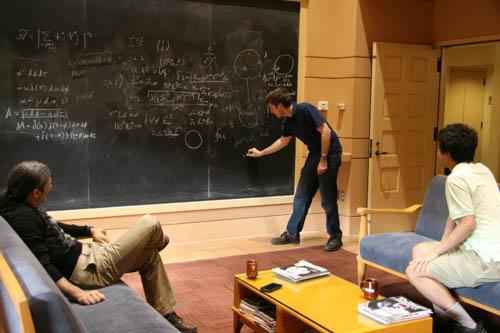 You cannot walk more than a dozen paces at the Kavli Institute for Theoretical Physics, a cloister of sorts for the more theoretically- and mathematically-inclined of the science community, without happening onto a chalkboard.
Secured on at least one wall of each small office on the building's two floors is a spacious chalkboard. Chalkboards run across the entire length of the building's auditorium. At the front of the building's main lecture hall is a two-tier set of chalkboards, with a sliding mechanism for interchanging the low slabs for the high. Read more…
keep looking »