\
Here, as this Year of the Dog begins, we are the deciders, choosing which day will be the last for our 15-year-old Korean Jindo, Waits.
How does one know when it is time? Is his life still a good thing, to him, if he cannot easily rise to drink water, if he cannot control his bodily functions? Many consider the latter as the mark of the end—or at least the time for owners to stop the progression—but it seems of no matter to him whatsoever. He tolerates the diaper, doesn't flinch at his own messes and our clumsy attempts to keep him clean. Some food still tastes good, apparently: He cherry-picks what he likes best from the kibble—we add shredded chicken or crumbled hamburger to each plate, plus a sprinkle of tumeric for all that must hurt. His mouth full of soggy bits, he still manages to spit out the tiny orange pill, swollen with saliva, that regulates his thyroid (the least of his problems at this stage).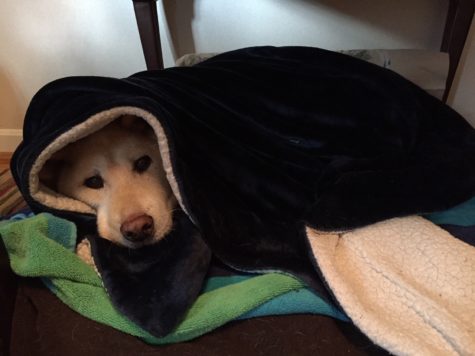 His kidneys are failing. His legs are failing. His body is diminished, down from more than 75 pounds to somewhere in the low 50s. We keep a heating pad on him because, well, I would want one if I were dying. My husband lifts and cradles him to take him outside where he'll balance, barely, on legs as wobbly as a fawn's. Within minutes his strength is gone and he is crouching, then sitting, until we help him back inside; he is all too happy to go back to bed. We guess when he is thirsty and bring water to his mouth, proud of our attentiveness when he laps it up. We scooch him from one position to another, rearranging his legs and tail, presuming what might be comfortable and hugging him in apology for getting it wrong. In fact, we apologize to him over and over, for everything. For it coming to this.
Then, a good day happens, and much of the above doesn't apply. He stands outside solidly, even getting momentarily playful with the other dogs. He climbs a few steps with little support. He sniffs at the edges of things. He cleans his plate. He looks alive again.
We're lucky: He's mentally still himself, and he's not fearful. He lets us touch his paws. He used to hate that.
Bad day or good, he never cries out, never complains. And sometimes he still gives us happy grunts when we pet him just so. He was so troubled when we adopted him; he came so far by our love over the years. His winter fur is thick and luxurious and he still has the look of a puppy, big dark eyes against a face that's kept its creamy whiteness. His age is in his hips, his spine, his organs. Maybe in his eyes when he watches us watching him.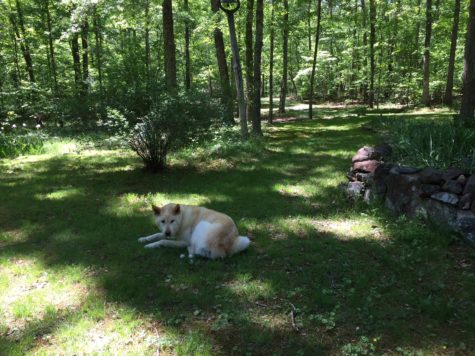 He's rolling with it, and it's hard to be the choosers of his fate. He could have another fine day tomorrow. He still responds when we kneel down to tuck him in or when he smells that burger on the grill. Yes, we've always agreed it's better to end it too early than too late. And yet, here we are changing diapers and mashing up food. His suffering is so silent. Are we terrible owners for taking our time? Because if, suddenly, he starts to act confused or, worse, afraid, it will become an emergency, and we'll wonder, why did we wait this long?
Within a few weeks, less, we will no doubt give in and put the plan in motion—time in the sun in his favorite place, a meaty meal, a great deal of petting, a pair of shots from someone he knows, hopefully a quick nod to sleep in our arms.
These last days are for questioning ourselves and asking his forgiveness, and for burying our faces in his thick neck and holding him tight.
---
Photos by the author