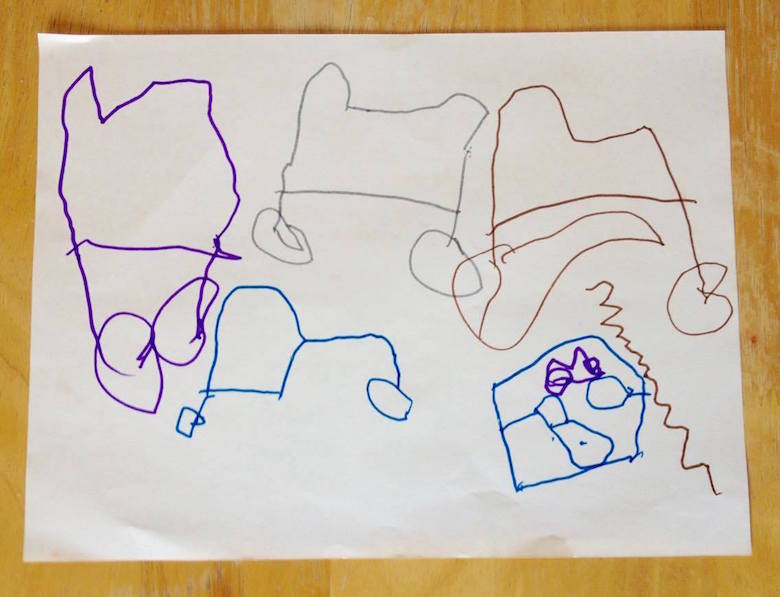 Isaiah grins at me across the dining room table and more than 1,000 miles.
In my nephew's small, pale hand is an outsized Crayola marker, to match the pencil in my more gnarled fingers. We both lean over rectangles of paper—his in Colorado, mine in Oregon, now occupying the same virtual space, thanks to a slightly jumpy Skype connection.
My brother pops into the frame, revealing a bushy beard that he didn't have when I saw him over Thanksgiving. "What's another thing that you remember from our walks?" he asks Isaiah, who is four and half. Isaiah thinks for a minute and announces, "The brown truck!" He takes a moment to scribble on the paper, then holds it up for Patrick and me to admire.
I had asked Isaiah and my other family members in Boulder to help me with a basic experiment: Draw a map of the neighborhood where my parents have lived for decades, where my brother and I spent the first 18 years of our lives, and where Isaiah lived for a time with my brother while he was looking for a new apartment. But instead of being a regular map, with meticulously labeled streets and platted homes, drawn to scale and placed in context with relevant landmarks, my instructions were simply for each of us to identify the five most memorable things from the neighborhood that come to mind, and situate them in space in relation to my parents' house.
In Topophilia—literally, love of place—Yi-Fu Tuan's 1974 book on the way people relate to their environment, there is a chapter on ethnocentrism and space. In early maps and mapping experiments, cultures from across the globe have tended to place themselves and their known home landscape at the center of the world. Surrounding landmasses are secondary, smaller, distorted, or don't exist at all—giving way to sea, or more mystical conceptions of what lay beyond it.
Might the same be true of us as distinct individuals, I wondered, each our own little countries with separate interests and histories? And would these little memory maps reveal a flicker of how we had experienced the same place differently? Continue reading →