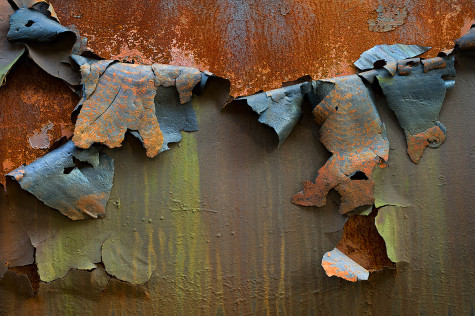 I met Jonathan Waldman when we were both magazine interns. We had a lot in common–we both got really into working on the magazine's science column, and we were both really big fans of burritos. (He later sold me a shirt that featured a burrito-powered bike). When I ran into him at a conference a few years ago, he told me about his old sailboat, Syzygy. The boat had been totally rusty, he said–and it had given him an idea for a book.
Rust: The Longest War, a chronicle of corrosion covering everything from the Statue of Liberty to the humble beer can to the adventures of a rust photographer (whose lovely image you see above), came out last month.  And I'm using this as an excuse to talk with Jonny about rust, mustaches, beer and burritos. Here's the [slightly edited and condensed] conversation we had over Google Docs:

–
Cameron: I guess I should say first that I feel dumb about rust.  I remember asking my dad about it after finding a rusty ax in our yard, but I came away with the sense that rust was something that only happened to cars on the East Coast where the roads were salted, and wasn't something that would ever affect me much. But then you just wrote a whole book about it, and it's more than just corroded tools and the undersides of T-birds, isn't it?
Jonny: I think that's how we all feel about rust–just dumb enough that we allow familiarity and shame to mask the feeling. I mean, if I see it all over the place on pretty much everything, there can't possibly be more to it, right? Because we all see it, and it's not like there are people sounding the alarm left and right. (But, behold! There are such folks, behind the scenes!) Such is the hazard of learning to think of rust in high school as a chemical reaction. If you're a chemist, maybe, it all worked out — but the rest of us filed away rust in our brains as something super-duper-boring, along with titration and trigonometry. Continue reading →