This is a tough post to read, tougher to look at.  Some background might help. In 1993 Chris Arnade got a PhD in physics and then went to work on Wall Street.  Starting in 2007, Chris started taking long walks with his camera through New York City, where he found a lot of ambiguity and unsolvable problems.  By 2010 he was spending all of his spare time in the Hunts Point neighorhood of the Bronx, documenting the stories of street addicts.   In 2012 he quit his job to dedicate his full time to the project.  His collaborator in the project is Cassie Rodenberg, who writes the Scientific American blog, The White Noise.– LWON eds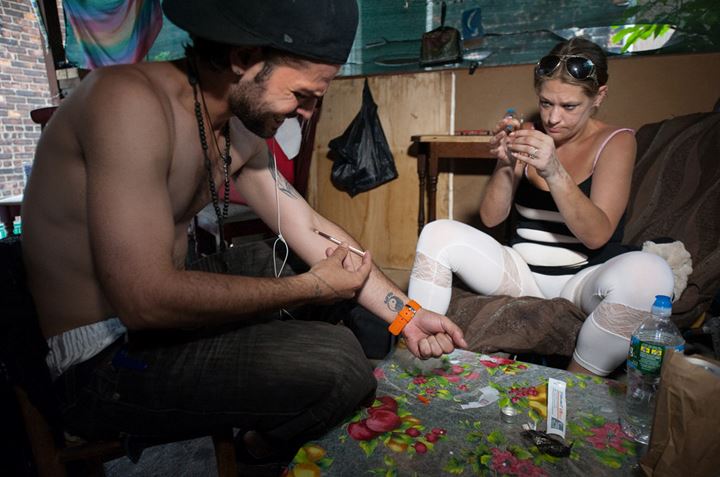 (Shooting up)
My first career was studying the rules that drive the material world, theoretical physics. Physicists use extremes to learn how nature works: They take stuff and smash it together at really high speeds to strip matter of the ancillary fluff and expose the essential core.
My current career, of working with homeless addicts in the Hunts Point neighborhood of the Bronx, is equally revealing. It is seeing life stripped of ancillary fluff, leaving what is essential. It exposes the things often forgotten when you have a steady job, a supportive family, and own lots and lots of stuff.
Gone are the material and social pleasantries that mask our perceptions of being human. A street addict's life is about hustling for the next meal, the next place to sleep, the next fix. About staying alive.
For physicists the essential core is composed of a handful of particles, of which the most essential of the essential are six quarks. Six particles that combine and interact to make up everything. Six varieties of Lego pieces.
In Hunts Point three rules dominate: The three quarks of life. Continue reading →