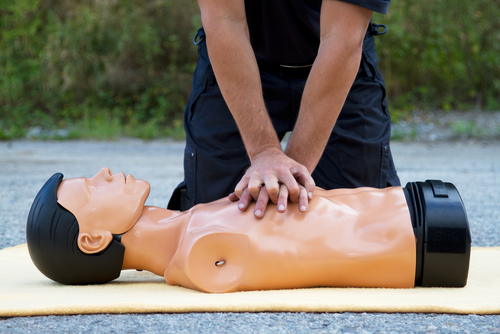 Yesterday at The Washington Post, I wrote about a controversy in which a 911 caller who identified herself as a nurse refused to give CPR to an 87-year-old woman who'd collapsed at a Bakersfield, California independent living facility. (Unlike a nursing home, the facility did not employ medical staff, and, according to the Associated Press, the caller worked there as an administrator, not a medical provider.)
In the tape, which you can listen to below, the 911 dispatcher urges the caller to begin CPR. When the caller explains that the facility's policy is to leave medical care to the emergency responders, the dispatcher grows increasingly frustrated.

Dispatcher:  she's going to die if we don't get this started. do you understand?
Caller: I understand.
Later….
Dispatcher: I understand if your boss is telling you you can't do it…But … as a human being … you know … is there anybody that's willing to help this lady and not let her die?
Caller: Not at this time.
*
Indeed, the woman does die. And the internet and tv talk shows had a field day.
"It's certainly shocking when you hear a nurse say she can't perform CPR on a patient who clearly needs it," said Dr. Roshini Raj on the Today show. "CPR absolutely saves lives. It doesn't have the success rate you might think if you watch on TV, but it could potentially [save the victim's life] in this situation," Raj tells viewers.
She's right about TV creating unrealistic expectations. As I write in my Post piece,
A 1996 New England Journal of Medicine study found that television CPR had a success rate of 75 percent — far greater than even the most ideal real-life situations.
Even in the very best case scenarios, only about half of victims survive to be discharged from the hospital — and that's when CPR is enhanced with advanced technology (AEDs) and highly trained personnel at the ready. Most importantly, those success rates happen only when CPR is given to the victims the technique was intended for — people experiencing sudden cardiac arrest.
CPR was developed for scenarios where the victim is stricken with something that momentarily stops the heart — lightning, a drowning, a minor heart attack or sudden cardiac arrest. Restart the victim's heart, and life resumes. The technique was never designed to prevent age or disease-related deaths, says David Newman, director of clinical research in the department of medicine at Mount Sinai School of Medicine in New York City.
"It's crazy talk to believe that everybody should always get this invasive, punishing burdensome procedure when we know that the overwhelming majority — even the people who might be considered the most appropriate — are not going to survive it," Newman says. "Chronically debilitated nursing home patients are not the patient population that CPR was developed for."
George Lundberg, a former editor of the Journal of the American Medical Association who is now editor at large for MedPage Today, is even more blunt. People die for many reasons, he says, but usually when the heart stops, it's because the person has a disease that has reached the end of its course or a severe, unsurvivable trauma that can't be fixed by beating on their heart. "The idea that just because someone's heart stops you should start it again is ridiculous, but it's been ingrained in our society and it's hard to stop," Lundberg says.
Yes, CPR saves lives, but the cold, hard truth is that most people can't be saved by CPR. In a MedPage Today editorial published last year, Lundberg wrote,
If an average adult keels over in the street, is found unresponsive and pulseless by a bystander, and is administered CPR while a 911 call is made, the odds that such a person will emerge from the eventualities of the resuscitation effort healthy and with a normally functioning brain are about 2 percent.
The odds are even more dismal for trauma victims. If a person's heart has stopped because of traumatic injuries, "There is no amount of CPR that can reverse the condition that led to the cardiac arrest," Newman says.
Nor is CPR a cure for people with progressive disease. "We've gotten sidetracked from the original intent when we start pushing for patients in longterm care settings to receive CPR," Newman says. "In those cases, it's rarely a very sudden and unpredicated cardiac event — it's much more likely to be the culmination of a longstanding illness."
Lundberg told me that most of the physicians who responded to his MedPage Today editorial said that they never want CPR performed on them, and that seems like a telling detail. In the movies and on TV, it just takes a few pushes on the chest and, voilà! The victims cough a few times and they're back to their old selves. Doctors understand that this is rarely the case. When CPR "works," a more likely scenario is that the person ends up in the hospital receiving even more interventions and suffering from some kind of brain damage, Lundberg says.
In light of all this, it's possible to view the Bakersfield caller's decision as caring, instead of heartless. I'm certain that if it were me, I wouldn't want my last moments of life filled with someone bashing my chest. But that's a personal decision. Which is why everyone should have an advanced directive specifying their wishes.
It's not clear whether the Bakersfield woman had put her wishes in writing. Her family told the Associated Press that their loved one understood the limits of the facility and is at peace.
Still, I understand the dispatcher's impulse to do something — anything.
Which leads me to wonder if the most important benefit of CPR is that it gives bystanders something tangible to do. I know several people who've given CPR to accident victims who didn't survive, and they told me that they have no regrets. They did everything they could, and that offered some measure of comfort.
There's no downplaying the agony of watching someone die. I've done it, and I would never wish that experience on anyone. What I learned from this unbearably helpless experience is that our culture does not prepare us to let go.
*
Image: Shutterstock.com