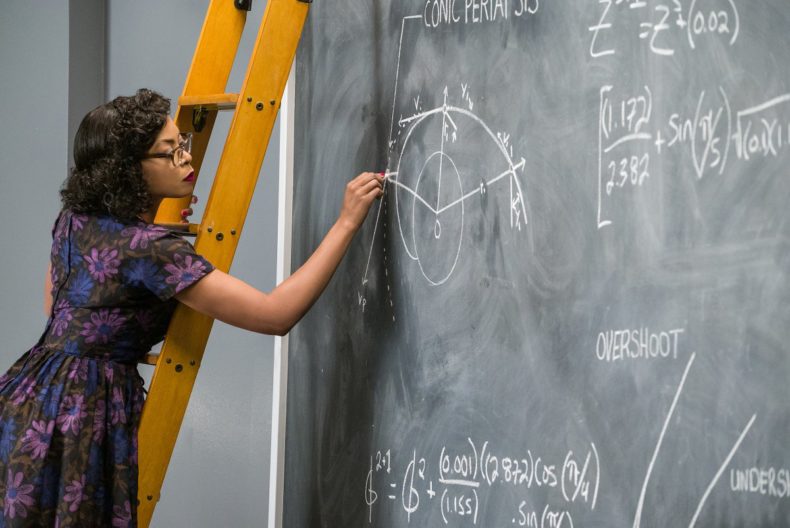 Let's be real: Watching someone doing math is only slightly more exciting than watching metal corrode. That may be why we've never seen a naturalistic depiction of math in the movies; such a snoozer would show someone hunched over a desk or a computer for hours, maybe with a few coffee refills and bathroom breaks. Math is such a mental sport that its dramas, its twists and surprises, its gradual build to Unassailable Truth, are usually locked between the eyes and the fingertips.
But not at the movies! A good math movie can draw out those inner eddies of abstraction. Which is why the math music of movies is so great. Imagine the the task given to a film's composers as they start to assemble a soundtrack for a math-heavy movie: "Okay folks, in this scene the genius is going to solve some equations, and you have to write music to make people care. Go!" And yet they do it.
Last year's Hidden Figures, for example, included several scenes where Katherine Johnson (Taraji P. Henson), NASA math genius, obliterator of obstacles rooted in racism, does nothing more than solve equations. And we're riveted, partly because Henson pulls it off, and also because the soundtrack — by Pharrell Williams, Hans Zimmer, and Benjamin Wallfisch — tells us we should be. (To hear what I'm writing about, and for enhanced experience of this post, play one of the HF math-doing tracks by clicking here. In fact, if you play the music, this post will be better.)
At its best, math movie music helps the rest of us experience the emotional payoff of mathematics: The elegance of a proof, for example, or the underlying beauty of group theory. For just a moment, the music connects us to the mathematician's mental gymnastics, and while may not get the math itself, we share in her feeling of triumph as she approaches the truth.