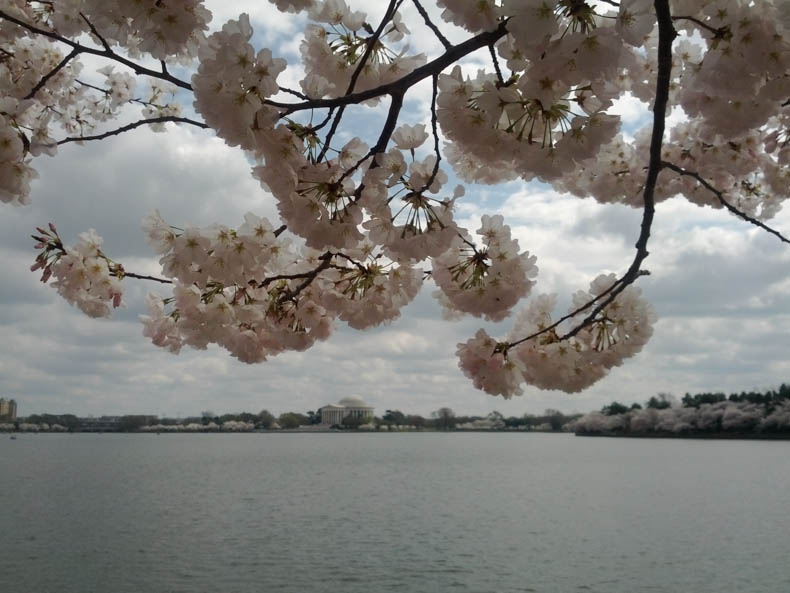 It was a long winter in North America.  The kind of winter where you think, well, that must have been the last snow storm, and then it snows three more times. It seemed like this might be the year when, Narnia-style, winter never ends.
Here in Washington, we gauge spring by the cherry trees. The peak bloom for the most famous variety, the Yoshino cherries, is short; you can pin it to one day. The National Park Service defines it as the day when 70 percent of the trees are blooming. It's been as early as March 15, in 1990. After the cold winter of 1958, the Yoshino didn't peak until April 18.
This year's peak is supposed to fall sometime between now and Saturday. The Park Service meticulously tracks the Yoshino blossoms in a chart on the Cherry Blossom Festival website. Every phase has a delightfully specific name. Green buds appeared March 16. "Florets visible"–March 23. The florets extended March 31, the day after the last snowfall. "Peduncle elongation" hit last Friday—a sign that peak bloom is 6-10 days. Monday the buds got to the "puffy white" stage.
Peak Bloom is coming soon. Continue reading →