By Jessa Gamble | November 27, 2013 | 1 Comment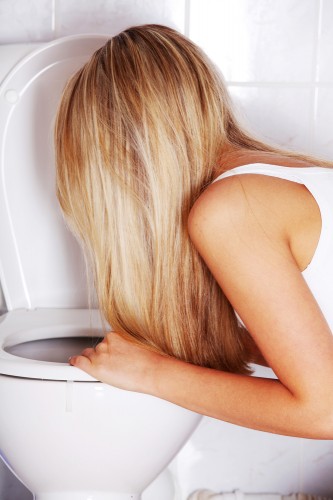 If anything bolsters our instinctive revulsion to game-changing technology, it's that so much of it makes us physically queasy. Much of our experienced technology involves sensory conflicts that inadvertently activate an ancient digestive reflex. Since the first mariner failed to find his sea legs, the story of human limit-pushing has been one big barf-fest. There's illness in response to inertial motion: carsickness, plane sickness, space sickness and roller coaster sickness. Riding on camels and elephants will do it, with the low-frequency oscillation of their gait. But the word 'nausea' shares its Greek roots with 'nautical', and originally referred to seasickness. An urge to hurl may even await someone travelling only slightly faster than nature intended.
All I wanted to do this weekend was to slide down a stupid mountain in Davos, Switzerland. Many possibilities occurred to me on the lift train to the top of the ski hill – that I would crash and find out whether I had any kind of health coverage here, that I would be shown up by my client's expert skier of a nine-year-old daughter, that I would make a wrong turn and have to bust out my horrendous German. What I did not expect was to be heaving Bircher muesli into the snow on the second run.
By Richard Panek | November 26, 2013 | 1 Comment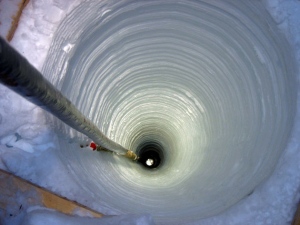 The news this past week that the IceCube Neutrino Observatory has fulfilled its mission by detecting neutrinos originating beyond the solar system reminds me of a story I once heard. I can't reveal the source, though not out of a sense of journalistic responsibility. If anything, my discretion is due to journalistic irresponsibility: I don't remember his name, and I wasn't taking notes at the time. I have a good excuse, though: I was genuinely loopy.
IceCube is part of the Amundsen-Scott South Pole Station, the United States's scientific research outpost at the South Pole, which I visited in late December 2008 on a grant from the National Science Foundation's Antarctic Artists and Writers program. On the day of my stop at IceCube, I was fresh off a sea-level-to-9000-foot-elevation-in-three-hours plane ride. Almost immediately upon my arrival at the Pole I had met someone working on IceCube who offered to give me a tour, and not knowing if I'd have another chance, I accepted, albeit hypoxically.
By Cassandra Willyard | November 25, 2013 | No Comments
This post originally appeared back in February 2011. If you've already read it, we apologize. Cassie is frantically packing in preparation for a cross-country move.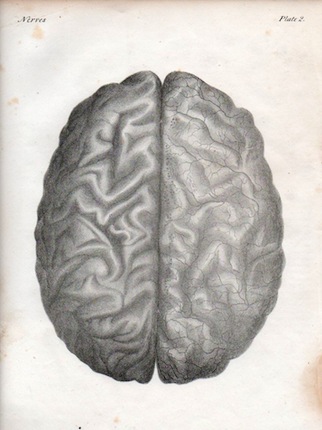 January 3rd was a bad day for Cee. That morning she had a colonoscopy. The procedure went smoothly. But afterward, Cee felt ill. Something wasn't right. She had a bite to eat, poured a glass of milk, and told her husband she was going to lie down. She set the milk on her nightstand. Then she collapsed.
At the hospital, doctors determined Cee was having a stroke. They found a clot blocking a major artery in the left side of her brain, so they gave her a clot-busting drug called tPA and airlifted her to the stroke center at Swedish Medical Center in Denver. By the time she arrived at Swedish, the clot was gone — a good sign, the doctors said.
The left side of the brain controls the right side of the body. Cee was awake, but her entire right side was paralyzed. She couldn't speak, nor was she responding to simple commands. But when she saw her husband and daughter, she smiled and started to cry.
Read more…
By Ann Finkbeiner | November 23, 2013 | No Comments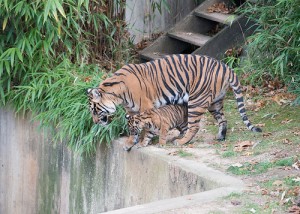 November 18 – 22
Fairy tales have origins and evolutions, says Cameron, and were told so they'd produce "shock effects so powerful that to this day we feel compelled to talk about them, reinvent them and pass them on."
Helen goes to the zoo to see the tiger babies — "crashing and pouncing and falling off of things were featured activities yesterday" — and think about them going extinct.
Punctuation on butterflies: sometimes it keeps them from being eaten, sometimes not.  In honor of the butterflies, Roberta uses an indoor land record number of punctuation marks.
Christie had nightmares about airplane crashes, saw two of them, didn't see them.  Take a deep breath before reading this one.
You don't want to be around when Erik gets a massage for knotted muscles.  This is some of the most inventive swearing you'll ever hear.
By Erik Vance | November 22, 2013 | 6 Comments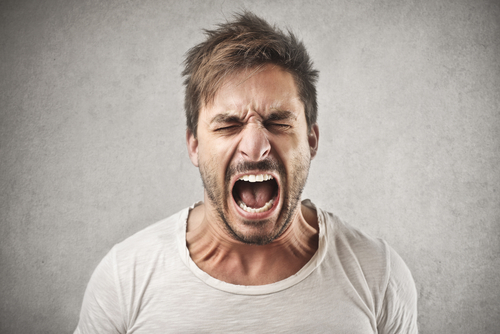 Two decades of rock climbing and a career in writing have left me with two distinct things. One, an ability to step back from the world and make a careful assessment. A zen approach, if you will, to risk and making my way in this world.
The second is a seriously messed up pair of forearms. Recently I have been taking these poor old dogs to an excellent massage therapist here in Mexico City. Now, when you hear the word "massage," don't get the wrong idea. It's not some Swedish bikini model rubbing me down with oil. Mark the massage therapist is strong, knowledgeable, and totally without mercy. A trip to his dungeon – sorry, I mean office – goes a little like this:
Mmmm. Nice. Think I'll just take a little nap since I'm
Aaaaghh! HOLY SWEATY TESTICLES OF ODIN!!! That frigging hurt!! Read more…
By Christie Aschwanden | November 21, 2013 | 1 Comment
For most of my life, I've been obsessed with plane crashes. It began when I was in first grade, and my dad and his squadron went to Turkey on TDY (temporary duty assignment — the military equivalent of a business trip). They were there to practice dropping bombs from their fighter jets. Dad qualified as mission ready on the day that Charlie Koster died ejecting from his F-4. I became mission ready too — prepared for the next plane crash.
My little sister and I were back at home, getting ready for the walk to the school bus, when Mom gave us the news. I can still hear her words echoing against the stone entryway to our house in a West German village off-base. "Life's not fair Christie. You might as well learn that now."
I could never accept this message on fairness, but I did internalize the expectation that planes will fall from the sky even when the bad guys aren't shooting at them. To this day — nine years after my father retired from flying — I can still close my eyes and re-enter the nightmare that plagued my nights for so many of the years that Dad spent in the cockpit. The dream took place in many settings, but the sequence of events was always the same. I'd be walking amid the rolling green hills of the Eiffel, or the damp fields of Korea or New Mexico's dusty desert, and suddenly I'd feel the rumble of a jet overhead. I'd know it before the pilot did — the plane was about to crash in a giant fireball. The pilot would die, right before my eyes. Every time I closed my eyes, it was groundhog day all over again. Plane. Crash. Boom!
The recurring nightmare convinced me that this sequence of events was inevitable. A plane would crash. Someone would die. I'd witness everything. I spent my childhood preparing myself for the inevitable trauma.
It turns out, the nightmare was true. Read more…
By Roberta Kwok | November 20, 2013 | 4 Comments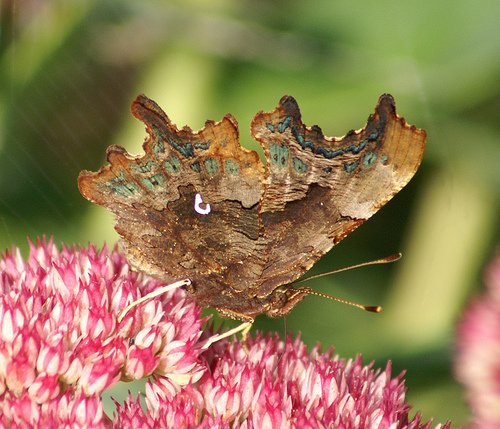 Several years ago, I splurged on a gorgeous red hardcover edition of Strunk and White's classic book on writing, The Elements of Style. Illustrated by Maira Kalman, the pages are filled with fanciful depictions of punctuation and grammar rules. To demonstrate the use of the apostrophe in the phrase "Somebody else's umbrella," Kalman drew a pensive lady dressed in yellow gazing up at a pink umbrella (with, appropriately enough, an apostrophe-shaped handle). For the dash—my favourite form of punctuation—the illustration shows a towzled man in striped pajamas, accompanied by the caption "His first thought on getting out of bed—if he had any thought at all—was to get back in again."
Recently, I came across another form of punctuation art: The curious markings on butterflies. Some species in the genus Polygonia sport a comma on the underside of their wing. Another species, called the Question Mark (Polygonia interrogationis), displays a quizzical crescent and dot. And enthusiasts have spotted other punctuation marks; one posted a snapshot taken in Spain with the question "First ever sighting of the semi-colon butterfly?", and another photographer captured what appeared to be a colon on a butterfly in Staffordshire, England.* Read more…
By Helen Fields | November 19, 2013 | 3 Comments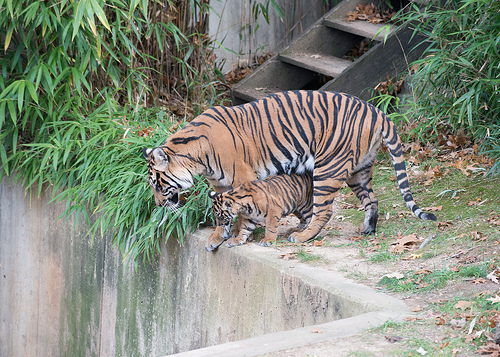 I have been to see the National Zoo's Sumatran tiger cubs, and I have important news: They are adorable.
The twin cubs, a boy and a girl, were on display for the first time yesterday at the zoo here in Washington, D.C. A little after 10 a.m., keepers opened the metal door at the bottom of a short concrete set of stairs. First the mother's round face appeared in the stairwell, then a tiny pair of ears, then both cubs.
An audience of 70 or 80 people, armed with cameras ranging from smartphone to telescope-sized, watched as the two cubs wandered, sniffing at dry leaves, trying out the stairs to the higher levels of the sloping exhibit. The lion roared from next door, a few dozen feet away but out of sight. One of the cubs jumped on a black piece of wood. One stood on its hind legs, stretching to reach up one of the enclosure's mighty oaks with its front claws. Read more…
« go back
—
keep looking »