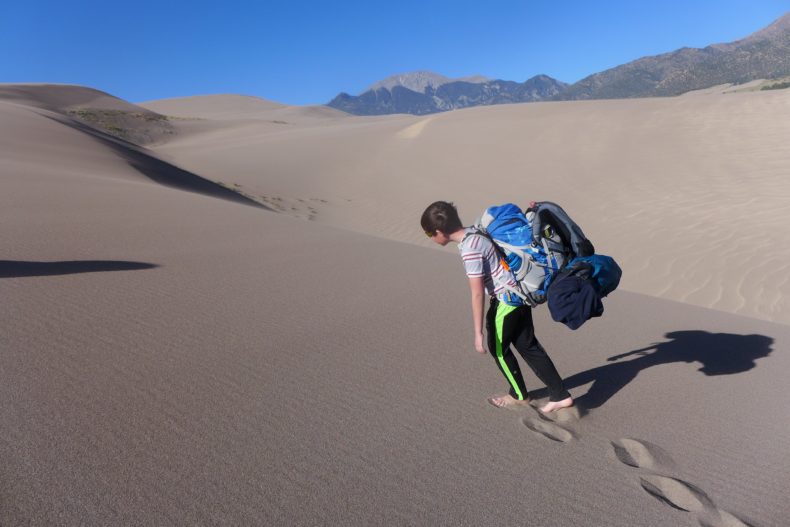 Sand blowing and grains hurdling over each other, landing and knocking the next, is called saltation. This is how dunes move, not sheering chaos, but each grain effecting the other, billiard balls knocking each other down the line.
Kids found that if they stood on a dune crest, there was so much saltation, sand blowing in the wind, that they could cast shadows of themselves into the air, making holograms of their bodies in airborne particles.
This was a couple weeks ago in the tallest sand dunes in the United States, their biggest sand features rising 750 above the floor of the San Luis Valley in southern Colorado. Saltation was everywhere around us, wind whipping, scouring our bare feet. We loaded packs and headed in, planning for three nights in a realm of sinuous snake backs and ripples.
Great Sand Dunes National Park is what is known as an erg, a sand sea, a small one on the global scaled, 30 square miles compared to 255,000 square miles in the Empty Quarter of the Middle East. The dunes came from river sediments and dried lake beds blown toward the Sangre de Cristo mountains and stacked up into the only erg for more than 300 miles (the nearest other is White Sands in southern New Mexico).
Our entry was sunny, winds hard out of the west, but weather would turn by morning, temperatures forecast for ten below freezing and higher winds, snow likely. But the sand was still warm, the sun still out. When your kids have a week off, that's your window, you go.
Our teeth were gritty as energy levels and emotions waxed and waned. The thrill of topping over a rise into more and more dunes was interlarded with sugar crashes and fits of frustration or physical collapse, kids aged 10 to 14, two brothers, and a brother and sister, close friends since toddlerhood. By sunset, the mother of the other children and I were in careful conversation amidst a whipstorm of sand deciding if we should turn back. Winds were rising far above the forecast, now gusting around 50 miles per hour. It was no hurricane, but staking down tents in sand against a force like an oncoming semi-truck is not easy.
The final vote was stay. The kids cheered. Nobody wanted to turn back through this gale with night coming.
Events and decisions knock together the same as grains of sand, one pitching the other ahead. You hope it makes a sweet, clean path, the slope of a dune as smooth as silk, whale backs rising and falling as they swim into the storm.
Kids took one tent, forming a nest of teens and preteens with packs and sleeping bags about 500 pounds. Parents took the other. Poles, rainflies, seams, and gear had to hold. If only one pole breaks, the tent would become a shipwreck and quickly turn to tatters.
Cuploads of dunes flew in through bug mesh, filtered down to a fine sugar that coated everything, gliding into the cracks of sleeping bags, into faces, nostrils. Sometime in the night, in the roar of tent fabric, the fly on the parent tent whipped off revealing sudden clear moonlight and a field of stars. Pounding, digging, resetting, I could see the storm pouring through the teeth of the Sangre de Cristos.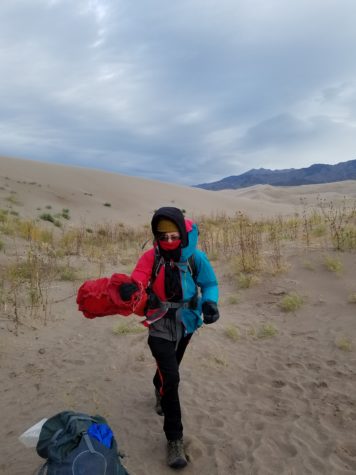 Kids had the more solid tent, deeper stakes, and it was tied into the surprisingly steadfast root stalk of a dead sunflower. Around sunrise, I popped into their tent to make sure all were accounted for. Children looked like a pile of sand-covered worms, the girl looking up at me from her hardbound copy of I am Malala that she carried in her pack. I said good morning. She smiled and waved and went back to her book. My younger boy, 10 going on 11, coughed at me, clearing the sand and cold from his throat.
The mother and I called the trip right there. Snow was coming and wind was intensifying. My younger's cough wasn't getting better. We had two more nights on our permit, but with snow clearly on the way, banks of heavy, storm-whipped clouds gathering in the mountains, we needed out.
The wind was in our faces as smallish bodies tackled dune crests that looked like a thousand angry Medusas. Rather than saltation, this is suspension. The sand belongs to the sky. Heading out of the dunes, we sailed down slopes and climbed up other sides. A creek we had to cross at the dune edge was a braided sand wash a hundred feet across starting to freeze over. Plates of ice cartwheeled in the wind as we took off our shoes. I carried my younger across on my back while my older pranced barefoot with a full pack, his pants rolled up to his knees.
Rosy cheeked, skin stinging, when we got to the cars they were all asking where to next. Thrown into the air, they only wanted to know where they'd land.
Photos: Craig Childs