A couple of years ago I climbed Flattop Mountain in Rocky Mountain National Park with my dad. I'm back in Colorado this week, again with family, so I thought it was a good time to recall that hike.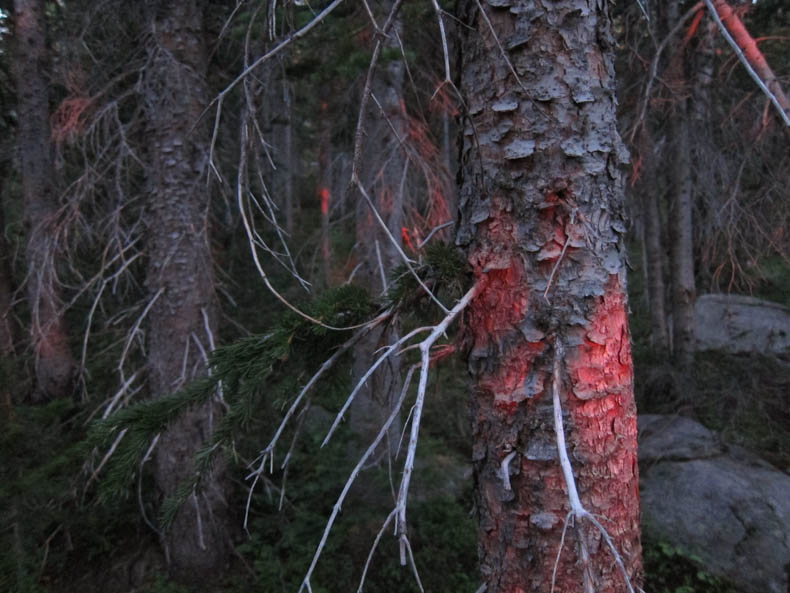 The Milky Way hung overhead. The lights from the far-off plains made a faint glow in the eastern sky. I made one last visit to the pit toilet at the edge of the parking lot, put on my day pack, and began to plod.
I was setting out to climb a mountain with my dad. The mountain was Flattop, a 12,324-footer in Rocky Mountain National Park, in Colorado.
My dad claims Rocky Mountain is the best place in the world for day hikes. Now, I happen to think he is right. For one thing, he's been a lot of places. And his argument makes sense: The park has a long list of trails that offer a short walk to a dramatic cliff face with a gorgeous lake at its foot. He has tested most of these trails personally. His first visit to the park was as a toddler in the mid-1940s. My great-grandfather was a dentist in Kansas who started going out to Colorado for long trips in the 1930s or so and was spending whole summers in Estes Park, just outside the eastern border of the park, by the 1950s.
My parents met working summers at the YMCA of the Rockies, which nestles next to that same border. Between 1947 or so and 1964, there was only one summer when my dad didn't go out to Colorado. In 1965, he missed it because my parents got married and went off to the Peace Corps in Nepal.
My mom would have climbed Flattop for the first time in 1960. She thinks she was probably there the first time, or one of the first times, my dad climbed Flattop, in 1961.
I say "climb," but this is a walk. One foot in front of the other, over and over and over and over, no hands or ropes required. Then turn around and go back down. The last time I climbed it was at age 9. There may have been whining.
In my late 30s, I've finally gotten over being embarrassed at how slow I am, and this August I wanted to do my dad's favorite hike with him.
My dad is of the opinion that the pre-dawn hour is a good time to start up a mountain. Ok, fine. After decades of resistance, I have come around. You can always get a parking spot at the Bear Lake trailhead at 5 a.m. Also, sunrise is pretty. Also, you don't want to mess with afternoon thunderstorms, always a risk in these parts.
We plodded and plodded through the dark trees, our way lit by a flashlight and a headlamp. (He let me have the headlamp.) First the stars disappeared, then the sky lightened. By 5:45, our lights were stowed in our backpacks. A deer browsed on undergrowth by the side of the trail, deeply uninterested in our passage. As the sun came up over the foothills, it poked between the pines, its rays painting patches of pink onto trunks and branches.
Without me, my dad does not plod. He walks. He strides. One year—he's not sure when, but it was after he turned 60—he set off at 5 a.m. When he got up Flattop, he turned left and continued up Hallett, a picturesque, triangle-shaped peak. When he reached the top, he realized it was only 7:30. Impressed with himself, he decided to keep doing that, visit after visit.
I'm slow on the uphills at sea level. Starting from 9,500 feet, I'm definitely not going to manage anything over a plod. So, this year, at 72, he didn't get to check his pace.
We plodded past shorter and shorter trees. The last of the scrawny, wind-blown scrub gave way to rocks. Adorable pikas scampered across the rocks, their adorable mouths stuffed full of adorable bunches of tundra plants to eat over the winter. We passed a metal sign, screwed to a rock, with a paragraph of dire warning about snow, fog, and invisible cliffs. "Don't be afraid to turn back when in doubt," it concluded.
The walk is only 4.4 miles but it took us four hours and 20 minutes, including a couple of stops for snacks and foot care. I plodded slower and slower, worn down by tiredness and mediocre physical fitness.
The top of Flattop is as you'd expect from the name. It's a broad green expanse of tundra, specked with boulders. Birds fluttered and puddles sparkled in the high-altitude sun. A panorama of mountains spreads from Longs Peak, the only mountain in the park that's over 14,000 feet, past Trail Ridge with its high-altitude highway, to a string of other mountains that I am told I climbed at various points in my childhood.
Clouds were gathering and my stupid feet were blistered. I decided it was best to skip Hallett. We headed back down.
Earlier in the week I'd gone with my brother, his wife, their four-year-old son, and some other relatives for a stroll along the dirt road behind our rented cabin. My brother pointed out the tall purple thistles. My nephew's tiny hand in mine, we discussed whether it was Tigger or Eeyore who tried a thistle that one time. (He knew. I kept forgetting.) We talked about whether the shiny rocks were gold and whether it was ok for a flower to have a bumblebee on it. (His position: Not ok at all.) I coaxed him along uneven ground and over a scary part where the road took a steep turn and loose rocks made the footing unsure.
In January of 1915, President Wilson signed the act that created Rocky Mountain National Park. A hundred years ago today, people in hats and coats and long dresses gathered under a banner for a dedication. Members of the Fields family are among countless Americans who have spent generations of holidays plodding along the park's trails. I'm grateful to the people who thought to protect that corner of the country, and I wish all visitors an excellent second century of talking about thistles and walking up hills.
Photo: Helen Fields.