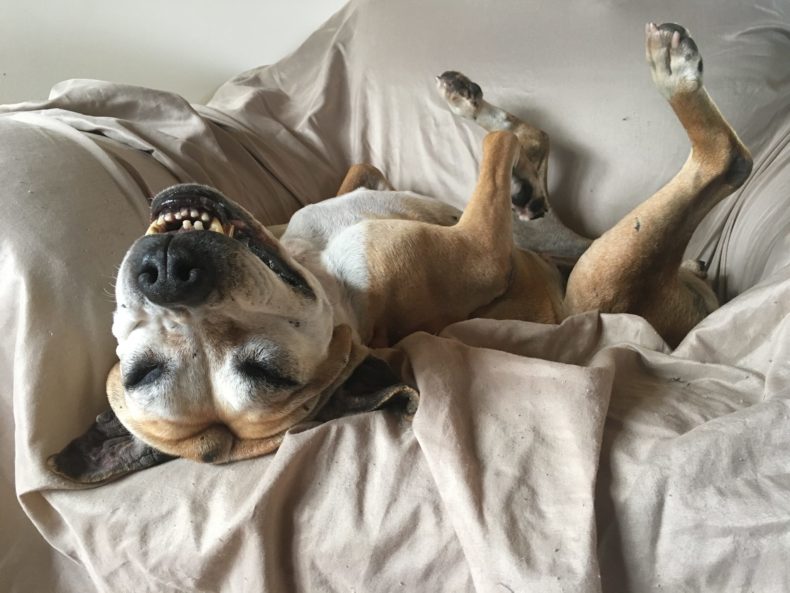 June 19 – 23, 2017
"I imagine the zucchini plant at the end of the summer, lying back on the couch, an ice pack on its head, its eyes closed. Good work, I want to say to the zucchini. You made it."  Now, says Cameron, will somebody please take some of it please?
Who besides Craig gets bear skulls as presents?  "What to do with a grizzly skull? I gave it to my desk, facing it toward me so when I look up I can see both sides of its life. One side is like cleanly polished marble; years of deep winter hibernation, summers of rivers and rivals. The other side, exploded, tells of a moment of flesh and blood to only be skinned and cleaned, where it now peers across books and papers at my mostly empty chair."
Sarah invents the canine thermometer, a glorious gift unto the unhappy world.  "Heat can be gauged by the degree of extension, and whether the body is pointing up or down, and at what angle. Here, you can tell by the dogmometer's full stretch that it's pretty hot, but the positioning on the couch means it's not so hot that she has to move to the much cooler wooden floor. That'd put it at 82.3 degrees Fahrenheit in the house."
"So here is my exciting new proposition – call it the next big disruptive idea, call it old fashioned common sense. Every doctor, before he or she graduates medical school, must prescribe placebo pills to ten people and get four of them to respond. You can have as many tries as you want but you have to do it."  Erik proposes a revolution in medical education.
"ONLY SOMETHING VERY STRONG COULD HAVE DUMPED THE BUCKETS. ONLY SOMETHING SELFISH OR MAD AT THE HUMAN RACE WOULD HAVE PULLED UP MY PLANTS AND LEFT THEM TO DIE WITHOUT EVEN TASTING THEM."  Jennifer thinks it might be squirrels but it's not.