U2 is touring again, and I saw them last week for the 12th time, so I thought now would be a good time to rerun this post from 2015 about a research project on U2-themed tattoos. Get your concert tickets here.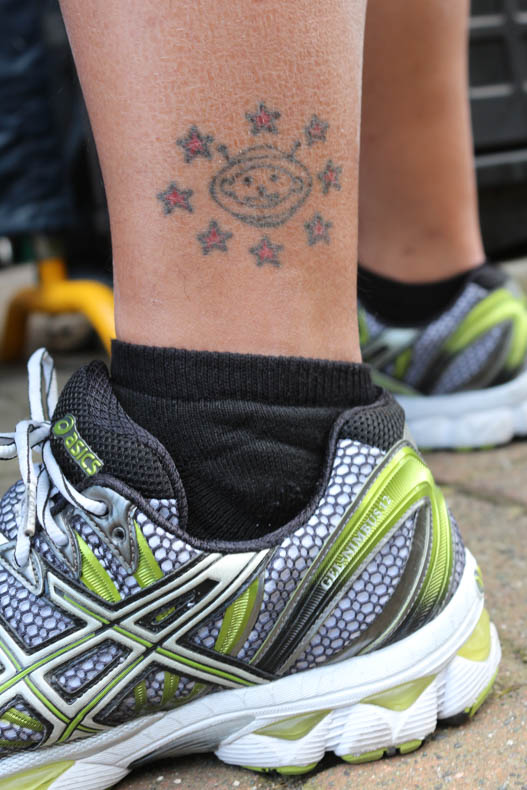 Once upon a time, I was a fan of bands that gave me some kind of alternative cred. I have been to a ton of They Might Be Giants concerts, which places me solidly in the ranks of the nerds. I spent many years in love with R.E.M. and have listened to all of their albums back to back in day-long binges, at least three times. That indicates a mild level of '90s alternativeness—if somewhat less alternativeness than my cooler friends, who wrote FUGAZI on their notebooks or formed their own riot grrrl bands.
But about 10 years ago I got it in my head to go to a U2 concert. My friend Kate seemed to think they were worth seeing a bunch of times, and she's got pretty good taste, plus I liked most of the U2 songs I knew, so I arranged to make a trip to visit friends in Brazil at a time when the band was touring there. After my first show, at São Paulo's massive Morumbi soccer stadium, I was hooked.
I've seen the band nine times now. While I have always enjoyed the heck out of an R.E.M. or TMBG show, U2 concerts make me shriek and jump up and down and often cry, which, as anyone who knows me will attest, is not my everyday way of interacting with the world.
So what does U2 fandom say about me? What does it mean that the band that I will cross oceans to see live is also one of the world's biggest rock bands?
I guess it says I'm mainstream now.
This month U2 is on a break after the first leg of the Innocence and Experience Tour, which crisscrossed North America. The tour was relatively limited–the closest shows to me were four hours up the road in New York. They didn't visit the South at all. So a lot of people traveled to shows this spring and summer.
Among those travelers were a pair of researchers from Florida. Beth Nabi is a graphic design professor at the University of North Florida in Jacksonville who has presented her past U2 research at conferences. Her partner, Chris LeClere, used to work in TV news and is now studying anthropology. Together, they came up with the idea of creating a collection of a visual sign of fandom: U2-themed tattoos.
They showed up at more than a dozen shows with a sign asking to see tattoos, then took photographs and captured the often very personal stories behind the skin art. One woman's tattoo included the line "I know that this is not goodbye" from the song "Kite" after one of her infant twins died. One man's belly was half-covered with a portrait of Bono in the Fly era. He'd gotten it to cover up the name of an ex-girlfriend.
An interesting fact about U2, if you are a serious fan or a graphic design expert (or both, like Nabi), is that they have no one consistent logo; she offers the Rolling Stones (that tongue) and the Beatles (that font) as examples of bands that are associated with one image. U2 has different visuals from different eras, like the joshua tree of the late '80s or the bold red stripes and circles of the mid-2000s, but no logo, and the font has changed over the years. For a run of concerts at Madison Square Garden in July, a special set of posters didn't even stick to the usual way the band's name is written, commemorating shows by "U-2."
Without one image, the researchers are asking, what do fans choose to put on their skin? Does the lack of a logo contribute to the band's almost-40-year career? The project also gets at a basic anthropology question: how do people indicate that they belong to a group?
If you have a U2 tattoo you'd like to contribute, Nabi and LeClere are collecting them via the U2 Tattoo Project's website. You can also find the project on Twitter, Instagram, and Facebook.
Going to U2 shows makes me happy. I've been one of 20,000 people singing "One," with Bono just stepping up to the mic every now and then, to make sure we stick with the right verse. It's a beautiful, inspiring sound.
So what's my U2 tattoo? I don't have one. I'm not opposed to the idea of getting a tattoo, but I've never been able to commit to a single image I wanted permanently engraved on myself. In the last 24 hours, since I heard Nabi and LeClere talk about their project (see their presentation here), I've pondered it. Is there a line from "Where the Streets Have No Name"? One of the images from "Beautiful Day"? Maybe a cherry blossom from "Cedarwood Road," a song on the latest album? I can't think of one thing I would want to look at forever.
Besides, one in five American adults have tattoos now. That's so…mainstream.
photo: U2 Tattoo Project