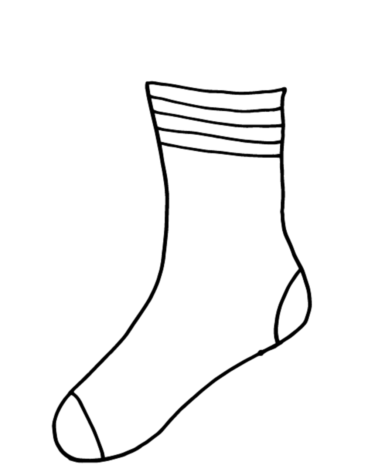 I've been losing socks lately. One at a time.
I correlate this with my state of life and work: picking up and dropping off kids, scheduling plane flights and cross-country drives, article deadlines, a final book manuscript due tomorrow, a blog post tonight. This week, I'm teaching 15 high school classes on the writing process, why we think about time, and the nature of science. I'm sleeping in a room they gave me.
Not complaining, mind you, but I've noticed socks have gone missing.
A study was performed in 2014 to determine why we lose single socks. The study was driven by a washing machine manufacturer celebrating the release of a new appliance, and was headed by London Metropolitan University psychologist Simon Moore, whom the Dialy Mail referred to as, "one of those 'scientists' who is available to comment authoritatively on absolutely everything regardless of whether he has any expertise in that area." Based on Moore's interviews with 2,000 volunteers who have suffered sock loss, the conclusion is that in the UK, 1,264 socks are lost over each person's lifetime, with a country-wide average of 84 million socks lost every month. A formula was then applied to this phenomenon:
(L+C)-(P x A)
'L' is Laundry Size, derived by multiplying the number of people in the household with the frequency of washes in a week. 'C' is Washing Complexity, multiplying how many types of wash households do in a week (darks  and whites), by the number of socks washed in a week.  'P' represents how positively one feels about washing, and 'A' is how much attention one pays to the wash, derived from the sum of how often a person checks pockets, unrolls sleeves, turns clothes the right side out, and unrolls socks.
Personally, I think it's rubbish. I can tell you why I lose socks: Chaos.
Losing socks by its very nature is a nonlinear equation, something Moore missed in his study. Your life gets chaotic, you start losing threads. I'm running through the door into a cramped laundry room, and sleeping in hotels, in the desert, at my mom's house, my girlfriend's, on a couch, on a floor, anywhere I end up. Socks could have been left anyplace.
To Moore's credit, his formula included a list of "Psychological Reasons for Sock Loss," further defined as Diffusion of Responsibility, Visual Awareness, Behavioral Errors, etc. In other words, chaos.
Socks are a barometer for me. When they slip away, it's time to read, meditate, slow down, take a breath, go to bed early. Whatever it takes, I'm being told to take the intensity down a notch, which why I'm signing off of this post and going to bed early tonight. Whether Moore is right or wrong, I don't want to lose anymore socks.