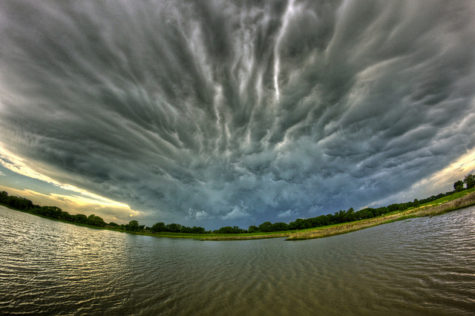 Since last week, we've been watching the weather forecast with something that's almost joy, but won't quite let itself be. Often, the weekly report has a beaded string of sunshines, with different ways to describe them. Abundant sunshine. Plenty of sun. Hot. Sometimes, there are clouds. But even when the slot machine lineup of my weather app has a series of rainy days, I've learned to wait until I see the silver falling. Ever optimistic, the forecast will show those lucky rainstorms even when the chance of rain is as low as 10 percent.
But now, we're deep in the river. An atmospheric river carries moist air—a strong one channels as much as 15 times the flow at the mouth of the mighty Mississippi. This influx of water vapor can result in a series of storms that can last for days, or even weeks. (There's a cool graphic of how they work here.) Over the weekend, forecasters were predicting that this was going to be the most powerful series of storms in a decade. Snow, rain, flooding—some forecasts predicted the Santa Cruz Mountains alone could get 10 inches of rain.
So far, it's definitely packed a punch. Rising rivers have triggered evacuations in both northern California and Nevada; a mudslide closed Highway 80, the major route through the Sierra Nevada. One of California's iconic tunnel trees, the Pioneer Cabin Tree in Calaveras Big Trees State Park, toppled Sunday afternoon. Yosemite National Park closed over the weekend because of the potential flooding of the Merced River; it is scheduled to reopen Tuesday morning.
These river-fueled storms seem to happen about once a decade; in 1986, 1996, and 2005 storm cycles created major flooding and other damage. But a larger cycle has been bringing even more water to California. Every 100 to 200 years, a major rainfall-triggered flooding event has swept the region, likely fueled by atmospheric rivers like the one that's bringing us rain today.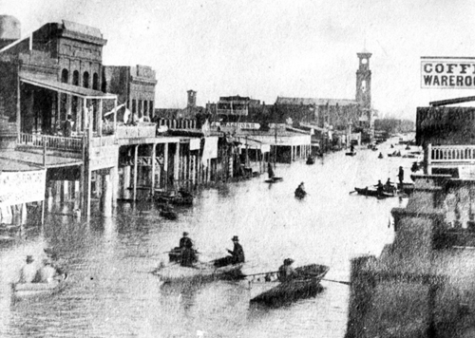 Atmospheric rivers might seem like answered prayers for a dry state. But in 1861, following two decades of drought, an atmospheric river brought 43 days of storms, causing a megaflood that killed thousands and submerged cities both in the state and elsewhere in the West for months. The newly-elected state governor had to travel to his inauguration in a rowboat.
Each of the large atmospheric river-triggered storms that I've lived through comes with a vivid memory of where I was at the time. Twenty years ago, a group of friends and I tried to race the storm to get to a party, only to be turned back—and to crash one of the most delightful New Year's Eve parties I've ever been to, complete with a power outage, several bottles of whisky, and at least one lampshade worn as a hat. Ten years ago, I raced through my husband's hometown, trying to find internet access to file a story as the river rose. Two days ago, I sat with a frightened dog and two half-frightened boys, watching branches of lightning come down on our nearby hills.
Storms, epic storms, can be the bearers of memories. These ones show me where I've been over time, who I've been. It seems like we should be telling more stories of storms, not just to recreate our own past, but to show us what to do when the flood comes.
**
Image by David DeHetre via Flickr/Creative Commons license. (This was taken in Lawrence, Kansas, not in California, but I really liked it.)