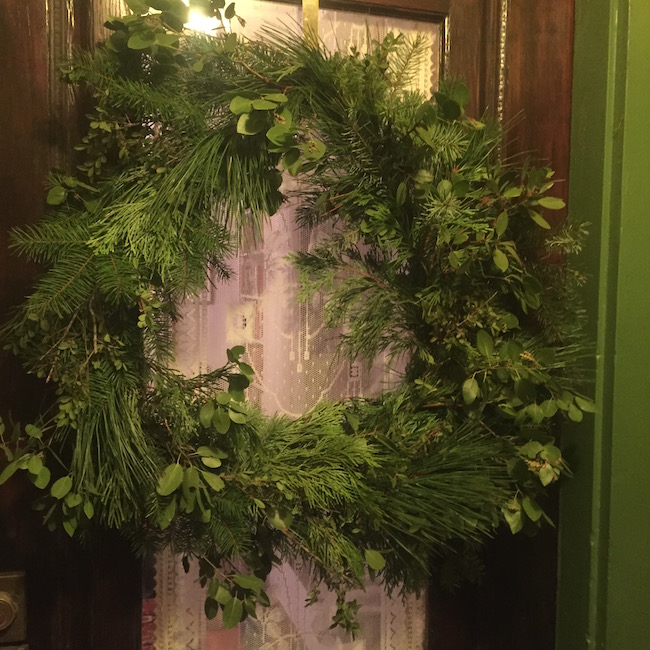 I am great believer in getting physical with nature. It is all well and good to take long walks, to photograph wildflowers, to gaze into the distance. But for many—and especially for kids—getting creative and interactive with the complex natural world is really what cements that bond between us and the outdoors. So for readers who don't hunt or fish—the traditional North American mode of interacting physically with nature—I offer this as the first installment in an occasional series on how to create and play with nature. Subsequent installments might cover foraging for mushrooms, building forts, the art of the beach bonfire, or even landscaping with salvaged plants from sites slated for development.
For many of us schooled in the "leave no trace" philosophy of nature, approaching natural places with pruning shears or a shovel feels uncomfortable. But never fear! The men and women who manage our public lands generally make good decisions about where certain activities should be permitted, how much individuals should be able to harvest, and so on. If you stick closely to the rules, you can feel pretty confident you aren't doing nature any real harm. And you may find yourself more interested and motivated to spend time outdoors, or to learn species names, when there is a project involved. I know my kids do.
So without further ado: here's how to make gorgeous, practically free holiday wreaths for your friends and family.
Supplies needed:
sturdy floral wire, available at craft stores and useful for tons of other things
sharp pruning shears
A frame for your wreath. These are available commercially at craft stores, or you can use a wire hanger bent into a circle (the hook becomes the hook!). I have a grape vine, so I braid together three woody vines and bend them into a circle to make my frames.
some bags for your boughs (or you can just throw them in the back of the truck)
some buckets to pop your boughs in water for conditioning (some people happily skip this)
doodads to decorate the wreath (optional)
First step: identify the closest state, national, or other public forest that allows bough harvest. This might take a wee bit of googling if you aren't familiar with the often complex mosaic of land ownership and management around you. Many state forests allow bough harvest, though you may need to get a permit. Often however, the amount you'll be taking to make a wreath or three is totally allowable without a permit. Rules vary even within states from forest to forest, so the smartest move is to call the regional office of your state forest system to enquire. This map can help you find National Forests, which are run by the US Department of Agriculture's National Forest Service. As with state forests, rules vary and small amounts of harvest are frequently allowed even without a permit. Check first.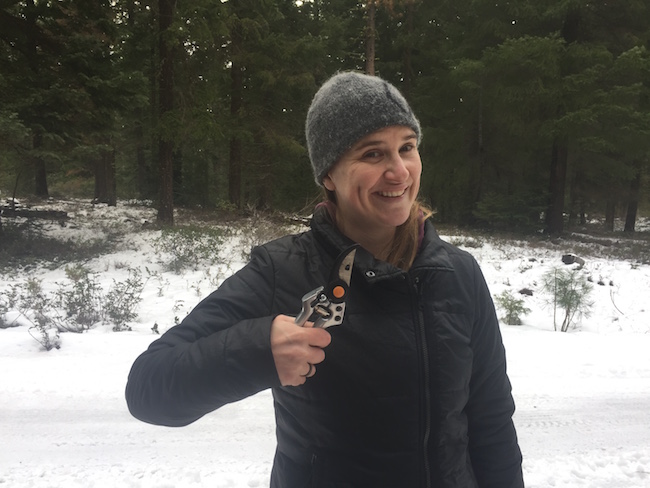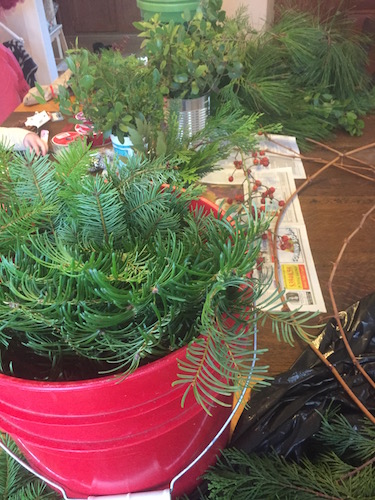 This year, I harvested my boughs in the Fremont-Winema National Forest in Oregon. I was allowed up to five pounds without any permit, but since I planned a bonanza of wreaths and thought I might need a bit more, I stopped by my local forest service office and picked up a free permit for up to 100 pounds. It was worth the trip, because the woman at the office also gave me a map of where I was allowed to collect and a quick briefing on how to prune without damaging the tree. Some good basic tips for balsam fir are here. The key lesson for me was that the branches don't have to be very big, so just cut off the ends.
Then it was off to the woods with my friend Lindsey and the kids. We snipped everything that looked good. If you're a little vague on the local conifer and hearty broadleaf shrubs, this is a great time to bone up. Snap a photo of the whole plant when you take a snip so you can use its overall shape and size to help you ID the boughs from the comfort of your wreath-making station.
Clemson University, among other authorities, recommend crushing the ends of your stems and popping them in water overnight before you get to wreath-making, so they can absorb a bunch of water and last longer. This is probably a good idea. We didn't do it, because we were too excited.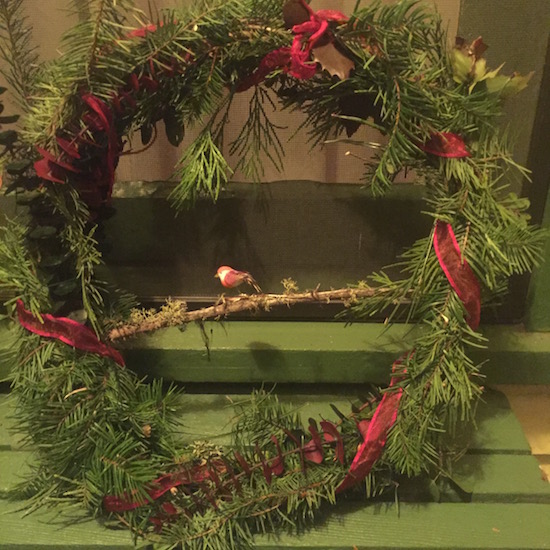 As far as the art of arranging your boughs on your frame, there are many videos out there that provide guidance. Here's one I like. I like a simple vegetation-only wreath, but my kids went for ornaments, small bells, etc. My daughter wired a dead branch covered in wolf-lichen across the center of her wreath and had me hot glue gun a little bird on it. In other words, follow your bliss.
What I like about the final result as a decoration or a gift is that it not only involves a nice day out in the forest really noticing the different shapes, smells (and stickiness) of your local forest species, the result is also a beautiful natural history lesson.
My wreath has lots of species characteristic of the mountains around Klamath Falls: white fir, ponderosa pine, incense cedar, manzanita, and Oregon boxwood. So when I took it to Seattle to give to my mother, it was a real souvenir from my home.
Many of the same forests that allow bough harvesting also issue permits for Christmas trees! Happy holidays, and enjoy your public lands!