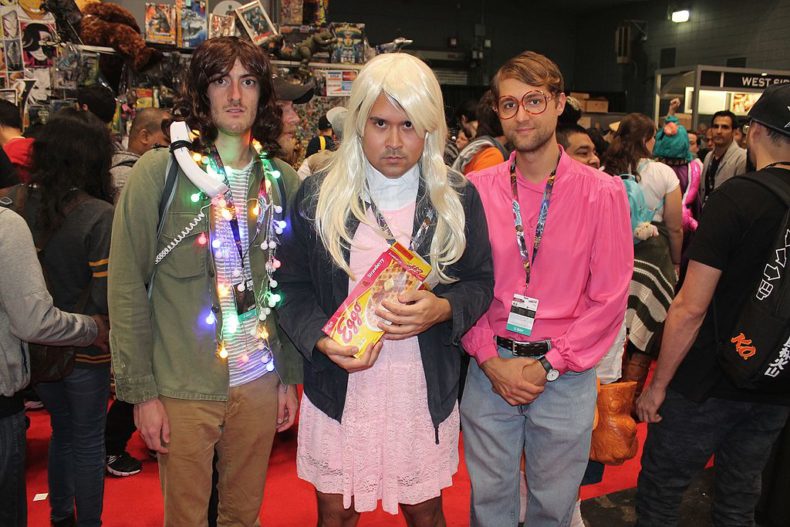 The best way to usher out the terrible year of 2016 may just be to watch TV (not the news) until it's all over. The People of LWON have some recommendations for what to watch this holiday season, and if you have some great shows or movies to add to the list, please write them in the comments.
JENNY: I love shows that are fearless, funny, and a bit filthy. (I didn't go for alliteration there–it just happened.) And, apparently, I like shows with one-word titles. So, Catastrophe and Fleabag are on my list of goodies. The former is hilarious and full of truth; the latter is a sly heartbreaker even as it has you cracking up. I'm also a huge fan of Peaky Blinders (don't let the peculiar name put you off) and Narcos. Finally, give The Night Manager a go. Well done.
MICHELLE: I was thoroughly diverted by The Night Manager, but the best show I saw this year was Happy Valley, a BBC show available on Netflix. It's violent and scary, so make sure you're prepared for the content, but the writing and acting are so good that I think they might be perfect. Complex, compelling, beautifully performed characters, several of whom happen to be badass older women. Looking forward to the third season. [JENNY: Yes, Happy Valley! Good! Good!]
Continuing with my theme, from the other day, of lousy leaders from the distant past, don't miss The Hollow Crown: The Wars of the Roses, the fancy new film versions of Shakespeare's history plays airing this month on PBS. The first Hollow Crown series, released in 2013, covered Richard II, Henry IV and Henry V; this time we get the hapless Henry VI and that baddest of all royal baddies, Richard III. Now is the winter we are most content.
CHRISTIE: I recommended Black Mirror back in 2014, and now it's back with season three and six more discomforting, thought-provoking stories about the promise and dangers of technology. Each episode stands alone, so there's no need to watch them all or in any sequence. You can skip episode two, a poorly executed horror show, and episode one, "Nosedive" is a tad predictable for my taste. Best to go straight to episode 4, "San Junipero," which is not just the season's best, it's also the most hopeful. Bonus: the nostalgic 80's soundtrack.
RICHARD:  My wife and I started watching The Crown on Netflix in early November, but then something happened in the news and we decided that we had been enjoying the show enough that we should wait to watch the rest until the experience of watching it wouldn't be contaminated by its association with the thing that happened in the news. So we switched to the U.S. version of The Office. We'd so appreciated the original British version that we've always resisted the idea of watching the Americanization, but now, we thought, the worst that can happen is that what will be contaminated by its association with the thing that happened in the news is the experience of watching a sitcom we don't care about. The show turns out to be not as propulsively bleak as the British version (that's meant as a compliment to the original), and it's even sentimental at times, so, yes: Americanized. But two-and-a-fraction out of nine seasons in, we've found it to be witty and charming on its own terms; if nothing else, I can take some comfort in the knowledge that we have 155 episodes to go, which, at an average of an episode an evening (some evenings none, some evenings two or three), should get us to June. Unless, of course, the show jumps the shark. In which case, we'll have to stop watching, not least because America has jumped the shark, too. (The Crown, alas, has wound up being contaminated anyway:  It's now The Show We Stopped Watching Because This Thing Happened in the News.  Sigh.) [ANN:  Finish watching it, Richard.  Elizabeth grows into the anti-thing-that-happened.]
ERIK: Every year I do this, somehow end up in the genre of historical fiction. Lately my jam has been Poldark, a remake of a 70s era British drama set in 18th Century Cornwall. I've been a fan of the leading man, Aidan Turner, since the BBC version of Being Human where he played – and this isn't the highest praise known to man – the most nuanced vampire I've ever seen on TV. His dalliance with The Hobbit was forgivable but I'm happy to see him sink his teeth into a truly meaty character. Yes, that was an intentional pun and I stand by it. Amazing cast and a excellent writing. On the very opposite end of the spectrum, I just finished the second season of Rick and Morty. Brilliant characters, hilarious bite-sized episodes, completely nihilistic – it fills the gap left in my life as I wait for the next season of Archer. If you love science fiction and are fond of laughing, yes, check it out.
ANN:  Carrington on Netflix, I've seen twice now.  I have a little obsession with the Bloomsbury crowd (Woolf, Bell, Strachey, and many impressive outriders) and this was about the painter Dora Carrington and her terrible love for Lytton Strachey.  Being about Bloomsbury, the film includes every possible mathematical coupling of the sexes, a lot of bad outfits, and home decors that are both stunning and unpleasant.  The actors in general seem to have been born for their parts, and most of the Bloomsburians act like plausible idiots.  But the main characters are astounding.  Jonathan Pryce makes the prissy, funny, poncey Strachey seem a reasonable human if you happen to be born Lytton Strachey.  And Emma Thompson's Carrington is so contradictory, remote, intense, awkward, and wholly in love that her suicide is natural.  That's not a spoiler — you can see it coming from the start.  I can't stop remembering her face, not Emma Thompson's face, Carrington's.
EMMA: I very much enjoyed reliving my childhood by watching Stranger Things. Set in 1983, it has all the things you remember from being a kid in the 1980s, if you indeed were: harried adults who smoke and feed their kids mostly scrambled eggs, lots of unsupervised time fooling around at the urban/spooky woods interface, and the pervasive sense that no one is really control and that things could go deeply and darkly wrong at any moment. Wait, what? Your childhood wasn't like that?
CAMERON: I have re-entered childhood in a different way, because after nearly eight years of very infrequent theater-going, I finally have someone who is both available and loves to go to the movies with me, and we both like the same genre: animation with music. We've seen Trolls and Moana in the last few weeks. Trolls is cheery and entertaining, kind of like cotton candy with a beat. My seven-year-old liked this one better. Moana is uplifting and inspiring–the main character's a girl, and there's no question that this is something that would stop her from either being the chief or from sailing across the ocean to save her island. I liked this one better. Small screen viewing from me, non-animated: This Is Us.
HELEN: If you watched Netflix like I watch Netflix, you'd be starting Parks & Recreation over from the beginning, because you would have just finished watching the whole series from start to finish, for maybe the second time, and you'd rather live in Leslie Knope's fantasy world than the real world. Other than that, I'm going to second Emma's recommendation of Stranger Things, because it's wonderfully suspenseful and entertaining, and my 80s childhood wasn't even really like that, and I'm also going to second Erik's recommendation of Poldark, because have you seen Aidan Turner? Have you? His face? Also how he takes his shirt off to mow with a scythe? Here, I'll save you the google. Hel-lo.
More of LWON's TV and movie recommendations from the ages — well, the last two years — can be found here and also here.
Image: Stranger Things Cosplayers at this year's New York Comic Con (Wikimedia Commons)