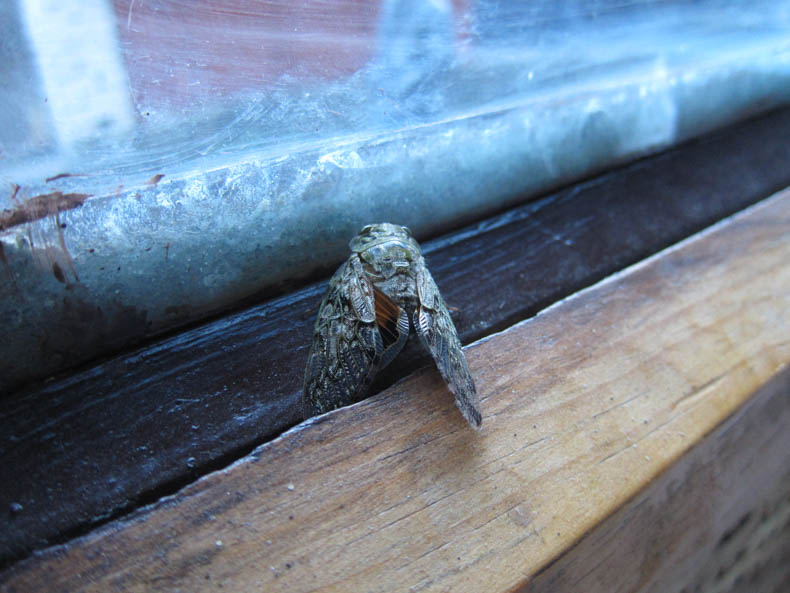 I've written before about how much I like seeing a bug on a window. Usually I see those bugs on the outside. This is a story about a bug that I saw on the inside.
It was a chilly morning in November. I was in a hotel in Tatopani, a Nepali town along the Kali Gandaki River, around the west side of the Annapurna Massif. Tatopani is a common Nepali place name; "tato" means hot and "pani" means water. It was breakfast time and I was waiting for my pancakes and bacon when I noticed this cicada on the windowsill.
I first fell in love with cicadas in 1987, when the 17-year cicadas came out in my hometown. They're enormous, bumbling, and harmless, and they sound like summer. I welcomed them back happily in 2004. I also associate them with Japan–I don't remember hearing them when I lived there, but in Japanese movies, it's the ebb and flow of the cicada buzz that alerts the viewer that the action is happening in summer.
So seeing one in Nepal–and near a window, my preferred place for observing bugs–it was a little like meeting an old friend, or an old friend's distant cousin.
Just a few months ago, a group of researchers at the Natural History Museum in London, the University of Connecticut, and the Tata Institute of Fundamental Research in Bangalore published a provisional catalogue of the cicadas of the Indian subcontinent. They count 281 species in total: 189 in India and Bangladesh, 19 in Bhutan, 81 in Myanmar, 22 in Sri Lanka, and 46 in Nepal. Most of these can be seen at indiancicadas.org, so if you'd like to sort through all the photos looking for this one, please let me know what you learn. (Pakistan was excluded because its cicadas have been studied more recently.)
I haven't spent a lot of time looking at this kind of article, and this one was great fun. For example, it offered the chance to learn about William Lucas Distant (1845-1922), "the most influential figure in the history of cicadas in India." I enjoyed the fact that so many of the references were from the Victorian era. I also like that the paper has two checklists: one list of species that have been recorded in India, Bangladesh, Bhutan, Myanmar, Nepal, and Sri Lanka, and another list of species that, they figured out, have not been recorded in India, Bangladesh, Bhutan, Myanmar, Nepal, and Sri Lanka, but had been mistakenly placed there for one reason or another–a mixup between India and Indonesia, for example, or various misclassifications or confusions over the years.
If you want to know what's out there–before it disappears in the face of development, climate change, an asteroid strike, a nuclear weapon, a zombie apocalypse, or whatever else is coming for us–you have to do the painstaking work of poking through museum collections, examining and cataloguing everything that is there. This paper is on just one group of insects in one part of the world. And even for the cicadas of South Asia, this is just one step. The authors point out that modern acoustic and molecular analyses will probably uncover more species, by splitting up species that look the same, but aren't interbreeding.
I have no idea which of Nepal's 46 cicada species this one was. Eventually it flew away, finding its way onto the bench and then farther afield. I hope it found its way back outside.
Photo: Helen Fields