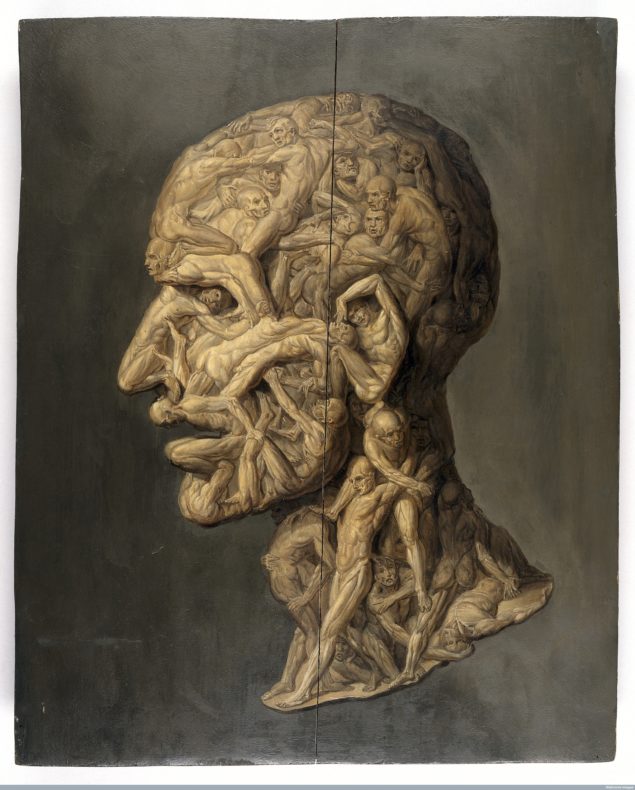 This recent revelation about Donald Trump and crotch-grabbing has triggered an outpouring of stories and memories. I posted something on the matter on Facebook and people's deeply sunken tales came out comment after comment. The same has happened on a national scale. People are stepping forward with their stories. A friend of mine, a touring musician, wrote a song, picked up her guitar and put it out there in a video. Down inside our tangled nests of personal denial, self-blame, and fragmented recollections, a sharp twang has struck from many pasts. This is no imagined twang, it has a physical and lifelong component.
In moments of fear or terror, combat or sexual assault, the prefrontal cortex is overridden by stress chemicals. You don't need your prefrontal cortex to get out alive. In essence, you switch to the reptile brain, which means nuances like hair color, clothing, shoes, or exactly what was said are harder to access. Fine details may be burned into the brain, but many others are cross-wired and even backwards or misremembered. The hormones released during an assault make it hard for the amygdala and hippocampus to work together, meaning information can be encoded incorrectly.
I recall being grabbed myself at an early age by a man in a bookstore. He rubbed against me uncomfortably and I moved away, then he moved in. I had a big book in my hands, I don't remember the title. I have ever since thought of whamming it into his face, where I know he would have wept and cursed and run away. I see blood, a look of shock. But I didn't do it. I stood in complete surprise and confusion. In fact, it feels as if part of me is still standing there, frozen in disbelief, a statue of a boy with a book in his hand that does not weather, does not erode, a ghost I left somewhere long ago.
The moment itself is ruled by the limbic system between the brain stem and the cerebral cortex, flooding the body with hormones for defense, or at least action, or frozen inaction. Meanwhile, social norms weigh in. Or social abnormalities. Sexual predators rarely behave like predators in the wild. They come in under the radar. The man who grabbed me didn't do it aggressively. He reached for my crotch as if reaching for a book on a shelf. The epinephrine and norepinephrine flying into my muscles telling my brain to swing the book into his face were interrupted by my not being sure what was going on, what I was doing, what he was doing. My body was charged, clogged, everything ready to fly, but without any flight to be seen.
A study of the brains of 51 women, reported in the American Journal of Psychiatry, found that the 28 who had reported a childhood history of abuse, particularly sexual abuse, had physically different brains from the others who reported no obvious trauma. The human brain is a plastic organ. It grows differently depending on an individual's history. Researchers concluded, "exposure to childhood adversity is associated with pronounced neuroplastic changes in the cortex in the form of cortical thinning that occurs in a regionally highly specific manner, determined by the type of maltreatment that was experienced." The effect of sexual abuse appears to be a thinning of the somatosensory genital field. This is not something imagined, it is physically present in the brain, like a scar.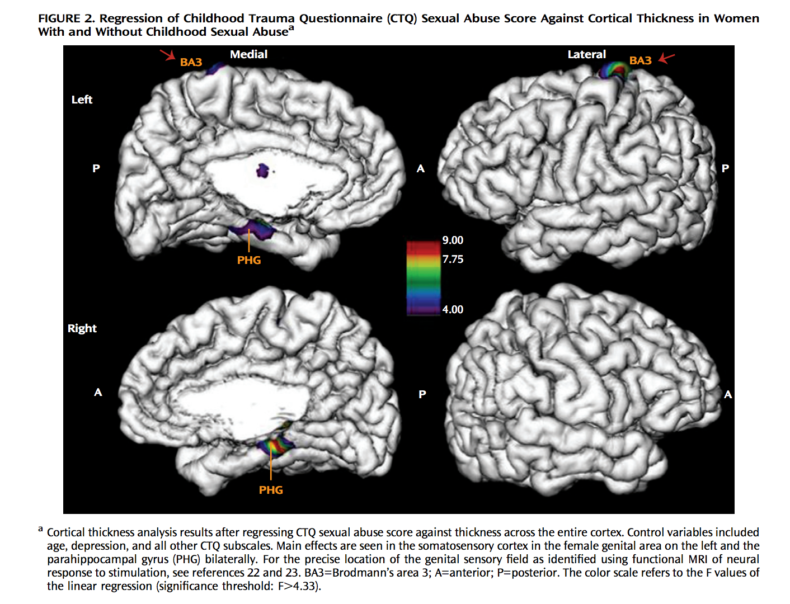 A year after the bookstore episode, I was molested repeatedly by a male student teacher ten years older than I. He asked me if he could, I said no, and he did it anyway. While my body threw out fight or flight hormones, he told me that he hates it when people blame others in their past for their problems. As a mentor, he laid landmines inside of me to make sure I kept my mouth shut. Even writing this, I feel the click underfoot, the trigger going off. Boom!
The plasticity of my brain is wrapped around what happened with him, parts of me left blank, left suspended. If information was improperly encoded in my brain, this was doubled by the words I listened to from him. This is how to tear people apart, how to undermine a society person by person.
Sexual assault is used as a war tactic to terrorize civilian communities, a stepping stone for ethnic cleansing. Without bombs or chemical attacks, people's brains can be tangibly damaged, the impact echoing for generations. Human Rights Watch, an international NGO, investigated rape as a military tool in the former Yugoslavia, Peru, Kashmir, and Somalia, finding it used as "an integral part of conflicts." It is, in other words, a war crime.
There is nothing flimsy or insubstantial about people's claims as they step forward one by one. Each is stepping on a landmine in order to speak. Based on numbers Christie Aschwanden will be posting on LWON tomorrow, this refers to most of us, not only women but men. It is a way of entering chaos into a society, a pain and mental quandary that keeps on giving.
Which is why I am careful who I vote for. This is not a behavior that deserves empowerment. It impacts the whole of a people for longer than we can imagine.
Images: Testa anatomica by Filippo Balbi; Wellcome Library, London; brain image from "Decreased Cortical Representation of Genital Somatosensory Field After Childhood Sexual Abuse."