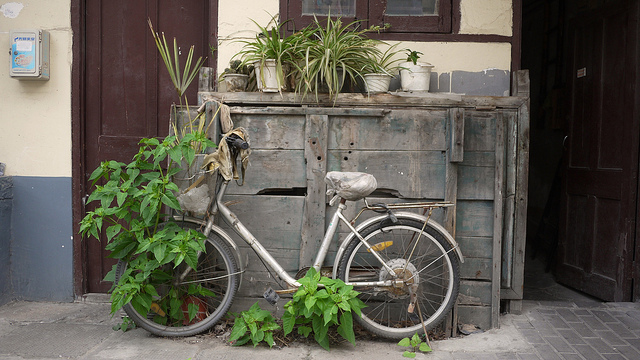 Sombath Somphone, a respected civil-society leader in Laos, was abducted in Vientiane in December 2012 and has not been seen since. As President Obama becomes the first sitting U.S. president to visit Laos, we revisit this post about Somphone, his disappearance, and a long-ago turning point in his life.
Two years ago this week, a well-known environmental organizer named Sombath Somphone was detained at a traffic stop in downtown Vientiane, Laos, and driven away in a white pickup. He has not been seen or heard from since. You can read a lot more about Somphone, his work in Laos, and his wife's remarkable efforts to call his abductors to account in my story for National Geographic. 
Right now, though, I'd like to tell you a story about his high-school English teacher.
In 1968, sixteen-year-old Sombath Somphone was studying at a French lycée in the southern Laotian town of Savannakhet, living with relatives and doing chores in exchange for board. Somphone's parents were subsistence farmers in rural Laos, and the family had already been driven out of the country by the ongoing civil war, surviving a year of near-starvation in a refugee camp in Thailand. When the family returned, Somphone's father had insisted that his son resume his schooling.
At the lycée, Somphone's English teacher was Sylvester Morris, an American who had grown up speaking Creole in Houma, Louisiana. During his Fulbright teaching fellowship in Laos, he was polishing his standard French while teaching English to native Lao speakers. He immediately noticed Somphone, one of the only students who responded to his English questions with English answers.
One evening, Morris encountered Somphone sitting on the sidewalk, resting next to his bicycle after his daily chores. Impulsively, Morris asked if he wanted to attend night classes at the local American school. "I said I didn't have money, and he just laughed," Somphone told an interviewer in 2005. "And then he asked me, 'Do you want to study?' I said 'Of course.' So he said, 'Okay, I'll pay for your school fees. Would you go?' I stood up and said, 'Are you serious?'"
When the American Field Service asked Morris to help recruit Laotian high-school students for its U.S. exchange program, Somphone was the first student he approached. Though America was only a vague notion to Somphone, the scholarship's qualifying exams would be held in Vientiane, the capital city he had never visited and longed to see. He agreed to apply.
After Somphone was accepted to the program, however, the other teachers at the lycée discouraged him, telling him that a year abroad would put him behind in school. He hid from Morris, and even returned home to the countryside in order to avoid him. When Morris tracked him down, Somphone fled to the local airbase and hitched a ride on a U.S. military plane to Vientiane. Morris found him there, too. Cornered, Somphone protested that he didn't have money for the suit the exchange program required for travel. Morris bought him a suit.
In August 1969, Somphone boarded a plane in Vientiane and flew to New York. He was one of two hundred Southeast Asian students in the American Field Service exchange program that year, and one of only seven from Laos. The United States, which supported the Laotian monarchy's resistance to the communist Pathet Lao, had recently intensified its aerial bombing of the country, a campaign that would make Laos the most heavily bombed nation in the world.
Somphone spent a year living with a family in Wisconsin, an experience that eventually led to a scholarship to the University of Hawaii, graduate work in agronomy, and decades of patient, canny work on behalf of sustainable agriculture and a more open society in autocratic Laos. His disappearance in late 2012 was a shock not only to his family and friends, but to his colleagues and supporters throughout Southeast Asia and beyond.
It was also a shock to Sylvester Morris. After six years in Laos, Morris returned to the U.S. and began a long career as a high-school French teacher in Kansas. He kept in sporadic touch with Somphone, and learned of his disappearance in a letter from Somphone's wife, Shui-Meng Ng. When I reached Morris at home not long ago, he was still distraught about the fate of his former student. "He was a little short guy, one of the smallest in the class—he was sixteen, but he looked about twelve," Morris remembered. "But he stood out. He was so smart and so nice, and you could tell he just loved English." He laughed, sheepishly, about his own persistence: "I guess he did fight me for a while."
Forty-three years ago, Morris hustled Somphone into a suit and on to an airplane, not knowing where the journey would lead. The tragedy is that it may have ended far too soon.
Top image: A leafy bicycle in Laos, by Flickr user Randomwire. Creative Commons.