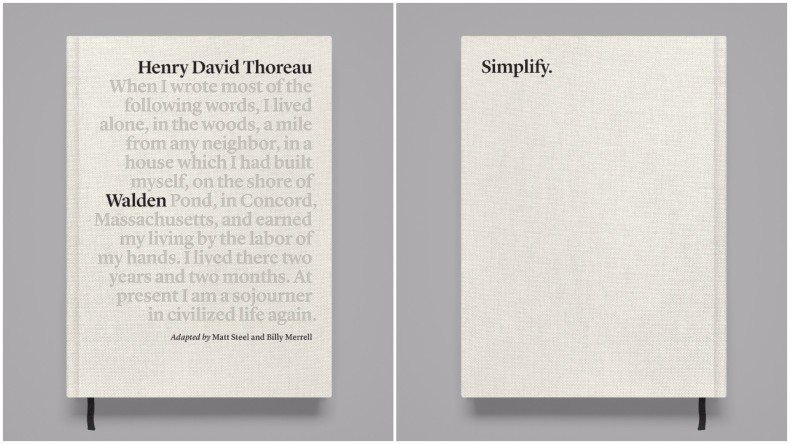 I've owned only one copy of Henry David Thoreau's Walden, and I've owned it since high school. It's a 1980 Signet Classic paperback, original price $1.75. Inside the creased front cover, in ballpoint pen, a long-ago student has scrawled, "I want to go to sleep. I'll never last 1 hr + 20 min reading!"
I wasn't that student—I swear!—but I could have been. I love Thoreau like I love certain smart, cantankerous elderly relatives: I respect his brilliance, his mischief-making, and his preternatural foresight. I appreciate his sometimes obscure humor. I make allowances for the years between us. But even so, I sometimes have to stifle a yawn. I mean, the guy does go on.
Designer and writer Matt Steel feels similarly. When he first sat down to read Walden in 2011, he was at a particularly stressful point in his career, and he hoped Thoreau would give him some pithy advice on the simple life—as he had in the excerpts Steel remembered from high school.
"Instead, right away I got an essay on economics and societal vice, and I thought 'Oh gosh, I don't have the mental energy to deal with this right now,'" he remembered when we spoke recently. Three years later, after Steel had rearranged his schedule and renewed his love for reading, he made another run at the complete Walden. "When I finally read it all the way through, the thing that struck me was its relevance," he says. "It's more relevant today than it was in 1854. I thought, 'Man, there are so many people whose lives would be blessed by reading this.'"
Steel considered using his design skills to create a beautiful new edition of the original text. But a cosmetic overhaul, he soon realized, wouldn't do much to close the distance between Thoreau and modern readers. What if Steel also renovated the text itself—not by removing or simplifying its ideas, but by clarifying its vocabulary and syntax?
He tried his hand at adapting the first three chapters of Walden, excising antiquated language and shortening sentences while attempting to preserve both Thoreau's ideas and his alliterative, sometimes hyperbolic style. (Steel, the son of a Presbyterian minister, says Thoreau's style often reminds him of his father's sermons.) Today, Steel begins a Kickstarter campaign to complete the project, enlisting poet Billy Merrell to assist with the adaptation and artist Brooks Salzwedel to illustrate the redesigned edition.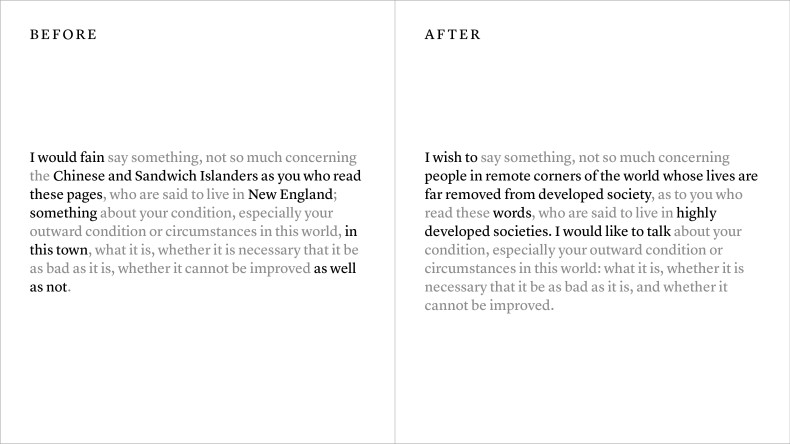 On the one hand, an adapted Walden is nothing new: we already abridge and revise all manner of literary works in the name of modern accessibility. On the other hand, who does this Matt Steel dude think he is? Shouldn't this kind of thing be left to scholars?
Perhaps. But nobody else was doing it, Steel points out. "I saw a need and went for it, even though I was terrified—and still am," he says.
For as long as I can remember, I've been fascinated by what I've come to think of as literary experiments. (Not for nothing am I mother to Girl Bilbo.) I love to watch what happens to a story when it's told with new syntax, or in a new setting or medium or genre, or by characters of different genders or races or ages. Does it collapse, or does it expand to encompass its changed conditions? How do its audiences react?
Literary experiments are more fun when they work, of course, but even when they fail, we learn something about the possibilities and limits of the stories we share. And as long as they're clearly labeled as experiments, and don't pretend to be replacements, nothing is lost. Thoreau's irascible, complex masterpiece, which after all is about an experiment in living, seems an especially promising laboratory. May this new experiment crack it wide open.
Photos courtesy of Matt Steel.