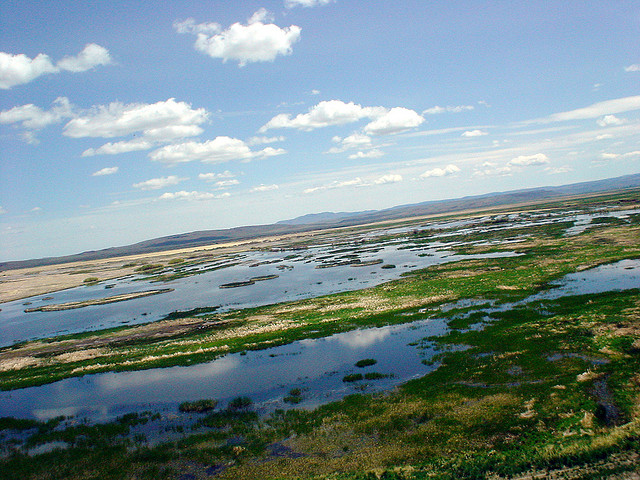 In the mid-1990s, when I had half a biology degree and precious few practical skills, I was hired as a field assistant on a desert tortoise research project in southwestern Utah. It was a strange and wonderful job at a strange and not-so-wonderful time: In order to protect the tortoise, a threatened species, the federal Bureau of Land Management had recently limited grazing in tortoise habitat. While most ranchers had accepted government compensation for the restriction of their grazing privileges on public land, a few had refused to accept payment—or move their cattle.
One of them was a southern Nevada rancher named Cliven Bundy. As he told The Washington Post at the time, he was opposed to the "land grab," and was "digging in for a fight."
Dig in he did. In the years that followed, he racked up $1 million in grazing fines and fees, and in the spring of 2014, when Bureau of Land Management contractors finally moved to round up his cattle, he vowed to do whatever it took to stop them. After a tense standoff with armed Bundy supporters, the agency backed down. This past January 2, as the country now knows, Cliven Bundy's sons Ammon and Ryan led anti-government militants in an armed takeover of the Malheur National Wildlife Refuge in southeastern Oregon.
It's been more than 20 years since the Bundys and their ideological allies dug in against the law and the public interest—and science and scientists are still in their line of fire.
During the time I worked in Utah, threats like Cliven Bundy's were taken quite seriously, and for good reason. While anti-government sentiment was nothing new in the region, it was at one of its periodic peaks, and regulations designed to protect sensitive species were a particular sore point. Gas stations sold empty tins labeled "Desert Tortoise in a Can." (Gas stations in the Pacific Northwest sold tins labeled "Spotted Owl in a Can.") Biologists avoided talking about their work in public, fearing loogies in their French fries—or worse.
In late 1993, a bomb was tossed on to the roof of the Nevada state headquarters of the Bureau of Land Management office in Reno. In the spring of 1995, a pipe bomb blew out a window and damaged walls at a U.S. Forest Service office in Carson City, Nevada. Four months after that, also in Carson City, a bomb exploded under a van parked outside a Forest Service employee's home, shattering the vehicle while his wife and children watched.
"I'm concerned about the safety of my employees," Jim Nelson, the Forest Service district manager for Nevada at the time, told USA Today. "They can't go to church in these communities without having someone say something. Their kids are harassed in school. Stores and restaurants are not serving them."
Though my three seasons in Utah were eye-opening and unsettling, I was a short-timer. Many of the scientists I worked for were not, however, and I saw how deeply the conflict affected them. These were people who could identify birds by ear and knew the names of hundreds of desert plants. They worked for the public-land agencies because they believed that the work they did would, eventually, be used to create policies that served the public good. They were not, as a rule, people who enjoyed controversy. They were certainly not trained or equipped to deal with mortal threats, or with the corrosive stress of being despised by their own communities. It took a toll on them, and it still does. And while the particulars of the issues have changed, the threats to agency employees in the region have not abated.
Grazing on the country's public lands was first regulated in 1934, in response to horrendous erosion problems on the open range. In the eighty years since, those rules have changed to reflect new science, new laws, and new public concerns. This is not to say that the management of grazing—or of any other activity on public lands—is perfect: far from it. It is politicized, poorly funded, often poorly executed, and shadowed by genuine historical grievances. Plenty of people think it's not tough enough. But it is also part of a generations-long and often quite earnest effort to serve the public's interests on public land, informed by both science and stakeholders. Again and again, the Bundys and their ilk have taken that effort hostage.
This past weekend, California ecologist Travis Longcore published a post about Linda Sue Beck, the federal fish biologist whose office at the Malheur National Wildlife Refuge is now occupied by the brothers Bundy. The Bundys have piled Beck's desk with pizza and bullets. They're making coffee in her small laboratory. When two Reuters reporters paid a visit, the Bundys referred to Beck as "The Carp Lady."  "She's not benefiting America," Ryan Bundy said. "She's part of what's destroying America."
As Longcore points out, Beck's work is in fact part of a long tradition of scientific research at national wildlife refuges, a tradition that has guided wildlife management for more than a century. The management of refuges, like the management of other public lands, is imperfect, intertwined with politics and bureaucracy. But without the science conducted on its behalf, we would all be poorer—in species, in natural resources, and in splendors of many kinds. Longcore writes:
The armed takeover of Malheur National Wildlife Refuge is, therefore, not just an attack on a federal property. It cuts deeper than that. It is an attack on the modern science-based approach to land management and it is an attack on the value and worth of science and scientists in the United States.
There's plenty of dark humor to be had in the Oregon standoff. From a distance—and even from some vantages nearby—the whole thing can look like a badly supervised sleepover. But for biologists like Linda Sue Beck, and for her colleagues throughout the region, the threats are real, and so are the guns. And they know, from decades of experience, that there's nothing funny about either.
Photo of Malheur National Wildlife Refuge by Flickr user John Bromley. Creative Commons.