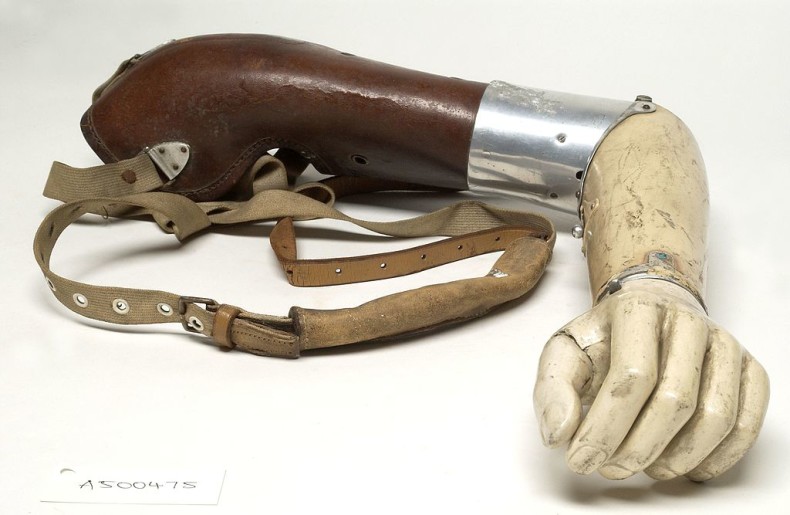 I've fallen, relatively unexpectedly, into a beat. This is something I hear that some journalists plan, but for me it was simply a snowball effect. I did a story about prosthetics. Then I did another. Then amputees and prosthetists started calling me, and I just kept covering the field.
I love covering prosthetics. I talk to really warm, smart and interesting people all day. But I've felt some anxiety about being an able bodied person covering disability. Every time I express my unease at owning the prosthetics beat to other science reporters they look at me like I'm from another planet*. But I don't think it's unreasonable to worry, and for the last seven months I started spending a few minutes at the end of interviews asking all the disabled people I interview they love and hate about journalism that covers their community. Along with help from Carrie Wade, who has called out some of the ableist ways science and technology refers to disability before, here's are three key things I've learned so far.
First, the easy piece of advice: don't write inspiration porn. This goes first because it's the most obvious and the most common. Sometimes disabled people do amazing things like climb gigantic mountains or waterski or memorize the periodic table or enjoy high school (that last one is the most amazing, I think). Calling everything they do "inspirational" devalues them as people. "The thing about inspirational stories is that they're not about us, they're about able bodied people," Wade says. "The story is not about what we're doing, it's about how we're making you feel while doing it." (If you've never heard of inspiration porn, here's a good and humorous explanation).
In the context of prosthetics, inspiration porn is everywhere. Advanced Prosthetics, a manufacturer or prosthetic limbs, even has a section of their website for "inspirational stories." In science journalism, though, inspiration porn tends to look a little different. It's not, generally, "amputee does a thing and you will feel inspired by it." Instead it's "science does a thing and you will feel inspired by it." It's about the inspiration that the technology gives, one step removed from the human using that technology. It's "Scientists and engineers create crazy amazing device that helps amputee catch a ping-pong ball!" Or, to give a real example (one that designer and artist Sara Hendren uses in her talks) "DARPA's Crazy Mind-Controlled Prosthetics Have Gotten Even Better." It can sometimes feel like these stories are not inspiration porn, they don't fit the mold, but they are all about making able bodied people feel good about the world via the application of technology to a person they assume must be struggling and unhappy. 
This brings us the second thing I've learned: remember who these devices are for. Prosthetics is a sexy topic right now. But most of the stories about prosthetics are about some incredibly advanced leg, or some incredibly cheap 3D printed hand or some incredibly strong exoskeleton. These stories aren't really about amputees, they're about soothing a broader cultural anxiety about technology. Yes, our constant appetite for things might be destroying our planet, changing our interpersonal relationships, turning us against one another. But look how much good it can do, too!
About half of those stories don't talk to a single human being who uses the device the piece is drooling over. But who cares! Look at this inspirational video in which a man picks up an egg! Technology is amazing! We're all going to be okay!
And that's the third thing I've learned: actually talk to amputees, and not just the ones the company hands you. Science journalists are often really fixated on outcomes and progress: is this a cure, is this moving us forward, is this a breakthrough? Is this device new? Does it work better than before?
But who do we call to find out whether it works better? Often, as science journalists, we get really hung up on a particular kind of expert: the scientist, the doctor, the engineer. These people have expertise, sure, but they only have a certain kind of expertise. The patient has another kind, and a kind that is just as important. Talking only to the technical expert, and ignoring the human expert, means telling only half the story. It turns out that a lot of amputees don't like to use their devices at all, use them only in particular situations, or hack them to fit differently, but you'd never know if you just talk to the engineer who made the touch sensors on the latest bionic hand. Nor would you know what an amputee looks for in a device, what kinds of design choices they care about, how using a piece of technology has changed their perceptions of themselves.
These three little tips probably seem really simple. Don't write inspiration porn. Do remember who these devices are for. Do talk to those people. But if you read nearly any story about prosthetics or design for disability you'll see that journalists rarely actually follow them. They fetishize the technology without asking the people using it if it works for them, or if they want it. They build narratives about technology helping folks overcome obstacles they assume to be there. I've made these mistakes too. But I'm trying to be better, and these are the rules that are guiding me going forward. And I hope they're helpful to those of you who might find yourself covering disability. (Which, by the way, can and should be incorporated into nearly every beat.) I also hope that newsrooms will start hiring more disabled people, since they are often left out of conversations about diversity, but that's a topic for another post.
If you're interested in learning more about covering disability more generally, the National Council on Disability and Journalism has some resources, including a style guide.
* An earlier version of this post included the phrase "they look at me like I'm crazy," which folks have rightfully pointed out is in fact ableist garbage. I apologize for writing garbage, and I will do my best to be better in the future. Here is more information about how words like "crazy" and "insane" are ableist.