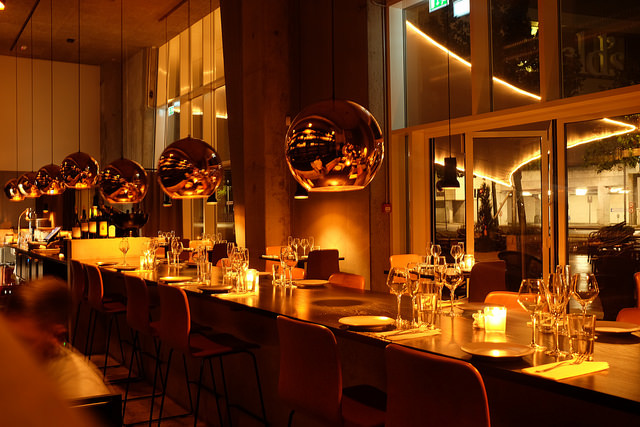 The world is full of iniquity.  Guys shoot up college classes; they also shoot up churches, malls, and elementary schools.  Little kids get shot playing on their front porches.  A hospital gets bombed and its doctors die.  Drug companies raise prices of drugs for sick people by obscene amounts. Gun advocates keep the country locked and loaded. And that's just in the past week and the good Lord knows what's going to happen between the time I write this and the time it's published. It's so depressingly unsolvable out there, no redemption possible. So the counter-balances to iniquity are precious. Which is why I'm all irate about the small-scale, silly, stupid problem of noisy restaurants.
I live near an unexpected number of good restaurants.  They're smallish; they get their food locally and local food is good; the service is ready and charming; the décor is both comforting and fun to look at; the chefs are apparently artists and the food is inventive, beautiful, and delicious. The noise is astounding, stunning, the levels of truck traffic, of jackhammers. I go to each of these restaurants once and never go back; I do so like good food, and I watch the restaurants recede in the rearview mirror with regret.
One of these restaurants I went to with a young woman who does interesting art, whose manners are so good they're beyond me, and whose friendship I'm grateful for – I mean that, I want to thank her for liking me.  I hadn't seen her for five years.  What had she been painting, how were the kids, what were her parents doing, what happened with that job, is she happy?  Such stories turn out to require high bandwidth, modulated voices, and low ambient noise. Instead we sat two feet away from each other and for the next hour or so, screamed banalities.
Another good restaurant I went to with my dear, dear brother and sister-in-law who travel to places I'd like to go, who have complicated family situations, and who generously come to visit every few months.  We ended up leaning in to a few inches from each other's faces, cupping our ears like geezers.  I couldn't figure out which country they were talking about and which family member was needing sympathy.
Another time was with an old friend with whom I share a birthday, who knows what's going on under the surface in our city, and who is so useful to everyone she's out most days and nights and still is up for any project. I couldn't hear which champagne the waiter recommended so I bellowed "Cheap. Whatever."  My husband's hearing is a little off from years of flying private airplanes; he sat quietly, ate his dinner, smiled occasionally, and didn't even try to talk, let alone hear. Over at the next table, one couple is shrieking and the other is looking at their cell phones.  We communicate to each other that we were pleased with what we'd ordered, then finished our dinner and scanted on dessert just to get out of there, relax, and talk to each other again.
This restaurant noise thing isn't just local and it's been going on for years and isn't getting better.  Balanced reporting in newspapers points out that restaurant owners equate quietness with no customers and noise with popularity, so they're fine with intrusive music and hard surfaces.  The same balanced reporting finds studies showing that in noisy places, people drink more and eat faster, so the restaurant owners make more money.  I don't know whether any of those things are true and I don't care and on this issue, I don't give a rat's ass about balanced reporting.  Certainly money should be involved, of course it should, but those restaurant owners are dead wrong and should be publicly informed that they're profoundly missing the point. I am up to this task.
What are good restaurants, good food, and good company about anyway? Aren't those chefs trying to put together food that surprises and delights and warms us?  Aren't the servers wanting the people they serve to feel indulged and open-hearted?  Aren't the customers wishing to be fed, to be taken care of, and by sharing the meal and talk, feeling connected to their friends?   Did Babette's Feast teach us nothing?
When those people left Babette's meal, they went outside not to get away from stress and shouting, but to dance a creaky little circle dance under the stars.  And there it is: the counter to iniquity, the redemption.
_________
photo of beautiful restaurant, all hard surfaces: Kristoffer Trolle