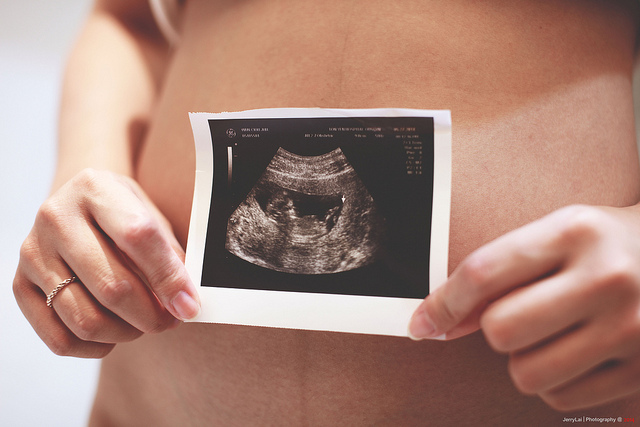 Three years ago, I wrote a post about having children. I was trying to decide whether I wanted one. I wish I could say that writing that post helped clear the fog of indecision, but that isn't what happened. I continued to struggle and debate. And when that didn't lead to a clear answer, I began to drunkenly poll people at parties. "Do you think I should have a kid?" I'd demand, taking a swig of my gin and tonic.
One moment I'd be swept up in the nostalgia of my own childhood. I'd imagine the pleasure of taking my daughter camping in the same hills where I camped as a kid. I'd show her how to roast the perfect marshmallow, how to light a fire, and how to pull off leeches. And the next moment I'd be sure I couldn't manage motherhood. My hips were clearly built for bearing children, but my personality isn't suited to raising them. I'm impatient and selfish and foul-mouthed.
A year and a half ago, my husband and I moved out of our cramped Brooklyn apartment. We bought a house in the Midwest, close to family. We adopted a puppy. We planted a garden. All signs pointed toward procreation. Yet I still couldn't fully commit to the idea. So in December, when a pregnancy test delivered a single blue horizontal dash, I was relieved. But seconds later a perpendicular line appeared, transforming negative into positive, absence into presence. I stared at the plus sign dumbfounded. And then I began to cry.
The tears were not the pretty, joyful kind. I felt despondent, and immensely guilty for feeling despondent. I have so many friends who have struggled to conceive, some of them are still struggling. And then there's me, a 36-year-old who isn't even sure she wants a child suddenly knocked up and crying.
Today, I am six months pregnant. And the initial flood of despair has faded. I can feel my baby girl kick and squirm, and when my husband rests his hand on my ever-expanding belly, so can he. "Is this your first?" strangers ask. And I nod. "You must be so excited," they exclaim, beaming expectantly. What can I say?
If I were being honest, I would say "no." Excitement doesn't begin to cover the grab bag of emotions inside of me. Terror and anticipation and apprehension have fused inside my chest to form a complex alloy that can't be easily named or identified. Do you know how the sky feels right before a tornado hits? So still and ripe? Being pregnant feels a little like that, like something momentous is about to happen (minus the devastation and carnage, I hope).
So when the nice lady at the dog park says, "You must be so excited," it's hard to know how to respond. You can spend ten minutes trying to describe the emotional chimera swelling inside you like an impending tornado. Or you can smile and nod politely.
Usually I choose to nod and smile. Because the whole truth is ugly and complicated. It's something I don't even like to admit to myself. Three years ago, I couldn't decide whether to have a child. Now the decision has been made. The baby is coming, and I have no doubt I will love her. In some ways, I already do. But even now, six months into my pregnancy, that niggling knot of uncertainty is there. I'm having a child, but do I want to have one?
Perhaps it's a question I won't be able to answer, at least not right now. Maybe the answer doesn't matter. Maybe it's enough to ask the question, to embrace the idea that I can be a good person, and even a good mother, no matter what the answer might be.
*****************
Image courtesy of Jerry Lai via Flickr