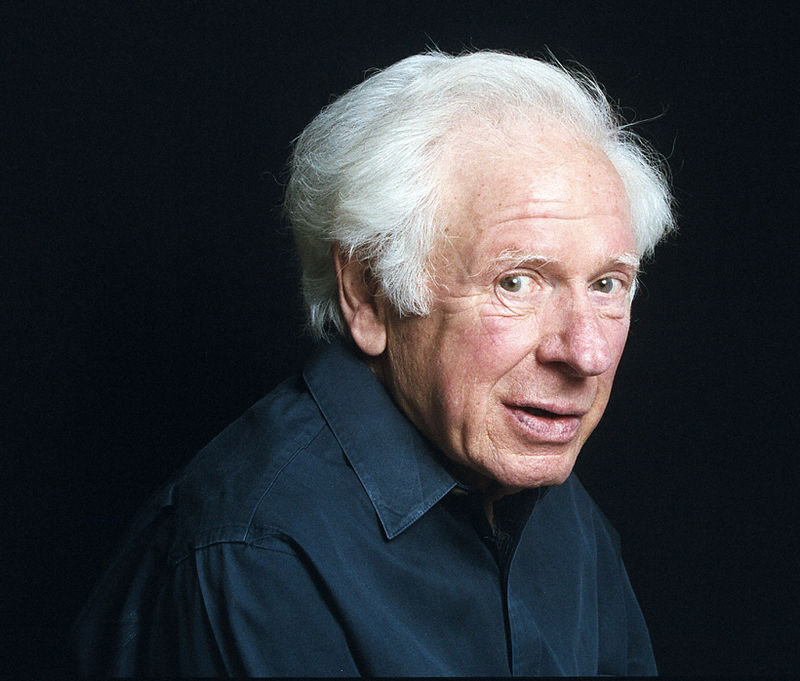 The day before Thanksgiving, Murph Goldberger died.  He was old, he'd been born in 1922; and in those nine decades, he'd collected an extraordinary amount of life.  He was drafted right out of college into the Manhattan Project's brilliant and very young Special Engineering Detachment, where he met his wife, Mildred; and ever after if you knew Murph, you knew Mildred.  He went to Princeton, where he contributed substantively to the development of quantum physics and later became chair of the physics department. Then he became  president of Caltech, then director of the Institute for Advanced Study, then slowed down a bit into a deanship at the University of California at San Diego.  Meanwhile he was on just about every national and international science advisory panel or board known.  He was a co-founder of the Jasons and its first chairman, and that's how I happened to talk to him first, back in 1991.  I'd been interviewing him off and on ever since and for many reasons.  He was – obviously – smart, experienced, knowledgeable, and an all-around excellent source.  But the real reason I kept calling him was, I liked listening to him talk.  And I find myself remembering what he said.
So maybe a good way to remember him is to listen.  Or maybe — since you probably were not, like Murph, born to not-especially-educated immigrants; and since you probably also didn't end up being president of Caltech, director of the Institute, and adviser to the country — you'd be interested in the guy who did it. 
I'm going to do this in two parts, the first on his life in academia.  Here he is, just listen to him talk.
 §
I studied physics in high school [in Youngstown, Ohio] and I had a very good teacher.  I was moderately prodigious. I was not Richard Feynman, but there was no one there in my school who would have noticed it anyway.  Then I went to Carnegie Tech, started out in chemical engineering, took physics my sophomore year.  And I was so taken by the physics course, I decided I was going to get two degrees.  But if I transferred all of my physics credits to chemical engineering, I'd fail to graduate by one credit; and if I did it the other way around, I could graduate so I graduated in three years with a physics bachelors' degree.  When I went into the Army, about that time,  Frederick Seitz, who was the chairman of the physics department then at Carnegie Tech, had become associated with the Manhattan Project.  And he learned  some number of soldiers were going to be assigned to the Project.   And he saw to it that I was assigned to this so-called Special Engineering Detachment.  I was sent to Chicago.
 §
[At the Manhattan Project in Chicago] I worked mostly on the design of nuclear reactors, and some relatively pure physics problems that had application to studying the properties of neutrons and their interaction with solids.  It was just a fantastic learning experience for me.  You know, I really had studied physics for two years and suddenly plunked into these superstars working on brand-new problems no one had solved.  You couldn't look up things.  So it was a profound sociological experience.   We worked extremely hard.   We were very much a closed community.  The only people we could talk to were the people that we worked with.  You know, you couldn't go to the corner bar and tell what you were doing.  I always said that I would have taken up with Mildred anyway, but it was unavoidable.
 §
I worked on the Project for a little over two years.  And I then went to graduate school at Chicago, beginning in about March of '46.  There was this incredible class of the first group of people after the war that started graduate school.  Three people in our class of about 12 or 13 won the Nobel Prize.  You know, it's surprising as I think back on it that I wasn't thinking more about what I wanted to do when I grew up.  But the times were distorted by the war.  And you simply didn't think about what would happen afterwards – I didn't.   I had no idea of going into academic life, I didn't even know what it was.  The most likely thing that would have happened to me was, if I had survived the war, I would have gone back to Youngstown, Ohio and married the daughter of the wholesale grocer, who was madly in love with me.
§
Totally improbable.
§
[At the University of Chicago]  I was one of Fermi's first theoretical students [even though Fermi was a famous experimentalist]. Fermi was both.  He was a real switch-hitter.  And what happened was, Teller had all the theoretical students at  Chicago.  And Fermi said to Teller one day, 'You know, during the war I've sort of fallen behind in theoretical physics.  Maybe I ought to take a couple of students and try to catch up that way.'  And Teller mentioned this to Geoffrey Chew who was a very close friend of mine among the graduate students.  And Chew went running down to Fermi's office and asked Fermi if he would take him as a student.  He came back and told me the story, and I ran down the hall and asked him, and Fermi said, 'Yes.'  So we were his first two theoretical students.  Teller was a very brilliant man.  He didn't have an approach to science that was anything like Fermi's.  He was an idea man.  And he was congenitally incapable of setting pencil to paper.  And he got so many ideas, he would start thinking about one thing, and come in the next day he would say, 'Forget that.  Let's do this.'  But Fermi's contributions to physics were immensely larger than those of Teller.
 §
And then I went to MIT for a year.  It was a postdoc.  And then actually something rather funny happened.  Society in [academic] Cambridge is very highly stratified.   We had a terrible house.  We had a new baby.  We had no money – I was making about, I don't know, $3800 dollars a year.  Mildred's father had a heart attack and she had mononucleosis.  It was just an unspeakable nightmare.  And spring finally came, after one of these glorious Boston winters.  And I was offered an assistant professorship at Harvard.  And all of a sudden, our lives changed dramatically.  Telephones started ringing off the wall, everyone had to have us for dinner.  Which really pissed us off, the whole scene.  And then about a week after the Harvard offer, I got a call from Chicago, offering me an assistant professorship, and I virtually accepted it over the phone.  I said, 'I've got to check with my wife, but I'm really sure we're coming.'
 §
So I joined the faculty at Chicago in the fall of 1950, I was there for seven years.  And then I went from Chicago to Princeton. I went there in February of 1957, forever.  And stayed there for 21 years.  [Me:  what were you doing in physics at that time?] You asked me that the other day and then you couldn't understand what I told you.  That would still be true.  I was working in elementary particle physics and quantum field theory.  Those are good buzzwords.
 §
 I'd been chairman of the [Princeton] physics department for six years prior to going to Caltech.  And, well, I didn't wake up one morning and say, 'I'm going to be president of Caltech next week.'   I was unbelievably lucky.  I was invited to come out to Caltech in October of 1977 to give them my views about higher education and physics.   I was loose as a goose about it.  I knew they were looking for a president, I never thought it had anything to do with me.  Mildred was a bit more prescient.  When I first told her I was going out for this interview, she said, 'Jesus Christ, who wants to live in Pasadena?'  And I reassured her that nothing like that was in the cards.  And then about three or four months later, I got a telephone call inviting me to come out for a serious discussion and to bring my wife.  And when I got out there, the unmistakable being-looked-over, I said, 'You offer me this job, I'm going to take it.' To be honest with you, I became concerned that my rate of doing research had slipped during this period that I was chairman.  And the idea of walking around the corridors of Princeton and fading slowly into the sunset was not very attractive.  I found I could still turn it on when I wanted to, but it was harder than it used to be. And I didn't know what the hell I was going to do.  I was 55. It's an ideal age for a university president.  So I felt, you know, it was really just marvelous.
§
The key to being president of Caltech was to hire the best people, give them lots of money to support their research, and stand back.  When you choose extremely smart people and unleash them on  things that they can take a real interest in, you don't have to do much leading.
§
[Me:  There's a standard saying amongst physicists that says that physics is a young man's game.  I'm wondering why that is.]   I'll tell you one thing that figures in it.  The older you get, the more you know and the more likely you are to say — if someone has a new idea or if you have an idea — been there, done that, it doesn't work.  And younger people who don't have this backlog of experience are not deterred by something being way out.  Historically it's certainly been well-demonstrated.  There are a few counter-examples – one of the famous ones is Lord Kelvin who started physics when he was 57. But there's not a lot of that going around.  I think if there is a single factor, it's that it's a mistake to know too much.  Because you're inclined to say no.
____________
Next Monday:  Murph and the Jasons and the Vietnam War.
____________
Gorgeous photo of Murph by Manny Rotenberg, and used with his kind permission