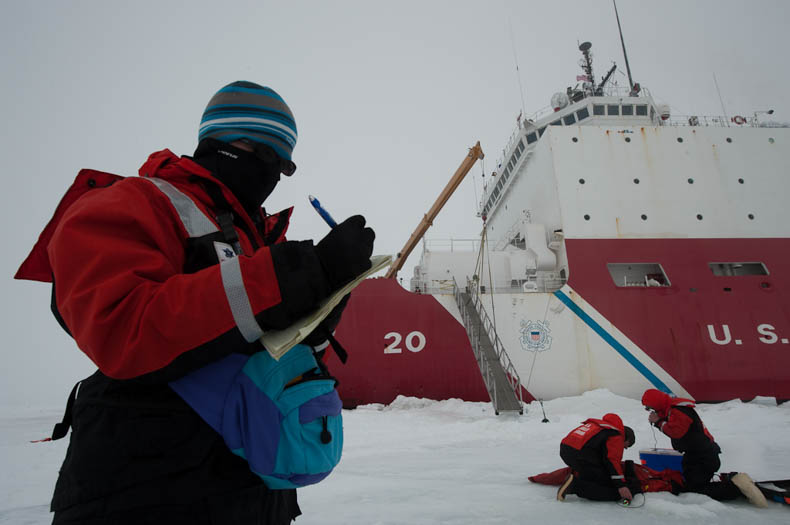 I have, objectively speaking, done a lot of cool stuff in my life. I once spent six weeks on an icebreaker in the Bering Sea. I've seen toucans, monkeys, and whales in the wild. I keep going to Switzerland. I was once on the local news in Kumamoto, Japan. Actually, it may have been twice. I don't remember.
Does this sounds like bragging? I know, I'm sorry. It's really not supposed to. Bear with me for a moment.
These were great experiences. My adventures have informed my life and how I look at the world. But I've become more and more likely to downplay them, especially with people I don't know well. "That's pretty normal, for a journalist." "Day to day, it was actually pretty boring." "I was an hour from an international airport the whole time." Etc.
I think there are a lot of reasons why I've come to talk less about these crazy things. One is that bragging is, obviously, lame. Another is that these experiences do seem pretty normal; I know a lot of people who have been published in the same magazines as me and have seen a lot more tropical birds than I have. Everyone else who was on that ship in the Bering Sea has spent a lot more time on ships than I have.
A study published recently in the journal Psychological Science offers a hint at another reason for the downplaying—something that hadn't occurred to me before.
For the study, subjects came to the lab in groups of four. One watched an awesome video and the other three watched the same mediocre video. Each knew the rating of their video. After watching, the subjects were put at a table together and given five minutes to chat. Before and after this whole exercise, they reported how they felt by marking a point on a line with ends labeled "not very good" and "very good."
The people who had seen the great video felt worse afterward than the people who saw the okay video. It turned out that the people who'd watched the really good video felt left out, a powerful social experience. Later experiments showed that people aren't very good at predicting how a special experience will make them feel. The researchers conclude that extraordinary experiences make people unhappy because they don't realize they're going to feel excluded.
Like a lot of psychology research, this study's connection to real life seems tenuous. The mean age of the video watchers was 20.73 years; I think it's safe to assume they were mostly undergrads at Harvard, where the study was done. And watching a video is not exactly a Big Life Experience.
But the basic point, that people don't realize a special experience will make them feel excluded, makes sense to me.
I learned this lesson…well, it took me a while, but I think I learned it eventually. During high school, I spent a couple of summers at an intellectually stimulating, world-broadening, life-changing nerd camp; in September, my friends had only so much patience for my stories. Same with my first trip to Switzerland, for a six-week summer homestay. And the college term in Australia and New Zealand, and my pre-grad-school summer internship at NPR. Somewhere along the line, it sank in that my experiences weren't necessarily intrinsically interesting to other people.
Which is fine. I am in no way complaining. Thank goodness I learned that lesson before I bored *every* human on the planet with pointless anecdotes. Anyway, this is all entirely human. We care a lot about our immediate experiences and our own lives. Here, I'll steal a quote from the press release. This is Gus Cooney, one of the coauthors:
We all appreciate experiences that are fine and rare, and when we get what we want, we're always eager to tell our friends. But I've noticed that conversations always seem to thrive on more ordinary topics.
Generally people are interested in these extraordinary experiences, to a point, but it's hard to really have a back-and-forth; it's more of a Q&A. Fun for the person with the experience, but with limited rewards for the conversational partner, once their curiosity is satisfied.
The researchers make a slightly wacky leap to suggest that people who have paid $250,000 to fly on Virgin Galactic are going to be bummed afterward because no one will want to hear about their little jaunt into suborbital flight. I suspect that anyone who has $250,000 to spare has either racked up enough extraordinary experiences to know how people will respond already—or else they can pay people to be their friends. Of course, those people have something else to be bummed about now. The paper came out before Virgin Galactic's rocket plane broke up in midair.
The funny thing is, my whole career is based on the idea that other people will be interested in my experience. Maybe in all those years I spent making eyes glaze over, I eventually got a handle on what does interest other people, and on the fact that other people might have extraordinary experiences of their own they'd like to talk about. I write it down, somebody pays for it, and everybody, I hope, wins.
photo: Chris Linder, Woods Hole Oceanographic Institution