This week LWON presents "Off Our Meds," an examination of some scary issues in medicine. We won't resort to fear mongering, because we don't have to. Medicine is scary enough as it is.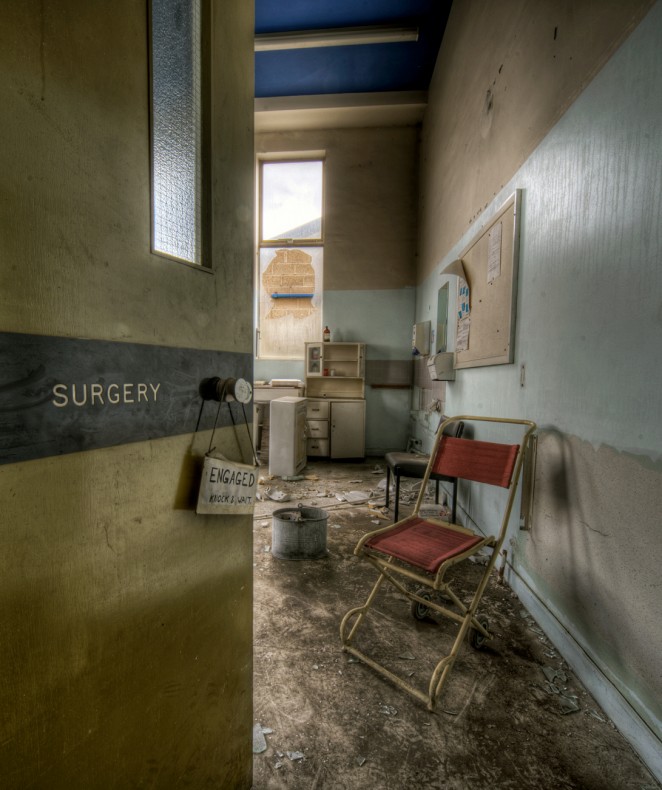 The woman came to Scott Haig, an orthopedic surgeon, because she had a lump on her collarbone. Usually these lumps are caused by arthritis or an infection, but this one felt odd. It was rubbery, and didn't seem tender. Haig wanted to do a biopsy, a surgery that usually requires general anesthesia. But the woman didn't want to be knocked out. So they struck a bargain: Haig would do the surgery with the woman awake, if she agreed to have an anesthesiologist present in case she needed to be sedated.
The surgery went off without a hitch. Haig took a section from the woman's lump and sent it to the pathology lab. But before he could close up the incision, he needed to know that the pathologist had what he needed to make a diagnosis. So together they waited. As the minutes ticked by, he tried to make small talk. Finally the intercom crackled to life.
The pathologist began to speak, and so did Haig. He tried to tell Jose to call the phone. But the intercom only allowed one person to talk at a time, and Jose was already delivering bad news. "Jose, shut up," he thought, or maybe even said. Haig can't remember the exact words Jose used to describe the woman's cancer – malignancy or tumor or neoplasm – but the diagnosis was clear to everyone in the room, including the woman on the operating table. Naturally, she panicked.
"She sits bolt upright," Haig recalls. "She was freaking out."
The anesthesiologist was quick to act. He injected a milky liquid called propofol into the woman's IV. You might recognize the name because an overdose of the drug killed Michael Jackson.
Propofol is a powerful sedative commonly used to induce anesthesia, but it can also cause retrograde amnesia, a handy side effect in this case. Haig finished closing the wound. And when the woman awoke, she had no memory of the terrifying intercom call, or her cancer diagnosis. And Haig didn't remind her. Instead, he told her she would have to wait for the lab results. "You don't want to give people psychic pain that's unnecessary," he says. "She was going to get the bad news sooner or later anyway."
I first learned about this case a few years ago from a friend who had heard about it at an ethics conference. The story unsettled me, and still does. The case unsettled Haig too. He wrote about the experience for Time back in 2007. "Something more important than a chemical balance in Ellen's brain had been violated — only a little and, obviously, with benevolent intent. But it hadn't been as simple as pushing a rewind button. Something there had borne the unmistakable quality of wrong," he wrote.
But what was wrong, and why? It wasn't the anesthesiologist's actions. Haig convinced me that his colleague had no choice but to inject the propofol. The panicked woman had a gaping wound that hadn't yet been sutured closed, and had she not been sedated she could have done herself real harm.
My profound unease, I think, stems from what happened next. Haig made a conscious decision to withhold information from his patient. He didn't tell her the results of the biopsy, and he certainly didn't explain why the anesthesiologist had sedated her.
Haig says he was simply following protocol. The pathologist's diagnosis was based on a quick examination of a frozen section of tissue. But what looks like cancer in a frozen section can turn out to be something else – an infection, for example. That's why physicians typically don't deliver a diagnosis right away. They wait until the pathology lab has had time to examine the permanent sections, slices taken from tissue that has been treated with a preservative and then embedded in wax. These slides offer a clearer picture of the cells, but they also take more time to prepare. "You never talk about a frozen with a patient," Haig says. "You just shut up until you know what you know. That's the best idea."
Haig's argument makes some sense, but it also makes me uneasy. Forget about the patient for a moment, and the slipup with the intercom. Let's imagine you were the one on the table. Would you want to know what the pathologist saw in the frozen section? The cancer, if it exists, is within you. Shouldn't you get to decide whether you want the preliminary results?
I would want to know. Maybe Haig's patient wouldn't have. But the question seldom gets asked. Haig, and many other doctors, make the call for their patients, as if they know what's best, as if they know what patients want.
The phenomenon is nothing new. Physicians have a long history of thinking they're acting in their patients' best interest. In his detailed history of dishonesty in the medical profession, Daniel Skokal notes that the American Medical Association's original Code of Ethics from 1847 "instructs doctors to avoid making 'gloomy prognostications' to the patient but recommends informing friends and relatives of the situation. Only if 'absolutely necessary' may the doctor share the prognosis with the patient." That trend continued well into the 1960s.
The medical profession has come a long way since then. Haig never lied to his patient. He never even considered it. "If she asked me, I would have told her," he says. But there's still a kind of paternalism in his decision to wait to deliver the diagnosis in order to spare the woman psychic pain — a psychic pain she had already experienced, but then forgot. Maybe Haig's patient wanted to be protected, but not every patient does.
***
Image courtesy of Paul on Flickr