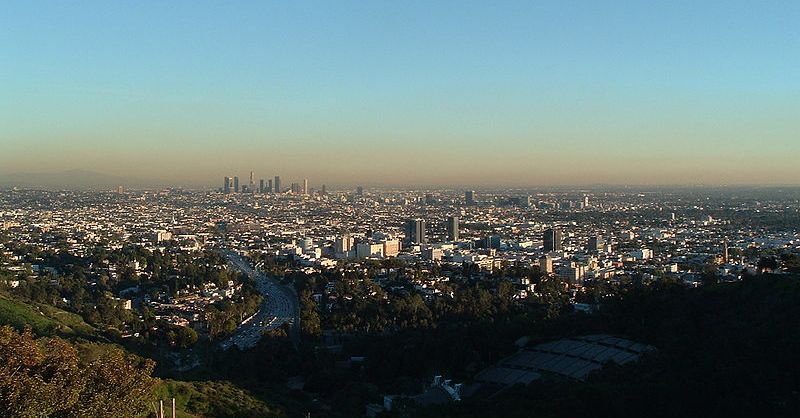 I've been teaching undergraduates for a while now, various takes on the general theme of the environment and society.  Here are some things I've noticed. The students often believe that they have discovered the environment and all the bad things we are doing in it.  Up to now, they suppose, we have been unaware, self-centered and lazy, so we drive everywhere, recklessly leave the lights on and never give a thought to our carbon footprint. They also seem to believe that if they just go out and tell everyone, we will stop misbehaving.
Don't get me wrong.  I think it's great that they are on a mission to save the earth.  We should all be on such a mission.  I want them to understand what they are really up against, though, so they can be more effective.
My students – and a lot of environmentalists – focus on our individual behaviors: if we would all just bike to work and eat local organic food, things would get better.  This isn't wrong.  Our choices matter and Americans, plainly, could consume far less than they do without suffering.  But there's a hitch – or, rather, three hitches.  One is that while Americans may be, on the whole, overstuffed, much of the rest of the world needs more, not less: more industry, more energy, more food, more clean water.  A second is that a capitalist economic system needs to grow to survive.  This isn't a policy option.  If you think capitalism is going to be around for a while, which I do, we have to figure out another way of being sane in nature.  Lastly, we don't have unlimited degrees of freedom in our choices whatever our intentions.  We get to choose, sure, but our choices are structured by larger social realities.  Try living without a car in Los Angeles.
Aha!  Isn't LA the perfect example of how we chose suburban sprawl, trapping ourselves in our cars?  All of the familiar post-war phenomena – the GI Bill, Levittown, white flight, the interstate highway system – allowed us to maroon ourselves in ways that we may now regret but couldn't have foreseen.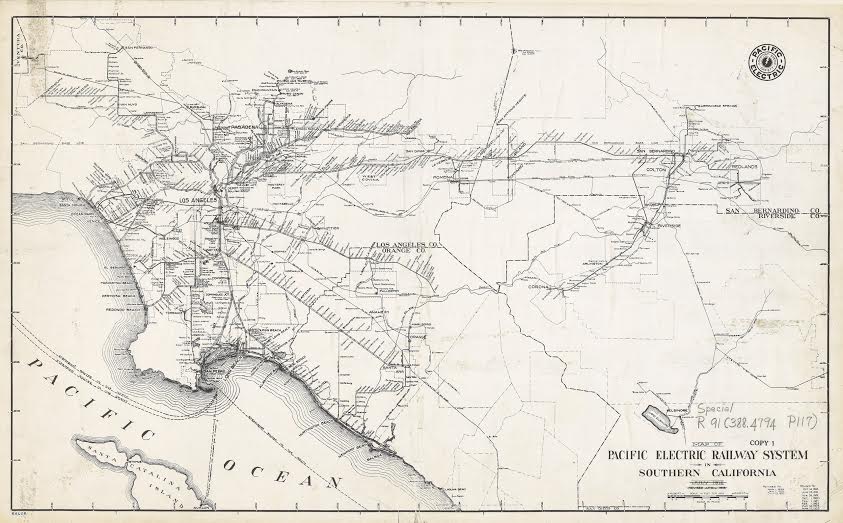 Not exactly.  Sprawl was built into the city well before World War II.  Ironically, the excellent trolley system was partly to blame.  Here's a funny thing.  In Europe, transit systems were built in order to provide transportation.  In the US, tram lines were all about real estate development.  The money was made in selling property, not commuter tickets.  Lines would be thrown out into the wilderness and people would follow.  This created population densities too low to support public transit, so the trolleys went away.  Above is the map of the Pacific Electric interurban line in Los Angeles in 1912.  It is the skeleton on which suburban sprawl was draped.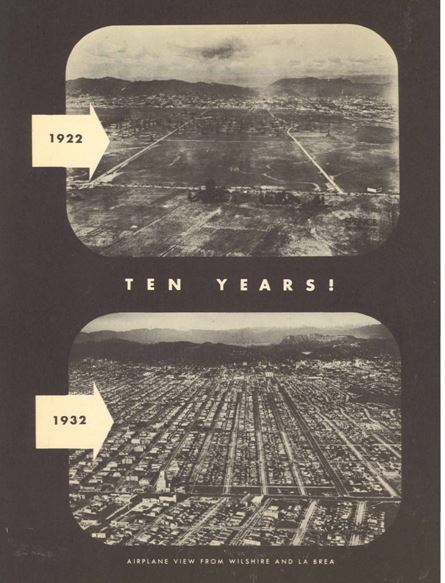 This is a pair of photographs that show how early and how astonishingly rapidly LA sprawled.  They are aerial photos taken from the same vantage point in 1922 and 1932.   The Los Angeles real estate market began to slump in 1925 and didn't recover until the war, so this fantastic building spree probably happened in something like five years.
Los Angeles sprawl didn't happen because no one was paying attention.  The city fathers were early and enthusiastic planners.  In 1923, they hired Frederick Law Olmsted, Jr. and Harlan Bartholomew to develop a major traffic street plan.  Their plan noted that traffic congestion in LA was already the worst in the nation and specifically (#5 out of 6) recommended investment in mass transit.  The rapid transit plan was published in 1925.
More plans.  The LA Chamber of Commerce, worried that the chaotic growth of the city would deter investment, sponsored another Olmsted/Bartholomew plan for open space, parks, and nature conservation.   Published in 1930 to wide acclaim, it then disappeared completely from sight.  The Chamber, it turned out, was backing another horse – the aqueduct from the Colorado River – and started to worry that the expense of its parks plan would eat into the money available for water.  In the 1930s, a plan was drawn up for the San Fernando Valley that would have produced clusters of residential development surrounded by protected farmland.   Postwar revisions of that plan drastically reduced the amount of farmland and promoted ultra-low density development.  The valley became one great suburban blob.
So there was no shortage of plans.  But the plans that promoted higher densities, public transit and protected green space died, while the plans that promoted low densities, automobiles and strip malls were realized.  How and why is a longer story, but it's not a crazy exaggeration to say that sprawl was vastly more profitable than not-sprawl and the people who stood to gain the most from sprawl had the most influence on how the city would grow.  People chose to live in the suburbs, sure.  It's not clear that they chose sprawl and it's not clear that they chose to spend their lives trapped in their cars.
But I digress.  Here's what I'm trying to help the kids understand.  We've been making messes for a very long while and we have known pretty much all along that we were doing so.  The histories of our mess-making really matter.  Getting at the details lets you see how a trajectory was constructed piece by piece, opening up some possibilities and forclosing others.  Further: We may have very good intentions as individuals, but the options we have available to choose among are structured by larger, impersonal forces.  Huge collective investments have supported and promoted all those unfortunate individual decisions and have made it hard for people to make good choices.  To me, this suggests that huge collective investments in support of good decisions are needed.  If a capitalist system must grow to survive, let's grow toward, not away from, the world we want.   
Can I mention that it's aggravating that I keep getting older and my students are always twenty?
_______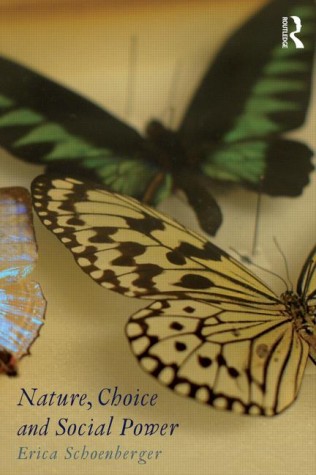 Erica Schoenberger teaches in the Dept of Geography and Environmental Engineering at the Johns Hopkins University.  Her new book, Nature, Choice and Social Power, is a journey through these issues and more in different historical and geographical contexts.
Photos:  East LA Basin by Lan56 via Wikimedia Commons;The Pacific Electric Railway System, 1912, in the Los Angeles Public Library Photo Collection; in Mel Scott, 1942, Cities are for People.  Los Angeles: The Pacific Southwest Academy