When I was a kid, my mom would measure time for me in units of Sesame Street. During a road trip when I'd inevitably ask, "Are we there yet?" she might answer, we'll be there in two Sesame Streets. For a kid, two hours can seem like forever.
We imagine the world through the lens of our experience. When you're six, a day or a month represent a substantial portion of the life you've lived so far. When you're 60, such periods of time are gone before you know it. It's all about perspective. Things that happen too quickly or slowly for us to see tend to escape our notice. As a result, the vibration of an atom or the formation of a Grand Canyon inspire our awe and wonder, because they exist outside our normal realm of attention.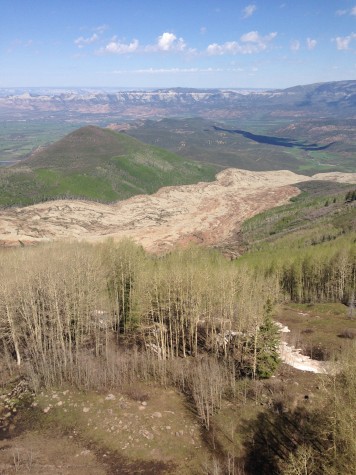 A few weeks ago, geologic time made itself visible to me and my community when a massive section of the mountain we call home slid down the hill in an epic display of nature's brute force. The mudslide happened on Sunday, May 25 near Collbran, Colorado, trapping, and presumably killing, three men. Wes Hawkins, Danny Nichols and his father, Clancy Nichols had gone out to check on an irrigation canal that was likely clogged by the first rumblings of the slide. At a town hall meeting in Collbran on May 29, Mesa County Sheriff Stan Hilkey told attendees,
These are the facts we have: Sunday morning, 7:18 a.m. seismic activity occurred.  Probably that was when the first slide impacted the irrigation of the area, prompting the men to go to the area. At 5:44 p.m. seismic graphs recorded the major slide.  Based on what the experts have provided, event duration was only a couple of minutes.
In that brief moment, an enormous slab of the Grand Mesa — the world's largest flat-topped mountain — came tumbling down. Initial estimates measured the slide at four miles long and two miles wide, reaching 250 feet in depth. At the town hall meeting, Jeff Coe of the USGeological Survey told the crowd that the event is classified as a "debris slide" because it's a mixture of soil, rocks and trees. Witnesses said that it sounded like a freight train, speeding down the mountain.
In the hours following the slide, I fielded phone calls, emails and messages from faraway friends, checking in to see that I was safe. Initially I scoffed. Yes, everything's fine here, I told them. My little slide of paradise is safe. I live on the opposite side of the mountain, and the mudslide is not visible from my house. I still have not seen the slide up close. In the days following the event, local officials blocked all access to the slide area to protect observers from danger. Several weeks after the slide, the area remains unstable and unsafe.
As I've looked at photos and videos online, I've been struck by the sheer magnitude of destruction wrought by gravity's pull. My first reaction was entirely human — I sought confirmation that such a destructive event could not happen to me and my little farm. This mudslide was a once in some unfathomable period of time event, I wanted to say. It could not happen here.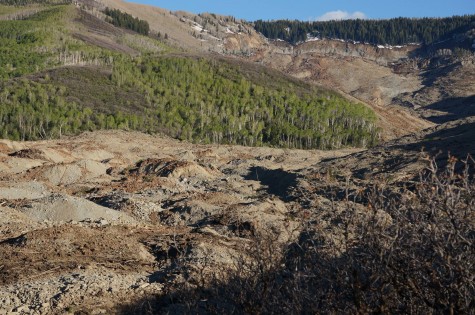 And yet, the scientific truth is that it will happen and it will happen here. Most likely not today or tomorrow or in my lifetime, even. But regardless of what I do, the place I call home today will not look the same a thousand years from now, and certainly not ten thousand more. My favorite mountain is falling, and there's nothing I can do to stop it.
On a tour of the Grand Mesa with KVNF radio producer Laura Palmisano, geologist Andres Aslan of  Colorado Mesa University explained that while the scope of the recent landslide was unusual, the earth movement itself was unremarkable. The Grand Mesa is home to more than 220 lakes, and they're different from many high country lakes in Colorado, Aslan says, because they're the result of landslides that happened on the order of tens of thousands of years to hundreds of thousands of years ago. "Huge pieces of that basalt cap rock that marks the surface of Grand Mesa calves off from time to time," he says. As these blocks tumble downhill, they leave depressions on their uphill side that fill with surface and ground water, forming the lakes we see today. 
There's evidence of landslides all over the Grand Mesa, Aslan says. "They'll continue to happen until the mesa eventually erodes away."
Images courtesy of Mesa County Sheriff's Office