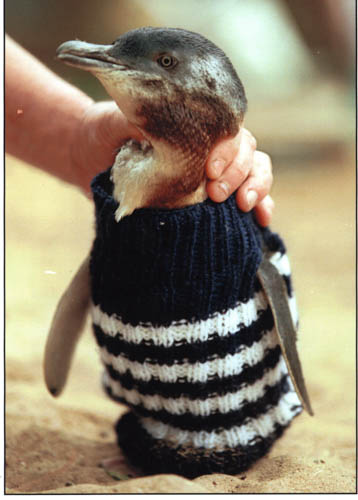 I'm a lover of science and a devoted knitter. Science-related projects that appear on the internet and have to do with yarn find their way into my inbox. That means I am aware of the project in Glasgow to knit microbes for elementary schools. I am in love with that shawl that depicts the night sky in silver beads. The knitted version of a dissected rat with its innards showing? Yep, seen it. Also the frog.
Proof that I'm doing something right in my life: When my friends see a knitted piece of science, they think of me.
So when a call went out for hand-knitted penguin sweaters recently, it didn't take long for word to reach me. First a science writer friend tagged me in a post on Facebook. Then a former colleague did the same. Then a friend from college. Then someone I'd served on a board with. Within 48 hours I'd gotten it a dozen times. The links went to a story from Australian public radio in Melbourne, which explained:
The Penguin Foundation has a global callout for knitters to make pullovers for penguins in rehab. Penguins caught in oil spills need the little jumpers to keep warm and to stop them from trying to clean the toxic oil off with their beaks.
The story linked to the Penguin Foundation's website, with the call for sweaters.
This struck me as weird, because other wildlife rehabilitation experts have said there's no point in putting sweaters on oiled birds. "The last thing we want to do is to put something over their feathers that causes the oil to be pressed against their skin, or impairs the evaporation of the aromatics put off by the oil," wrote the executive director of International Bird Rescue in 2011. On the other hand, Margaret Badore at Treehugger talked to some experts, including the folks in Australia, and found that reasonable wildlife rehabilitators can disagree.
But even if the sweaters are useful, requests for penguin sweaters have been going around Facebook for years. The organization that first asked for them was swamped with donations. I couldn't imagine why anyone would put out the word worldwide asking for more.
It turns out, if you read the web page carefully, the Penguin Foundation says they have all the sweaters they need for rehabilitation. If you send one, they have a variety of uses they might put it to–including, for many of the sweaters, putting them on penguin toys and selling it in the gift shop.
Aha. Well, selling the sweaters does, strictly speaking, help the penguins. But it's sneaky that the message on social media is that the sweaters will go on oily birds. People love to donate tangible, helpful things. I think knitters would be less enthusiastic about knitting sweaters for sale.
It seems to me that knitters who want to help save the world could start by saving the carbon footprint of mailing little sweaters to the Southern Hemisphere and instead check this list of local charities that collect blankets, hats, and other knitted goods for people in need. If you want to help far-off penguins, rehab organizations accept money–and you can buy a toy penguin in a donated sweater here or here. They're awfully cute.
Photo: Penguin Foundation