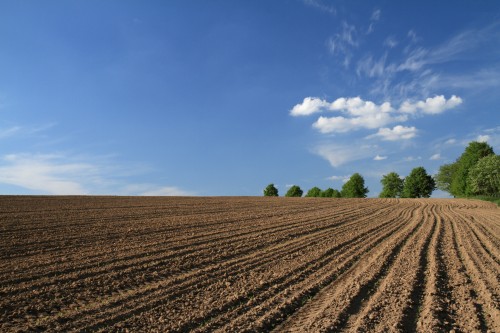 In the late 1960s, when North America was first wising up to pollution, a group of progressive farmers resolved to do their part. Phosphate levels in nearby lakes were promoting blue-green algal blooms, excessively nourishing the cyanobacteria. The blooms consumed oxygen in the lakes, and massive fish kills followed.
While it was easy to blame untreated sewage that spewed into most water bodies in populated areas at the time, there was a clear contribution from fertilizers high in phosphorus. When storms pelted the shoreline farmland, particulate phosphorus would wash down unguarded inclines along with much of the freshly-tilled soil. Erosion wasn't just bad for the environment, it was costly and bad for crop health.
Along came no-till farming.
Instead of disturbing and opening the earth all over a field until it is vulnerable to erosion, no-till farming only opens ground for the purposes of planting. To make up for the lower absorption capacity of intact ground, farmers line up crop residue to create water channels.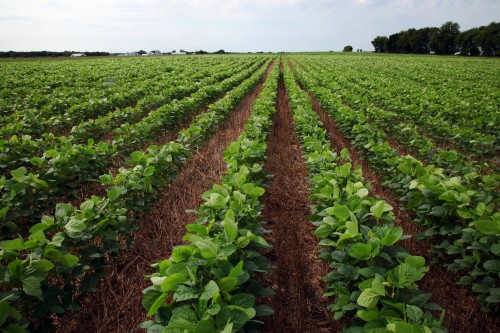 Cheaper, cleaner, conserving of soil and nutrients – all around a more natural way to grow food. The idea spread to its current peak, with no-till farming methods used on more than 80% of Canadian seeding land today.
And it seemed to be working. Lake water particulate phosphorus loads did, indeed, go down and aquatic ecosystems recovered over subsequent decades. But then in the mid-1990s the algal blooms began mysteriously to return. Lake Erie, recipient of waters from the Detroit river and Ohio watersheds, has suffered two massive blooms in its western basin in the last five years.
All this time, no-till farms have been releasing more dissolved, reactive phosphorus than their conventionally-tilled equivalents that washed particulate phosphorus into the lakes. When fertilizer is broadcast onto un-tilled soil it tends to stay on top and the absorption of the top layer is quickly saturated. This in contrast to tilled soil that churns fertilizer down into the mix. When heavy rains hit during planting season, the plant residue channels provide easy waterslides for dissolving fertilizers to slide right into the drainage tiles.
Tillage methods may have been wrongly accused all along. The real culprit looks like over-application of the wrong fertilizers at times when they won't quickly be taken up by the plants. Less than 20% of the phosphorus applied is actually used by the crops, and as a result most agricultural soils are excessively saturated in the stuff. Experimental fields in the Lake Simcoe watershed are being used to compare methods, in a study that's set to wrap up in 2021 with ten years of data.
It's always jarring to find out something natural is worse for us than something artificial. That our built environment is so pervasive that nature's default systems are inappropriate and artificial solutions are the only recourse for artificially-created problems. Mother nature knows how to balance and settle her own creations, but it seems she's not particularly interested in other people's brainchildren.