My God but the veneer of civilization is thin. Baltimore had one of its whomping good snowstorms last week – I stopped measuring at 14 inches – and the next day it had another 3 inches or so, plus sleet, and the day after it had only an inch, plus more of that sleet, and then of course the inch yesterday.  Baltimore is a poor city and thinks of itself as Southern, and the combination means that neighborhood streets don't get ploughed.  The houses are generally rowhouses, so close to each other and two cars each.  I'm setting the scene here:  lots of snow, lots of cars, no ploughing.  So classic dog-eat-dog kicked in, and a genteel and sociable neighborhood lost its civility.  It was ugly out there.  I personally was enraged.
Most of the neighbors have a bone-deep understanding of the dangers of dog-eat-dog thinking.  For the most part, we do the civilized work-around and opt for cooperation.  We shovel out our own cars, then help the neighbors shovel out theirs.  This maximizes the space available for parking and minimizes the chance of getting stuck in somebody else's glacial ice, and most important, it feels good – we have parties afterward, safe and happy in our common good.  Civilization triumphs.
Civilization's fall took only a couple of guys.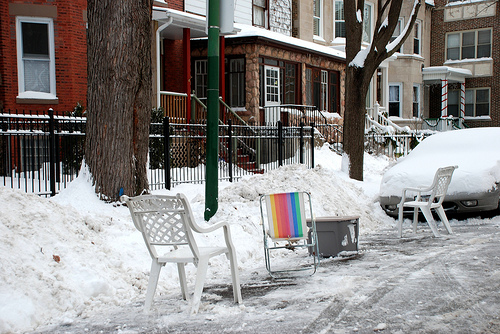 They each waited until everybody else shoveled, then drove away, leaving islands of cleaned pavement alternating with their small, unshoveled Antarcticas.  The neighbors silently assessed the situation and reverted to savagery.  Normally this doesn't happen because no one would consider parking in a space dug out by someone else, even if they worked together to do it; and besides, it feels bad – selfish, mean, vengeful.  But this had been a snowy winter and in earlier storms the neighbors had been watching these non-communal, non-shoveling guys and this time, pretty soon everybody's parking place was marked with chairs and parking cones — a sad come-down from gentility, in fact, quite rude.  But then the guy with the SUV not only parked in another guy's dug-out spot, but drove over his parking cones to do it.  I mean, the parking cones were not even mine and hours later, I was still plotting hideous revenge.
So what to do next?  That's the question, isn't it.  Talk to the parking-cone neighbors and with them, talk to some other neighbors and form a gang of pissed-off people?  That's the hard-wired first response for everything from Twitter pile-on's to gang wars to whatever the hell is going on in – oh, I don't know, pick a country with blood everywhere, Sudan? Syria? Turns out that being part of a warring gang or tribe or team feels good too.  One time a consistent non-shoveler went out of town leaving a car on the street, it snowed a lot, and the neighbors piled the snow around and over the car and it didn't get free until the spring thaw.  I'm still smiling evilly about it.
But obviously, no, we can't be doing that.  Psychology and sociology are no help; they're full of research about this but I can't even be bothered to look.  Because I will find only what we all already know: that bunches of people can get together and behave in ways that are as good or as bad as humanly possible.  They can be better than animals; they can be much, much worse.  So again, what to do?  Philosophy and game theory are full of answers to this but I can't be bothered to look that up either, same reason.  And I'm pretty sure the non-shovelers are going to keep driving around looking for cleared places to park in and I can't do a thing about it.  And now I'm depressed.
So I'll remember the majority, the people who clear around their own cars and help you clear around yours, who get out into the street and take the snow and ice down to black pavement so the sun can shine on it, and the black can warm up, and after a while the snow just slips away.  The veneer of civilization isn't always so thin.  In fact, it's not even veneer.  It's the majority and it's solid.
________