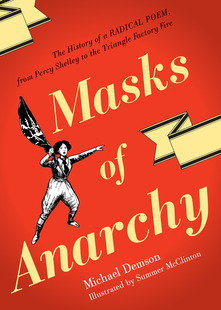 In 1908, a young Lithuanian immigrant named Pauline Newman got a job at the Triangle Shirtwaist Company, then one of New York City's biggest garment factories. She worked as a "cleaner," trimming threads off the new clothes and boxing them for shipment. It was dull, tiring work, with bullying bosses who forced the workers to hide in garment boxes when inspectors appeared.
Newman thought she and her fellow workers deserved better, and to further her cause, she enlisted the help of a very dead poet. Together, they would change the history of labor and technology.
The intertwined stories of labor organizer Pauline Newman and the Romantic poet Percy Shelley are told, to wonderful effect, in the new graphic history Masks of Anarchy, written by Michael Demson and illustrated by Summer McClinton.
Shelley's poem "The Mask of Anarchy" was inspired by the 1819 Peterloo Massacre of peaceful labor demonstrators by British troops in Manchester, England. Nearly a century later, Newman encountered the poem while dusting shelves at the Socialist Literary League, and she began to read it to her fellow workers when they gathered after hours in Washington Square Park:
Let a vast assembly be
And with great solemnity
Declare with measured words that ye
Are, as God has made ye, free —
Newman soon left the Triangle Shirtwaist Factory and went to work for the International Ladies' Garment Workers' Union,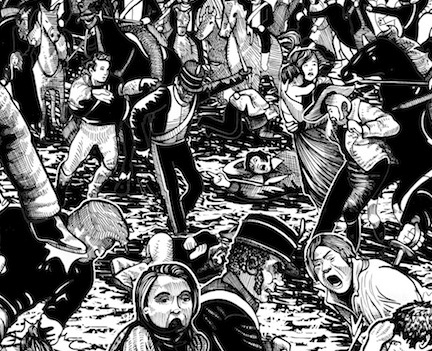 which became one of the most powerful unions in the country. Newman's love of Shelley endeared her to upper-class feminists, and she gave popular speeches to both suffragettes and workers. Shelley, she always said, would have been a union man.
But neither Newman nor Shelley could prevent the 1911 Triangle Shirtwaist Factory fire, which destroyed Newman's old workplace and killed 175 workers who were trapped inside, behind doors locked to prevent employee theft. It's still one of the deadliest industrial disasters in U.S. history, and it galvanized the labor movement; a month after the fire, 120,000 marched in protest in Manhattan, and Newman was quoting Shelley to ever-larger crowds. In the years that followed, the ILGWU and other labor groups, working with progressive reformers, successfully pushed for worker safety regulations in New York and elsewhere.
One panel of Masks of Anarchy shows Shelley bottling his manuscripts and literally tossing them into the sea, hoping to avoid arrest for his radical politics. Like many of the best stories, his words have stayed afloat, surfacing when needed most.
Detail of the Peterloo Massacre panel from Masks of Anarchy.