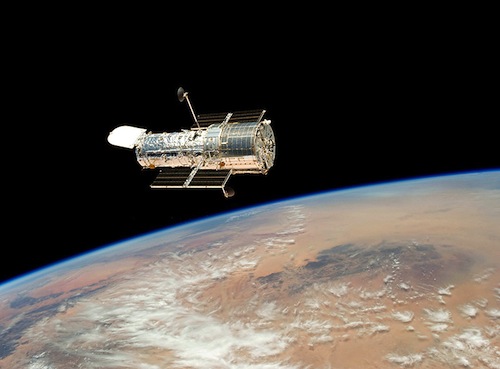 LWON loves this 10/20/2011 post and is reprinting it, feeling that we're always at any time just a minute away from our own Hubble moments.
In 2006, when I was in graduate school for science writing, one of my professors brought in an astronomer to talk about his exoplanet discoveries (just in case you don't know, exoplanets are planets outside our solar system). We were supposed to listen to Dr. Astronomer's talk, ask a few questions, call some scientists for outside comments, and then write a news story. Full disclosure here: I don't care one whit about astronomy. I never have. Oh sure, I can walk you through the planets in our solar system. And I know something about stars and galaxies. But beyond that, I'm kind of at a loss.
Dr. Astronomer had made his discoveries using the Hubble Telescope and, as he talked, it slowly dawned on me that this telescope he was talking about, this Hubble, is in space. My mind was officially blown. We put a goddamn telescope in SPACE! Holy. Effing. News peg.
I soon realized, of course, that my hook was more than 15 years old. Yes, I had heard of Hubble. And, yes, I  knew it was a telescope. But somehow the fact that it orbits Earth had escaped me. Or maybe I knew and then forgot. This was not the first nor the last time I would be astounded by knowledge that everyone else takes for granted. For me, graduate school was peppered with Hubble moments. As these moments piled up, that delightful rush of discovery — we put a telescope in space! — was replaced by burning shame. What else had I missed?
My Hubble moments made me doubt myself. Everything I thought I knew became suspect. And everything I didn't know became another potential Hubble. On the phone with scientists, I tried to avoid asking too many questions. If they said something I didn't understand, I would "mmm-hmm" like I did. I've often heard teachers say, "there's no such thing as a dumb question," but that's not really true. You don't want to be the science writer who asks a famous astronomer, "So are you telling me that there's a telescope in space?!"
But the less I asked scientists to explain, the less I understood. And the less I understood, the less I could explain to the reader. Sometimes I could write around the things I did not know. Then I would feel ashamed that I hadn't asked the right questions, that I hadn't fully understood.
I like science. That's why I became a science writer. I especially like learning new things. But I don't like feeling dumb. And neither does anyone else. The blush of shame I feel after each new Hubble moment is the same shame that a lot of people feel when they listen to science talks or read a science article they don't understand. It's the same shame that kids feel in science class when they can't remember the word for the green stuff in plants. Instead of asking questions, we clam up. We disengage. We "mmm-hmm" and pretend things are perfectly clear.
As science writers, we're supposed to be advocates for exactly those people. But sometimes we get caught in the trap of trying to impress scientists or other science writers. And we forget that the beauty of our job is that we get to be idiots. It's allowed. In fact, it's required.
So I'm trying to embrace my Hubble moments. I often feel like a halfwit, sure, but I also get to make amazing discoveries. We put a telescope in space. And that's pretty damn wonderful whether you're hearing it for the first time or the fiftieth.
**
I'd like to briefly thank the many scientists I've interviewed who have been so generous with their time. Thank  you for answering even my stupidest questions without laughing or snorting in disgust (ok, some of you did snort in disgust, but you still answered my questions). You have my eternal gratitude.
Image credit: STScI and NASA