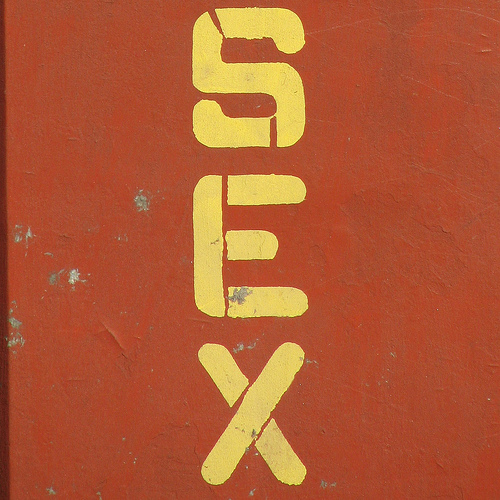 Warning: This post isn't so much about penises as it is about sex. Apologies to all you Thank God It's Penis Friday purists out there. 
Sex. It's a difficult topic for grownups, but the conversation can be downright excruciating when a child is involved. (Don't believe me? Watch this.) Perhaps because my parents were uncomfortable, I never got the sex talk. So I relied on hearsay and rumor to figure out where babies come from. I vaguely remember a sleepover where we hotly debated the risk of pregnancy from French kissing.
Sex ed came in the form of films. In fifth grade we watched one about our own bodies. (Who knew that when girls get their periods, their moms take them for ice cream?) In sixth grade we got to watch the boys' film. Afterward, we furtively scribbled down questions on slips of paper and handed them to the nurse, who did a terrible job of providing answers. What's a blow job? Well, something a man and woman do when they love each other very much. The films explained how our bodies work separately, but I still couldn't quite picture how it all worked in concert. I was this guy. (Ok, not quite).
Then, when I was maybe 11, I found a present on my bed: a sex ed book – something along the lines of Our Bodies, Ourselves. (Had my dad noticed me swiping Playboys from his secret stash?) I slunk off to the basement to read up. Mind officially blown.
Until recently, I thought this was the typical way kids learn about sex. You muddle your way to an understanding by using tiny slivers of information to construct wildly inaccurate theories about sex and babies and the workings of human genitalia. And then, if you're lucky, someone hands you a book in your tweenage years.
But it turns out some parents explain sex to their kids much, much earlier. Case in point: Here's an image from a book my in-laws gave my husband when he first got curious.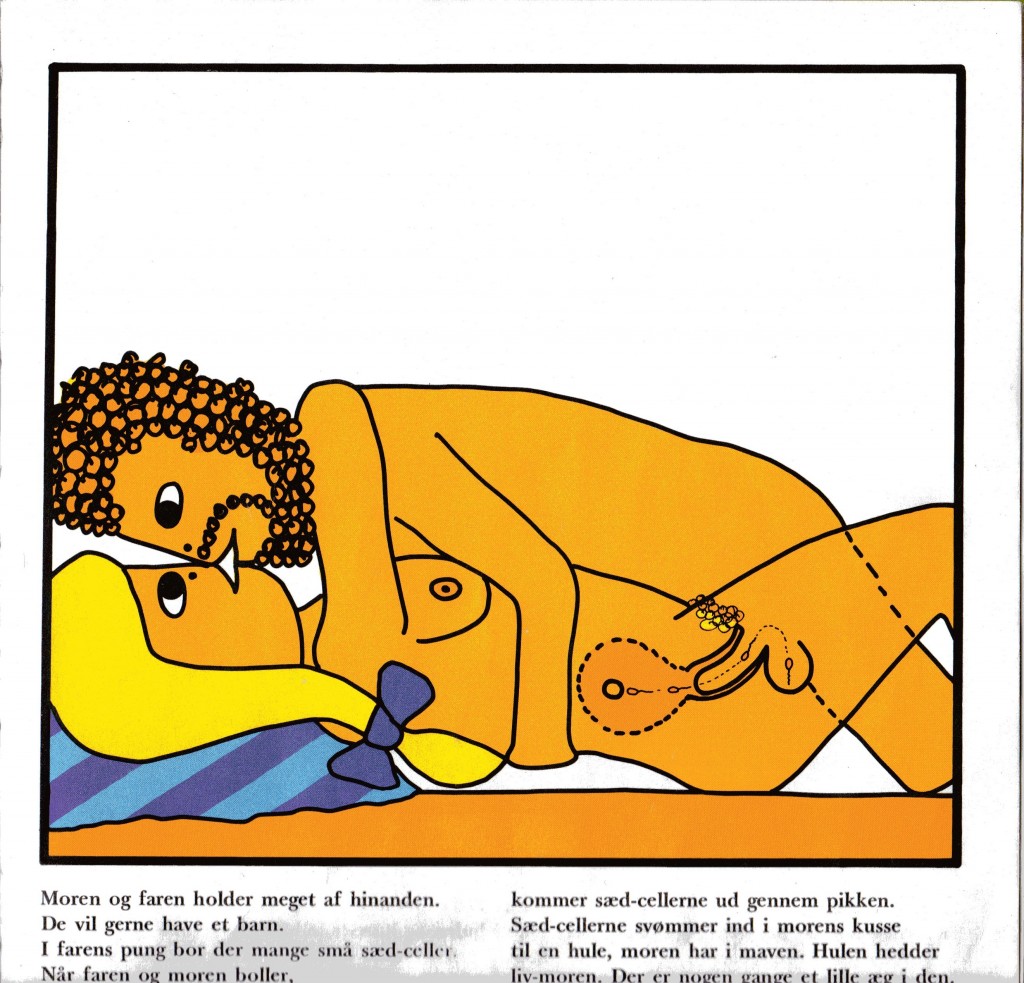 This Danish book — The True Story of How Babies Are Made by Per Holm Knudson — was published in 1972, the height of Denmark's sexual revolution. You wouldn't find this in America. Americans are notoriously prudish. Where do babies come from? The 1928 book Safe Counsel offers this poetic, yet vague answer:
The seed is inside the mother flower, but it doesn't grow into a new flower until the pollen dust has mixed with it. Every life begins with the mixing of the seeds. Every grown-up animal and every grown-up man and woman have tiny bits of life or seeds inside their bodies which have to come together before new life can start. A part of their bodies is fitted by nature for this purpose.
And our prudishness apparently hasn't dissipated much since the twenties. Mayo Clinic's Web site advises answers like this: "A mom and a dad make a baby by holding each other in a special way." (Though, to be fair, they note that you should give more details if the child asks for them).
The True Story makes it plain. No birds. No bees. No flowers. Just cartoon people having good clean Danish sex. Lady Dane gets pregnant, of course. And then you get to see the baby grow inside her womb for a few pages.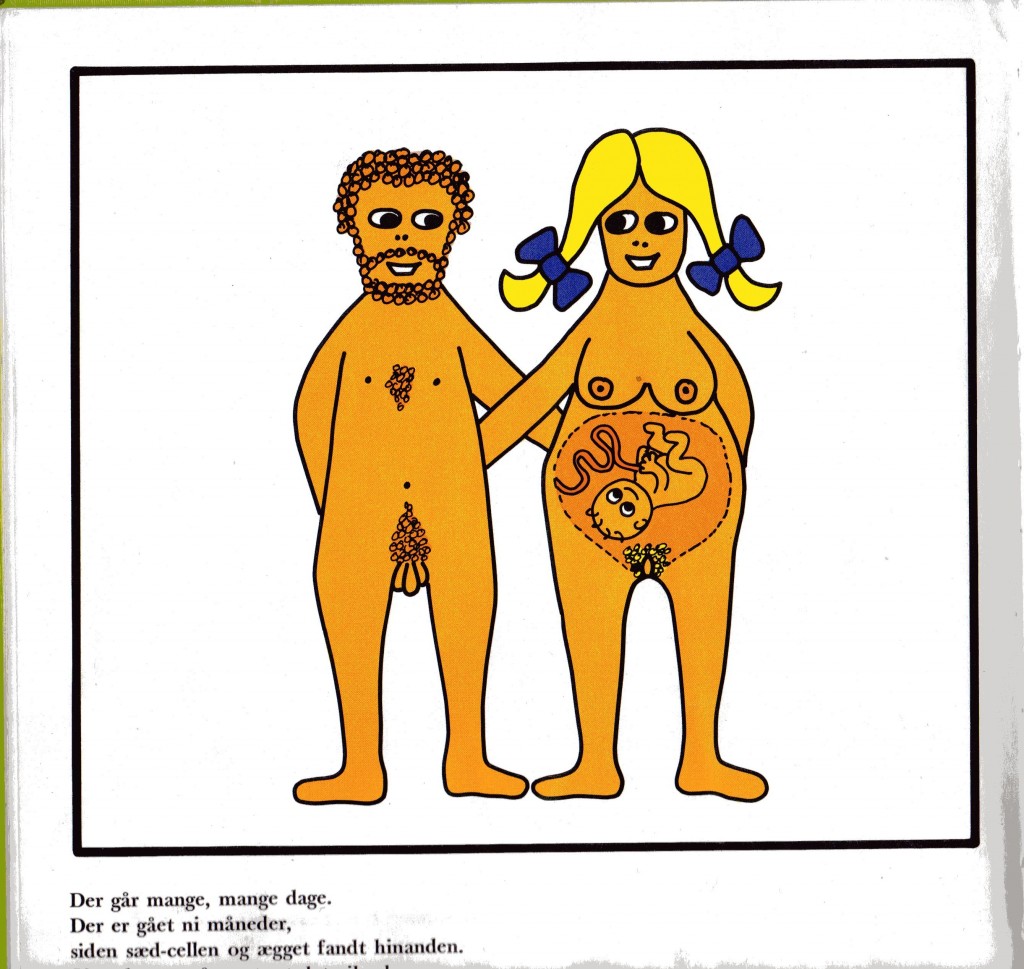 Then this Danish couple goes to the hospital. And BAM! A baby hoists itself from her vagina.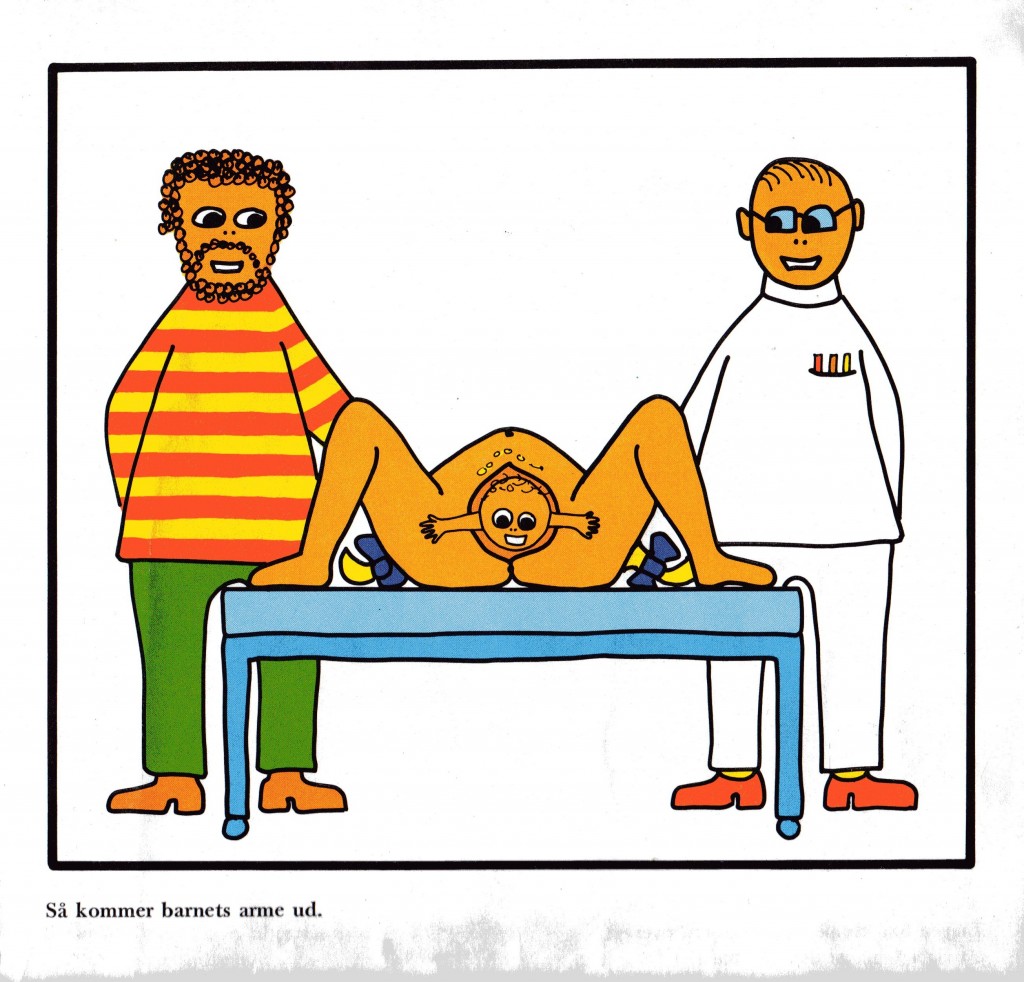 My mother-in-law dug out The True Story one evening after dinner. A friend was having trouble talking to her young daughter about sex, and my mother-in-law thought it might help. At first I was sort of . . . well . . . horrified. The illustrations rattled my delicate Midwestern sensibilities. But gradually I began to see the genius of this book. Sex shouldn't be something we hide from our kids. It's a natural part of life. Why should we have to pussyfoot around it? If parents can embrace Everyone Poops, why not this?
Hard copies of The True Story aren't easy to come by. Lucky for you there's a film version of the book. Why not sit down with your kids and watch it today? (Unless your kids are adults. By now they probably know.)
Or if you prefer something a little more delicate, you could always go with this George MacDonald poem I found in Safe Counsel. Here's an excerpt:
Where did you come from, baby dear?

Out of the everywhere into here.

…..

Where did you get those arms and hands?

Love made itself into hooks and bands.

Feet, whence did you come, you darling things?

From the same box as the cherub's wings.

How did they all come just to be you?

God thought of me, and so I grew.

But how did you come to us, you dear?

God thought about you, and so I am here.
And now, dear readers, I'd love to hear your stories. How did you first learn about sex? Have you had the sex talk with your kids? Was it awful? Did they immediately share their newfound knowledge with the clerk at the grocery store in an outside voice?
***
Top image courtesy of kyz on Flickr