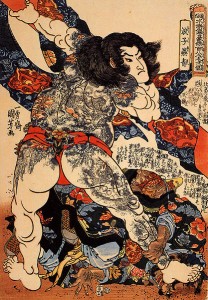 31 December – 4 January
Well, I guess we made it through 2012 without dying. So, drink up and get back to work.
Heather wrote about the strange therapeutic, cultural, and linguistic history of the tattoo.
Guest poster Emily Underwood examined a part of the body so complicated that it requires 10,000 processors to simulate.
"Living in a basin means being a receptacle for everything that flows downward," Jessa told us, and explained what that means for London.
Michelle wondered if autocomplete errors predate the iPhone.
And this week, we wrapped up Secret Satans — our holiday treat to ourselves in which we allowed ourselves to confronted our most feared disciplines — with Tom's disclosure that he suffers from "mathematical Aspergers". Mathpergers? You heard it here first.
See you next week!