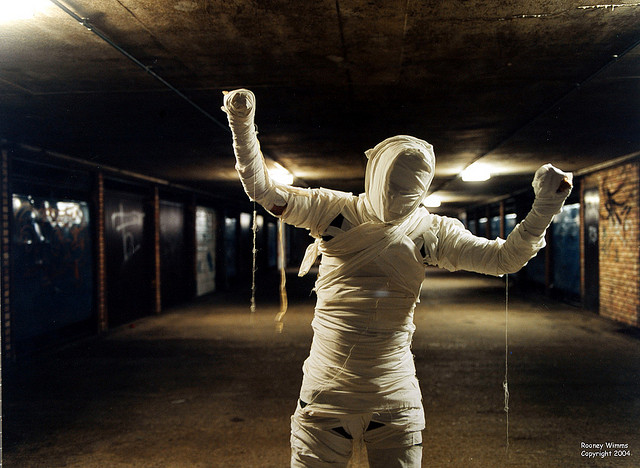 "Is it the mummies?" Tom asked.
When I confessed my fear of archaeology to the LWON crew, Thomas Hayden immediately blamed the undead. Or long dead. Which was quite reasonable, really. But I'm a lapsed biologist; I like decay. I like a lot of other things about archaeology, too. I like its stories about people too ancient to leave written records, its puzzles made of potsherds and bone fragments. The thing about archaeology, the thing that makes it my Secret Satan, is that those lovely puzzles never seem to get solved — not to anyone's satisfaction, anyway. And that makes me deeply nervous.
I'm okay with uncertainty. I write mostly about ecology, a notoriously messy field, and about conservation, the extremely unlovely process of turning science into policy. Both fields are bursting with unanswered questions. But it's usually possible to make out the path to an answer: We might not know exactly how Caribbean corals have sex, or how many endangered California condors it takes to create a self-sustaining population, but with decent funding, good eyesight, unlimited patience and a lot of luck, one could find out, and feel reasonably confident in the findings.
Archaeology, at least from my naive perspective, is different. There's evidence, sure, but it's hard to find, and dodgy when it is found. The British archaeologist Sir Mortimer Wheeler, lamenting the inadequacy of the archaeological record, famously remarked that "the archaeologist may find the tub but altogether miss Diogenes." The result, as philosopher Alison Wylie writes in the excellent anthology Agnotology: The Making and Unmaking of Ignorance, is an "unevenly preserved, fragmentary, and enigmatic data base" that for many archaeologists "is cause for profound epistemic pessimism." (To be fair, though, who doesn't suffer from that once in a while?) Wylie writes:
Those aspects of the cultural past that are most closely constrained by the material conditions of life may be reconstructed with some reliability (for example, technologies, some aspects of tool function, and some forms of subsistence practice) but the further an archaeologist strays from those and considers, for example, forms of social organization or systems of belief, the more unavoidably they indulge in speculation.
Worse, it's difficult, if not impossible, for archaeologists to test their speculations. When Sherlock Holmes marshals tiny bits of evidence into a grand conjectural leap, he can check his conclusions by nabbing a suspect and extracting a confession. (I know, I know, he's not real. It's Christmas; bear with me.) In archaeology, though, not only is the evidence scarce, but both witnesses and suspects are also long dead. Maybe they were cannibals, or aliens, or mathematical savants. Maybe not. Either way, they're not telling, often leaving archaeologists — and the rest of us — with few answers and a whole lot of competing stories about the past.
For archaeologists, though, the drive to know — something, somehow, someday, about the people who lived before us — must be stronger than the bouts of epistemic pessimism. Or maybe the proximity to great mystery is enough in itself. Our own Heather Pringle has a fascinating story in the November issue of National Geographic about the discovery of 700-year-old strands of cordage on Canada's Baffin Island. The strands were made the Viking way, a possible key to legendary Viking explorations of the New World. Heather profiles archaeologist Patricia Sutherland, who has persevered through bad weather, hordes of mosquitoes and academic controversy for more than a decade as she searches for further clues to the Viking presence on Baffin. Imagine: a literal thread of evidence, its pull strong enough to direct a career. "I think there is more to dig here, absolutely," Sutherland says. "And we are going to find much more."
Top photo by Flickr user Rooney. Creative Commons.