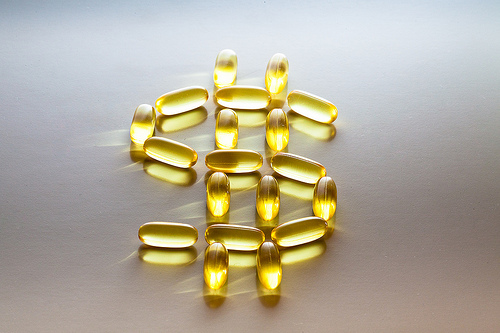 In 2010, I wrote an article for ScienceNow titled "Fish Oil Fights Inflammation." The article focused on new research showing that the omega-3 fatty acids in fish oil block inflammation in cells and fight diabetes in mice. Jerrold Olefsky, who led the research, even had an explanation for how they do this. This whole process hinged on a receptor found on immune and fat cells.
Olefsky and I spent maybe 30 minutes on the phone. By the end of the conversation, he had me hook, line, and sinker. Yes, his results were preliminary, but they were also striking. I went straight to the pharmacy and bought an enormous bottle of fish oil pills. I've been taking them ever since.
But recently I began to question my decision. Fish oil may help keep mice healthy, but the health benefits of fish oil supplements in humans are not so clear-cut.
Here's a headline from 2008: Fish oil supplements help heart disease patients. Here's a headline from 2012: Fish oil may not help heart disease. (Recent studies also suggest that fish oil pills don't curb depression in heart patients or stave off mental decline.) Yet Medline Plus, a web site run by the National Institutes of Health, still says that fish oil is "likely effective" for heart disease.
Confused yet? Yeah, me too.
In addition to fish oil, I take calcium because my doctor told me to. The chewy, chocolate squares give me 500 milligrams of calcium and, as a bonus, 500 international units of vitamin D. In May, however, the U.S. Preventive Services Task Force issued a draft recommendation saying that younger women like me don't need calcium or vitamin D supplements.
One can't help but wonder, do we really need any of this crap? If a science writer can't figure out what's good for her and what's bad, what hope does a person with no reporting skills have?
We have a serious communications problem. How can health reporters make sure that readers understand all the caveats? First, we can talk about the study design. Some studies are simply better than others. A clinical trial should carry more weight than an observational study. Second, let's provide some context. What other studies have been conducted? How does this new study fit into the larger body of research? Too often decades of previous research are dismissed with a single line that refers to prior "mixed results." Let's dig in a bit more.
Part of the problem is that the science for many of these supplements really is uncertain. Strong hard evidence for a miraculous pill is hard to find. Gary Schwitzer wrote a fantastic guide to covering medical research. He begins it with a quote from Dan Greenberg:
The press, on its own, if it chooses, can make the transition from cheerleaders of science to independent observers… The journalistic trumpeting of medical cures on the basis of wisps of evidence, even though accompanied by sober cautions against optimism, deserves to be severely throttled back, in recognition of an unfortunate reality: though news is sold around the clock, major advances in medicine come along infrequently.